-Let Me Know If You Want To Chat
Email sent: Mar 16, 2021 7:32am
Hey -,
"I didn't realize the impact my parents had on my relationships…"
"Less pressure, more vulnerability – I never realized that's the way to get my guy to open!"
"Wow – I've just realized something. I'm not only looking for my equal, but my partner in healing…"
"This is so revealing, so convicting… but in order to grow, I've got to face the discomfort…"
"I'm already getting better at setting my boundaries with men!"
These are some of the discoveries and insights my clients have shared with me this week. Each week, clients push themselves harder, go a little deeper, gain more skills and cement their values.
As my client Janna (yes, I changed her name) commented, "I'm finally finding a way to be happy individually or in a partnership. Understanding how my anxious attachment type and my ex's avoidant style played out in our relationship, well, it's no wonder we had a lot of stress! I've also come to realise that having a different way of doing attachment doesn't mean you have a relationship disorder or anything. It just means you had certain childhood experiences and you're going to lean into discomfort and work out some trust stuff!"
Janna's right. For as long as past events have present power, our inner child will continue to throw up warnings (usually in the form of strong and sudden, usually unhelpful, emotions) and we stay on the drama hamster wheel.
In coaching, we identify these triggers, dredge up the core issues, own the shit out of them and our history and clear them from the underbelly of the subconscious for good.
It usually starts with awareness; of history, pattern(s) and attachment style. Then we set a vision. If your relationships haven't been what you wanted in the past, we need to create the image of what you are going to dedicate yourself to building in the future. We then get to work making it real. Speaking up. Setting boundaries. Sharing vulnerably. Owning our shit and calling things what they are, while fostering epic self-forgiveness and compassion for all those times in the past previous you did the best she could.
It's empowering. And awesome. And uncomfortable. Funny how often all those go together.
And, yah, sometimes we play and have a bit of fun with dating apps and such and send some smooth AF texts to men.
All in all, we slay the two-headed dragon of anxiety and overwhelm, set some good relationship habits, and choose the beliefs that will create a better reality for ourselves. That's what I call a good week!
What could you and I achieve together?
If you're interested in finding out, you can fill out the form and chat to my team member of mine who will connect us.
Oh, and shameless plug here, but I'm proud of it. One client has had some life struggles come up this week in the background of her transforming her relationships. After a session where she realized she had the potential to change lives with an idea she hadn't been acting on. Shortly after she sent me this:
"I am just so pleased that I signed up for your course. Best money I have ever spent on myself."
And then proceeded to take massive action on an idea that could save the lives of hundreds or even thousands of women.
My #win for the week
Let me know if you want to chat.
Mark x

Other emails from Make Him Yours - How To Attract & Keep The Man You Want
Jun 9, 2021

-Biological Clock Ticking? How To Tell Your Date.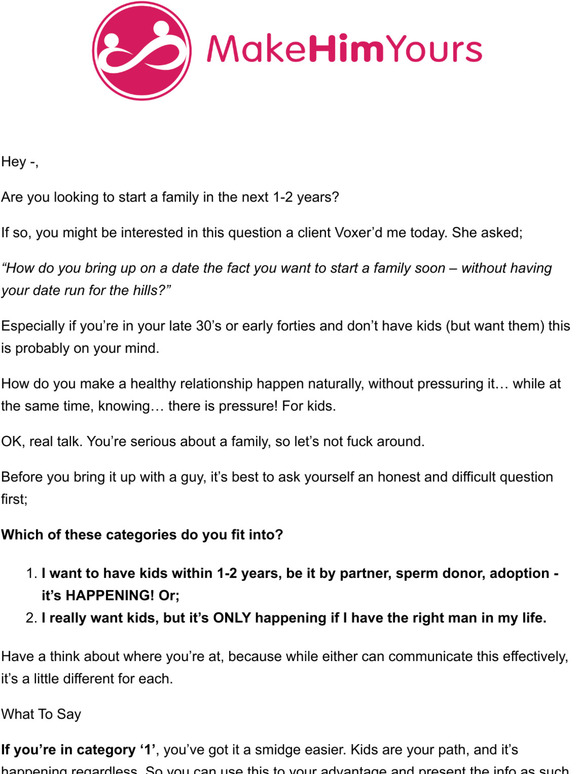 May 11, 2021

-Last Chance To Register For The Free Class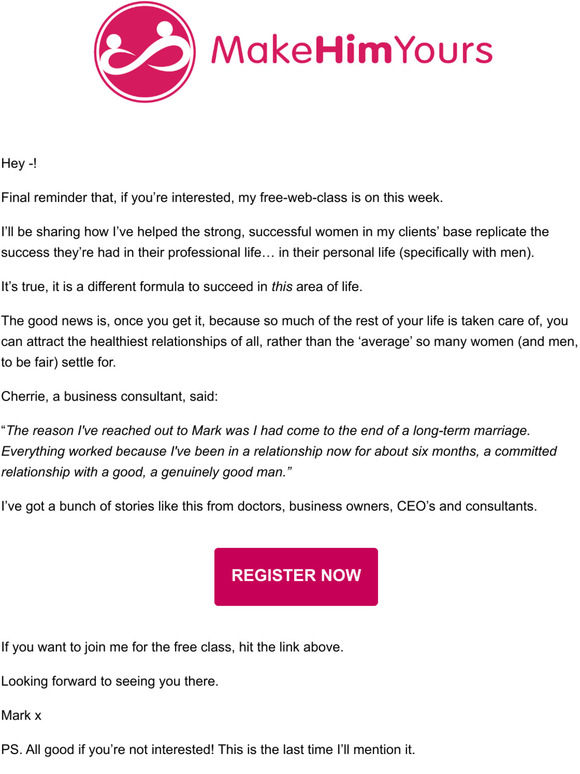 May 10, 2021

2 Days Until My Strong, Successful, Single? Web Class Kicks Off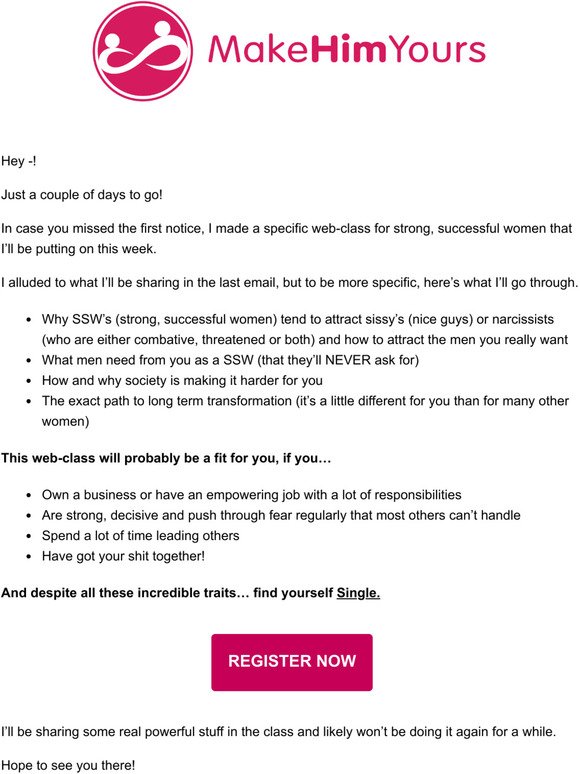 May 9, 2021

Strong, Independent, yet Single? Read this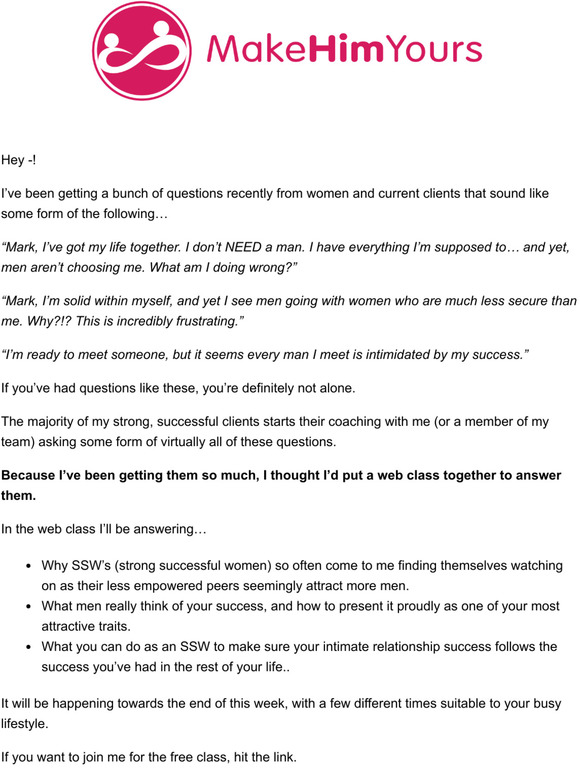 Apr 29, 2021

What Dumbledore And His Pensieve Can Do For Your Anxiety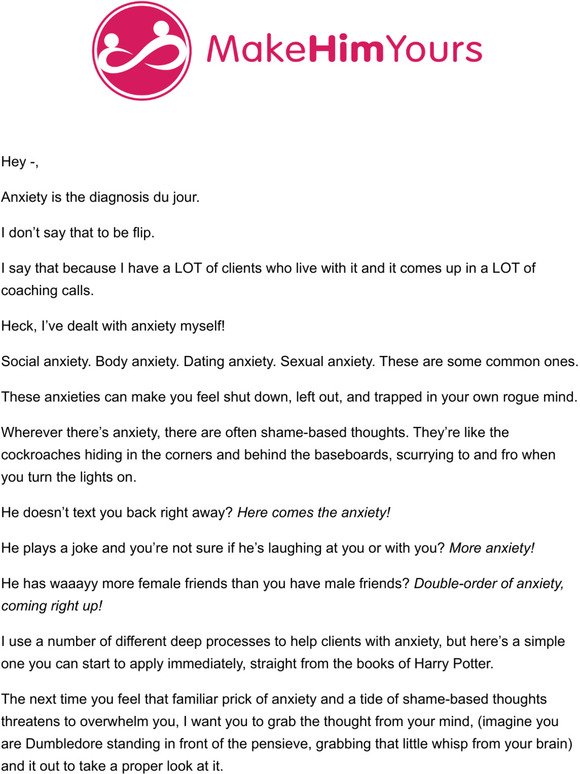 Apr 27, 2021

FREE: Magnetize the right man for you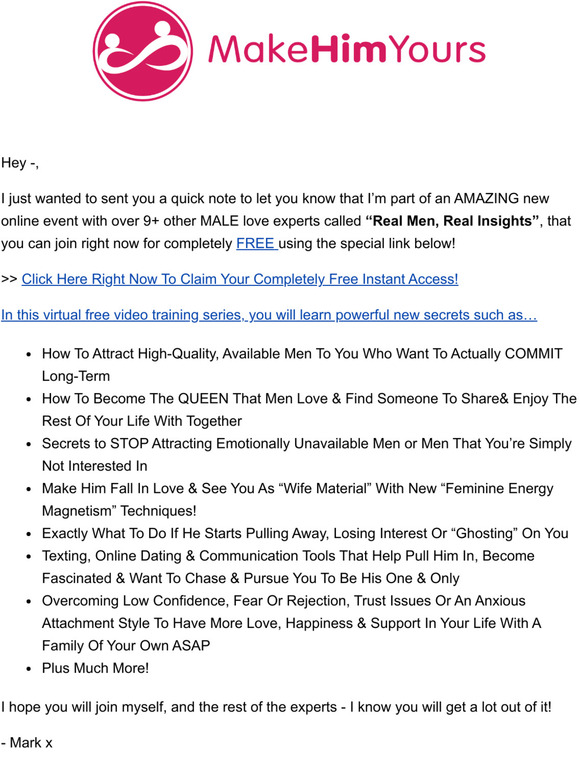 Shop without the noise.
Get our free newsletter of hand-picked sales you need to hear about from the web's best brands.