Mens Little Secret (And Your Ultimate Aphrodisiac)
Email sent: Mar 24, 2021 4:07pm
Have you ever had this happen to you, -?
One day, you're burning with desire. . . and the next you feel about as sexy as a dishrag.
You can remember a time when you were spicier than a devil's tongue, but it's been a loooong time…
Maybe you're tired.
Maybe you just don't feel attractive.
Maybe it's been a while since a man looked at you a certain way or pursued you.
Maybe you're even depressed.
There's so much pressure to look, act, and feel sexy. When you're not vibing it, it can be discouraging.
We got raw and honest in one of the client community calls this week and talked all about sex.
When it comes to sex, there are as many preferences, habits, and turn-on's as there are humans. One thing's for sure: Confidence is the ultimate aphrodisiac.
A lot of women over-focus on their perceived flaws. You look in the mirror and see cellulite, stretch marks, wrinkles, rolls – and assume your man is seeing them to. What if instead you looked in the mirror and named out loud all the beautiful things about you?
If you're feeling insecure about your body, undressing and being naked can be a little (or a lot) nerve-wracking. But I'll tell you a little secret: Men don't notice these supposed flaws nearly as much as you think they do – if at all! We are literally just happy to be there. To see you naked – to have the opportunity to touch you and get out of our rigid, masculine planning mode – and into our bodies. Just think of us as big, happy to be there puppies.
Whether you choose to undress matter-of-factly, under the covers, or seductively, do it in a way that 's self-confident, not self-conscious. You've nothing to hide.
So, hold your head up, push your shoulders back, and maintain your eye contact as you bare it all. Be fluid and relaxed in your pace and movement. Undress like you've done it before!
If you can't quite step into that level of confidence yet, here's a work-around: Your partner will look where you want him to. This is a principle I learned when I was performing -- If you "shine a light" on something and create some movement, the audience will look where you direct them. If you want to keep his eyes toward the top of your body (your face and breasts, for example, instead of your hips and tummy) do a little hair flip or shoulder shimmy (paired with a mischievous smile) to keep his eyes up high! Movement draws the eye.
Continue to work on developing authentic confidence. Make a list of your sexiest aspects. Maybe it's the sparkle in your eyes, your one-of-a-kind laugh, or your wild mane of hair. It could be how the sun lands on your shoulders or the way you move your hips. One woman drives guys wild with her sultry drawl, another with her signature wink that seems to suggest, "We have a secret!" Whatever it is, claim it and own it. Make a list and post it in your closet or on your bathroom mirror!
Each of us has a sexy gift to offer to whomever we choose to share it with. To some, kindness is sexy. To others, self-expression is sexy. To another, sexual openness is sexy. My sexy looks different from your sexy.
I'm coaching women through this kind of stuff right now – as well as sharing blogs and videos reflecting what's happening in my 1:1 sessions.
Want to get your sexy strut back? Fill out the form to work with me personally, or join the Free Facebook Support group where myself ad my coaches/moderators will jump in to assist you.
Chat you soon,
Mark x
Other emails from Make Him Yours - How To Attract & Keep The Man You Want
Jun 9, 2021

-Biological Clock Ticking? How To Tell Your Date.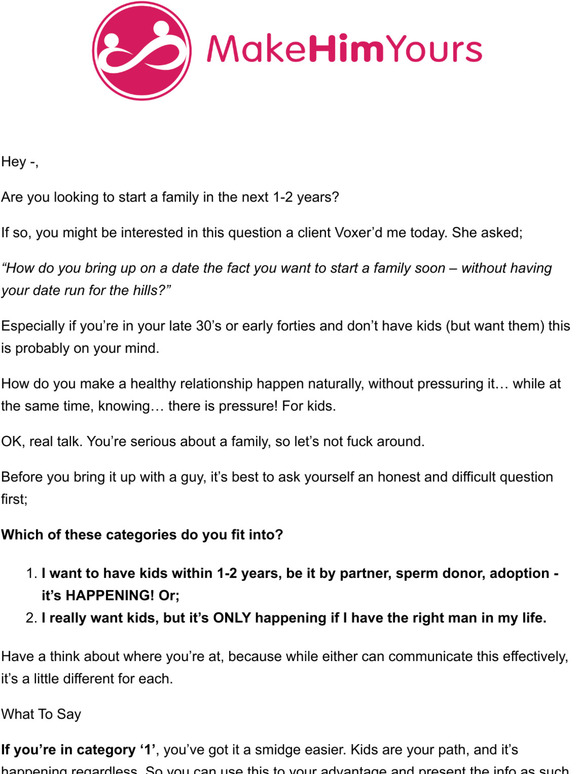 May 11, 2021

-Last Chance To Register For The Free Class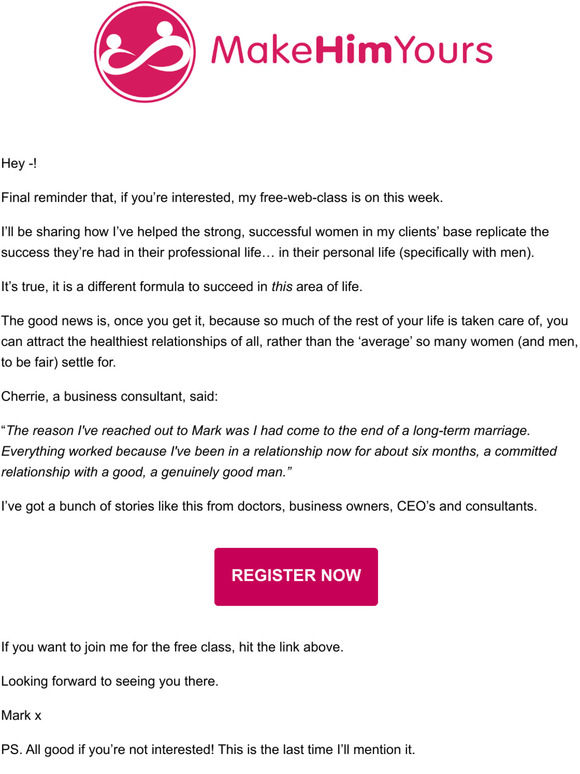 May 10, 2021

2 Days Until My Strong, Successful, Single? Web Class Kicks Off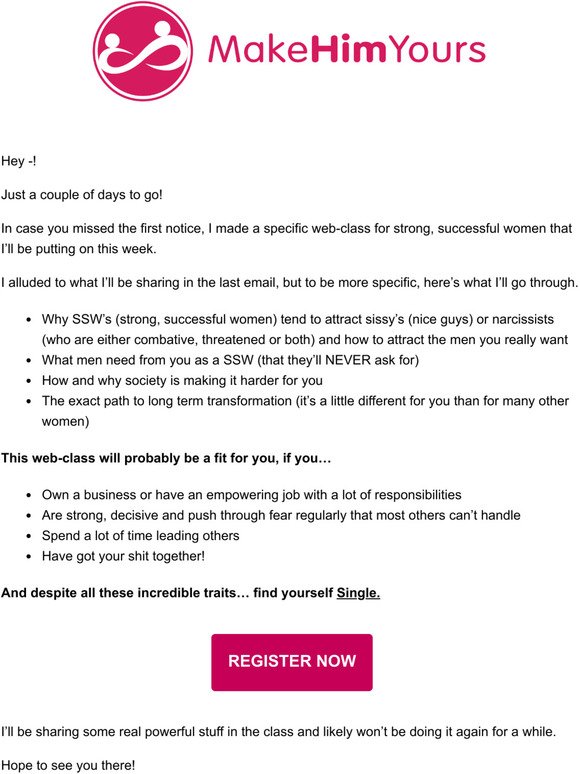 May 9, 2021

Strong, Independent, yet Single? Read this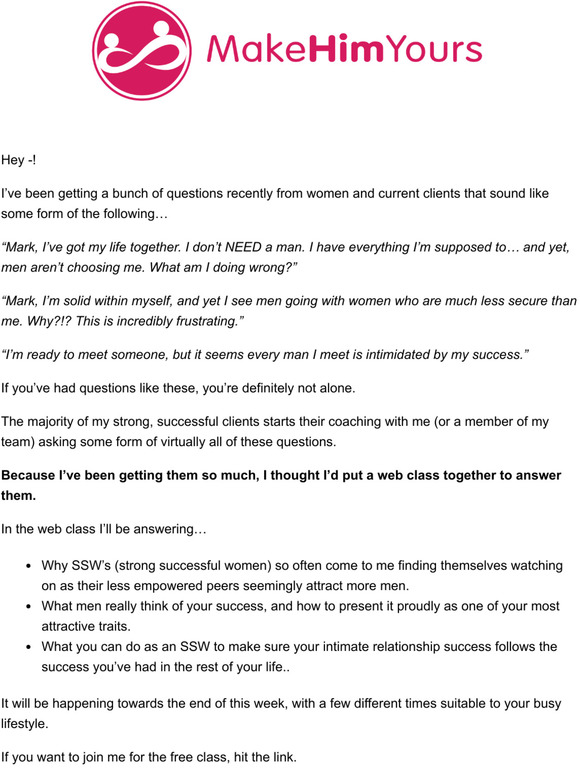 Apr 29, 2021

What Dumbledore And His Pensieve Can Do For Your Anxiety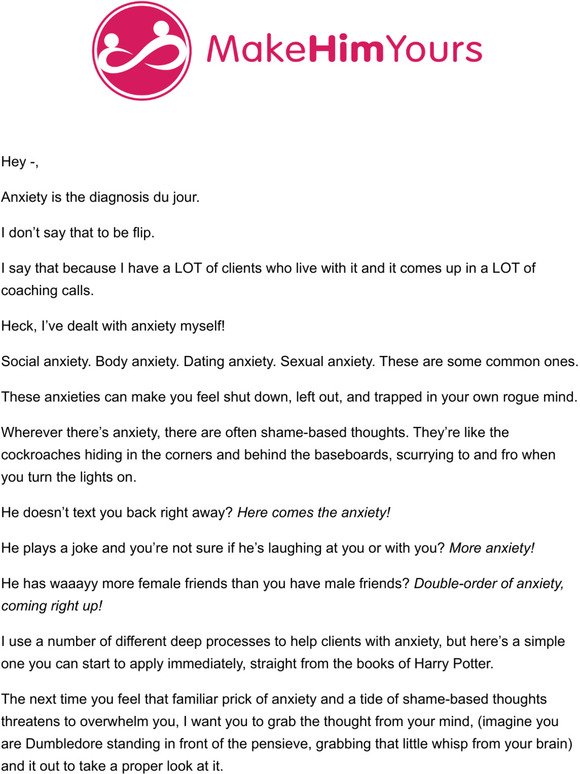 Apr 27, 2021

FREE: Magnetize the right man for you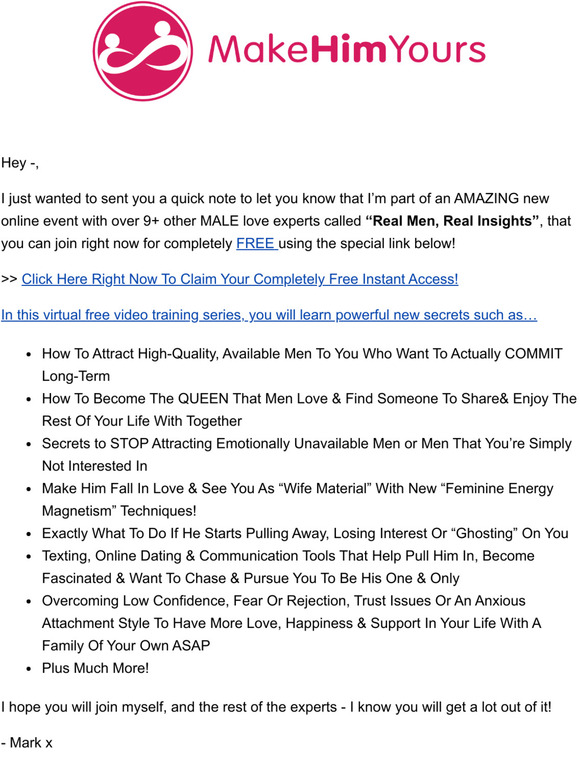 Shop without the noise.
Get our free newsletter of hand-picked sales you need to hear about from the web's best brands.