What Do You Have To Do To Receive Love?
Email sent: Mar 31, 2021 1:04am
Hey -,
Over the past four weeks, I've been taking clients through some calls and processes that aim to help them embody the two core beliefs of secure functioning individuals in a relationship
I DESERVE and am ALLOWED to receive
The world will CHOOSE to give to me (meet my needs)
The truth is, if you can get these two stuck in the deepest depths of your brain, you'll filter in a man who wants to love you and serve quicker than you ever thought possible.
Still, that's easier said than done, especially if these beliefs haven't been your experience.
If you can absorb the first one, the good news is the second one will manifest, so that's the one I had the clients focus on.
Thus, my question for you is:
What rules have you set in your unconscious around DESERVING to RECEIVE love?
Signs a woman who comes to me is in a struggle to receive include:
Questioning any giving/loving action toward you by wondering, "what do I have to do in return?" or even feel a compelling sense of debt to that person.
Feeling guilty when someone does something nice for you.
Constantly anticipating disappointment when a man gives/appreciates/acts for you by wondering, "when will the other shoe drop?" or "When will the disappointment hit?"
It's incredible how many unconscious boundaries we set for ourselves on what makes us 'worthy' of receiving love… all because we these 'rules' between the ages 5 & 15.
For example, Jenny (35) was in the hospital a lot as a child. Her mum would constantly remind her how much of a burden this was for her (the mother). Hence, Jenny learned, "My needs inconvenience others. My existence is an inconvenience".
Therefore, she became a lousy receiver because if you're an inconvenience just by existing, what does that make you when you need something?.
Or Marie, 42, who, as the youngest sister of four, always received the most praise/attention/affection when she was a good girl, DOING things like setting the table or getting straight A's. Not so good when it comes to receiving and deserving love just by 'being.'
By the way, this isn't to rag on the parents – not one bit. They did the best they knew how. Just understand no one gets out of childhood without some scars, so it's your responsibility to work on yours.
Fast forward to this month's sessions; I had clients repeat back to each other what made them worthy of receiving love.
I encouraged them to drop the doing/performing/perfectionism model many of us are taught growing up and instead reinforce that they DESERVED and were ALLOWED to receive love based on much simpler, more inherent traits.
For example, clients were saying to each other…
"I deserve to receive love because I have an auto-immune condition."
"I deserve to receive love because I make mistakes."
"I deserve to receive love because sometimes I'm grouchy and mean."
"I deserve to receive love because I've been divorced twice."
Or even "I deserve to receive love because sometimes my actions cause others to feel bad."
Hopefully, you get the idea. We're breaking and challenging the rules and boundaries they had put on themselves around receiving. By hearing these reflected by another human, everyone had a bunch of revelations about the old, unconscious scripts they'd been following and were able to set some new, healthier standards for what made them worthy of receiving love.
Hit me up if you want to work with me, or if not, join the free Facebook group.
Chat next week!
Mark x
PS. My breakup course is about to launch, so if you're going through a breakup right now and are DEDICATED to doing the work to get through it, hit 'reply,' and I'll see if I can get you access in exchange for your feedback.

Other emails from Make Him Yours - How To Attract & Keep The Man You Want
Jun 9, 2021

-Biological Clock Ticking? How To Tell Your Date.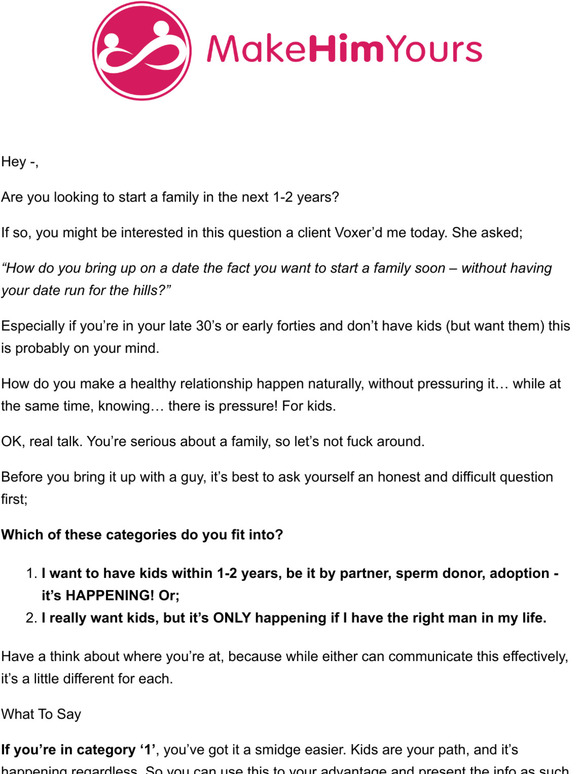 May 11, 2021

-Last Chance To Register For The Free Class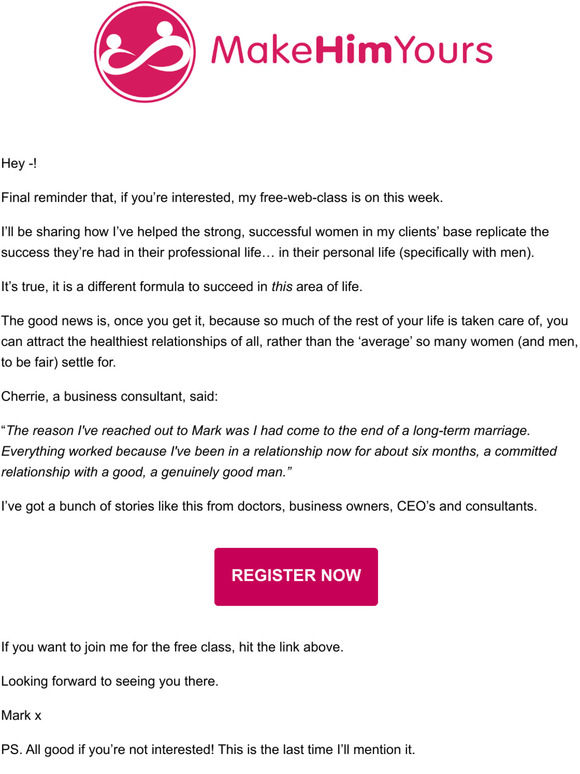 May 10, 2021

2 Days Until My Strong, Successful, Single? Web Class Kicks Off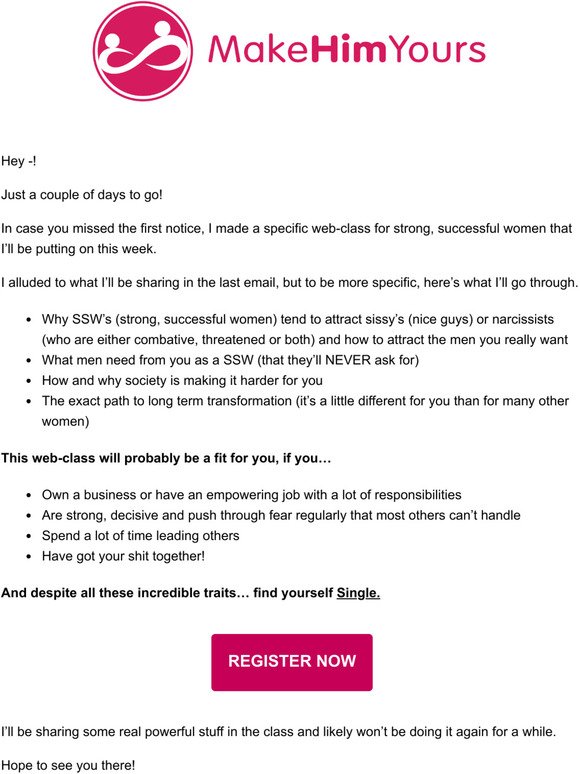 May 9, 2021

Strong, Independent, yet Single? Read this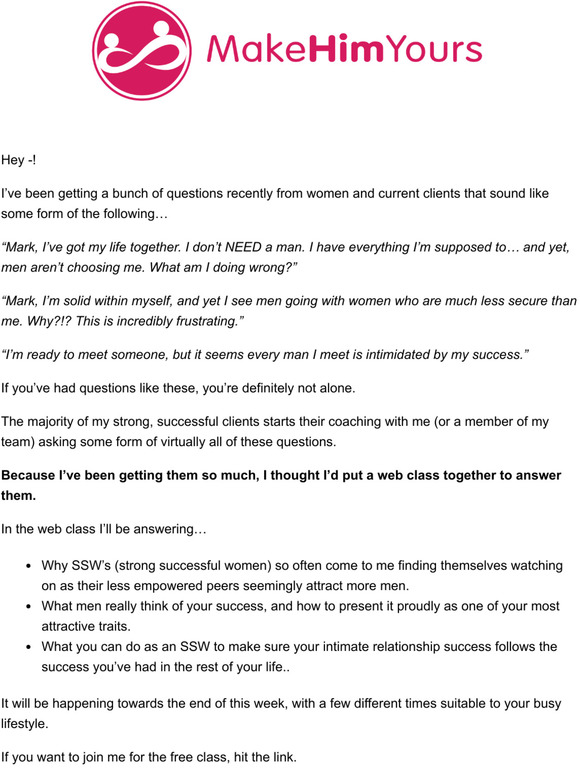 Apr 29, 2021

What Dumbledore And His Pensieve Can Do For Your Anxiety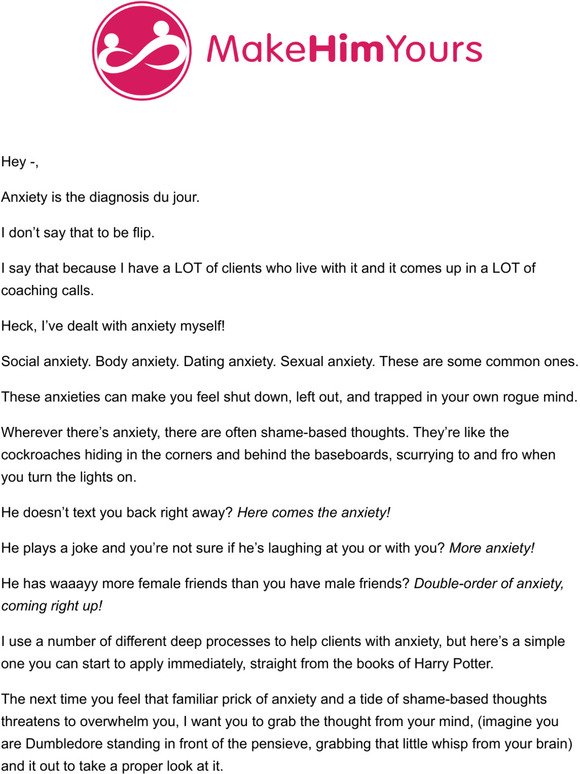 Apr 27, 2021

FREE: Magnetize the right man for you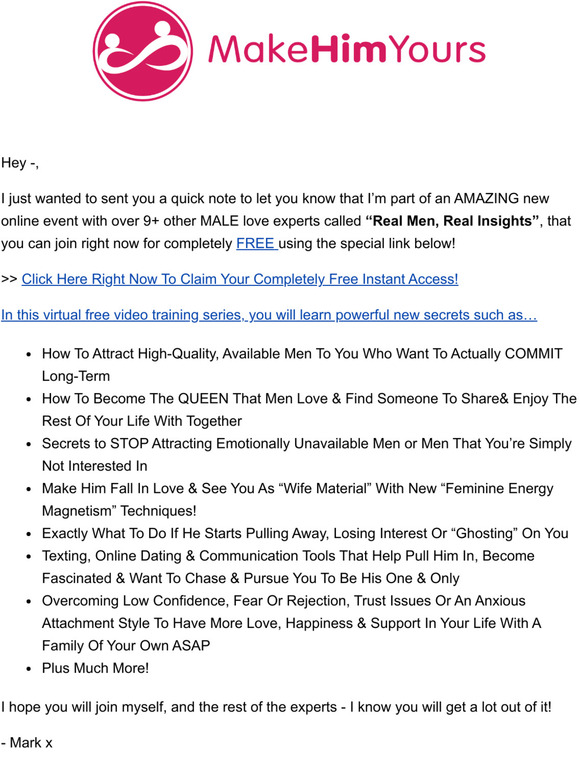 Shop without the noise.
Get our free newsletter of hand-picked sales you need to hear about from the web's best brands.