What To Do When Youve REALLY Screwed Up
Email sent: Apr 6, 2021 7:35pm
Hey -,
Have you ever messed up? Like really, really screwed something up?
I know I have.
Maybe you didn't tell your partner something you should have; maybe you told your partner something that was hard for them to hear and it hurt them.
Maybe you were following some advice a friend gave you. [Important note to self: Some friends don't know sh*t. Their advice is bad.]
Here's the thing about screw-ups:
We do the best we can with what we have at the time.
While that truism makes sense, it can still be hard to sit with the consequences of our failings or the hurts we've caused others.
That's why it's so important to practice self-compassion and self-forgiveness.
In fact, I'd wouldn't hesitate to say that forgiving yourself is even more important than forgiving for others.
Why? Because we don't give others half the self-depreciating talk for innocent mistakes than we pile on ourselves.
When I was facing the aftermath of a major mess-up I made in my own relationship (being truly avoidant and pushing my partner away with piss-poor actions) I didn't know how I was supposed to learn self-compassion… all I seemed to know was how to feel guilty.
But I also knew I needed to do something other than wallow in the ache of self-pity, and that it doesn't do anyone any favors if I continue to cut myself down.
So, I said, fuck it. There's no more point feeling guilty. All I can do is empower myself in this situation to the best of my ability from now on.
When you make a mistake or follow a misguided idea, the usual tendency is to jump right in to self-doubt, blame, shame, and ego outrage. It feels bad and it isn't necessarily helpful, but it's what we know to do; we've been doing it our whole lives.
Can you relate?
The "pattern interrupt" is self-compassion and loving kindness (meta). Followed up with a return to the values we may have overlooked or the boundaries we may have violated – and then more compassion for having dishonored ourselves (or someone we cared about) in the first place.
If you want to give self-compassion and self-forgiveness a try, say out loud to no one in particular, "I welcome it all – my victories and virtues… my madness and my misdeeds."
The next time you screw up, look in the mirror and say, "I love you, you messy human; no matter what! You deserve to receive love because you just royally f*ed up" or "you did the best you knew how at the time – and I appreciate you for that." Or even "You fucked up. And that's OK. You still deserve to receive love."
Breathe it in. Melt your own hard, proud, pain-filled heart. Do it every day for a month and watch your energy change. Give yourself the compassion and loving kindness that perhaps no one else ever gave.
Let me know how it goes, and I'm here to support your transformation (both 1 on 1 and in the Facebook Group) if you want to chat…
Mark x

Other emails from Make Him Yours - How To Attract & Keep The Man You Want
Jun 9, 2021

-Biological Clock Ticking? How To Tell Your Date.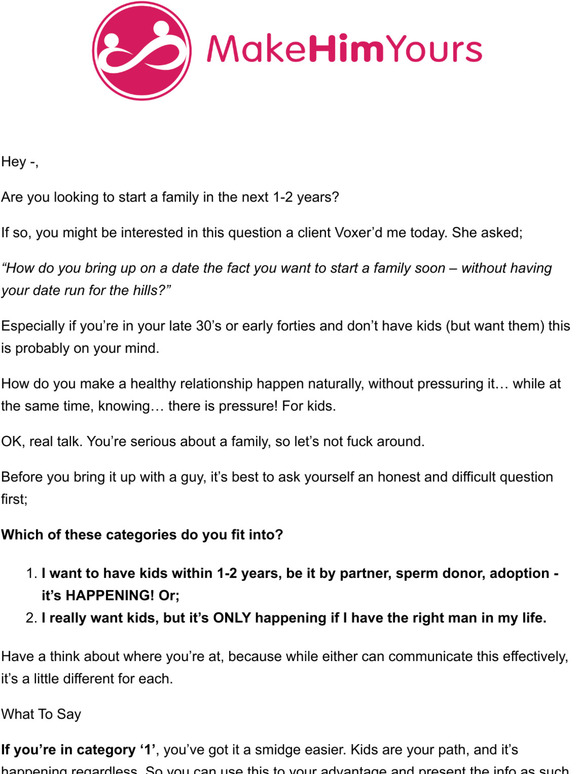 May 11, 2021

-Last Chance To Register For The Free Class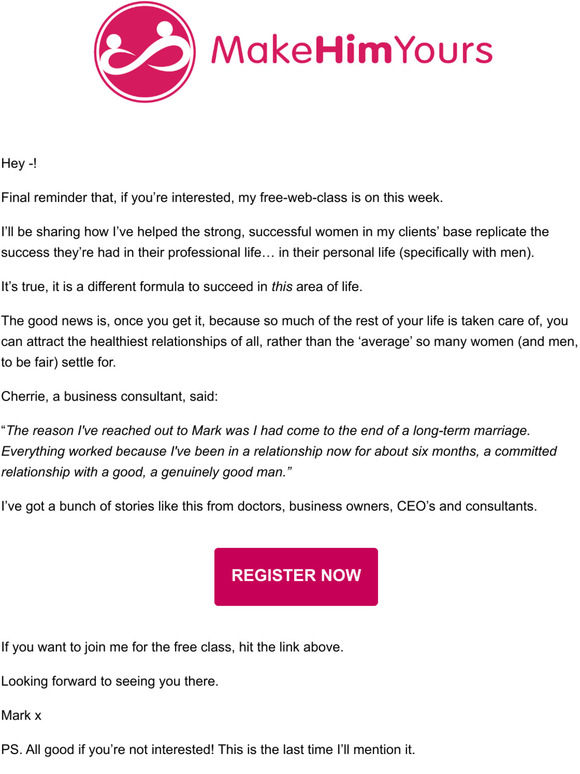 May 10, 2021

2 Days Until My Strong, Successful, Single? Web Class Kicks Off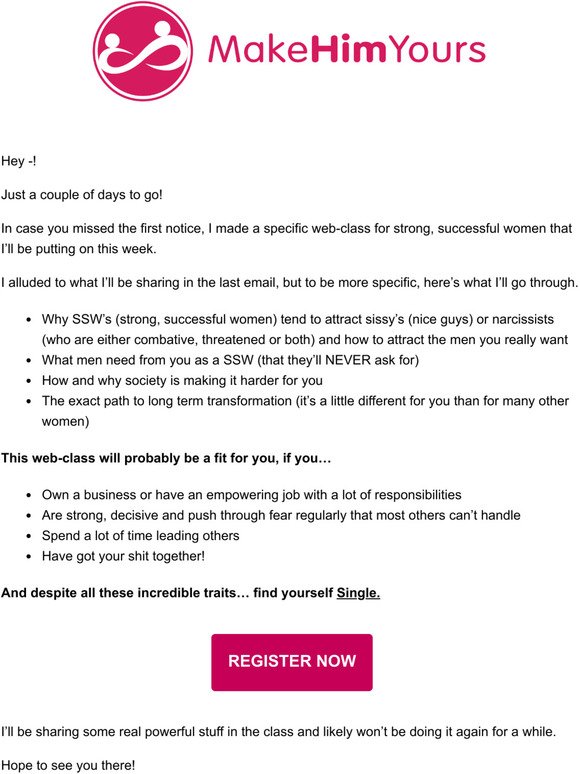 May 9, 2021

Strong, Independent, yet Single? Read this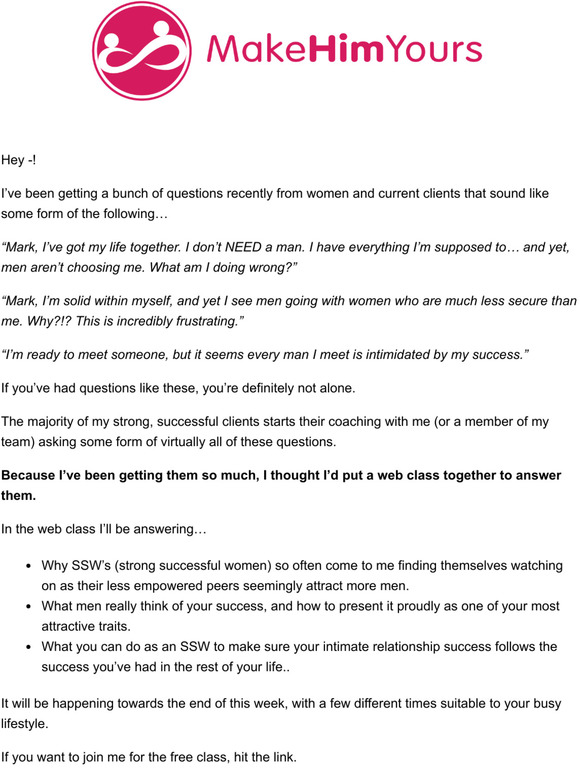 Apr 29, 2021

What Dumbledore And His Pensieve Can Do For Your Anxiety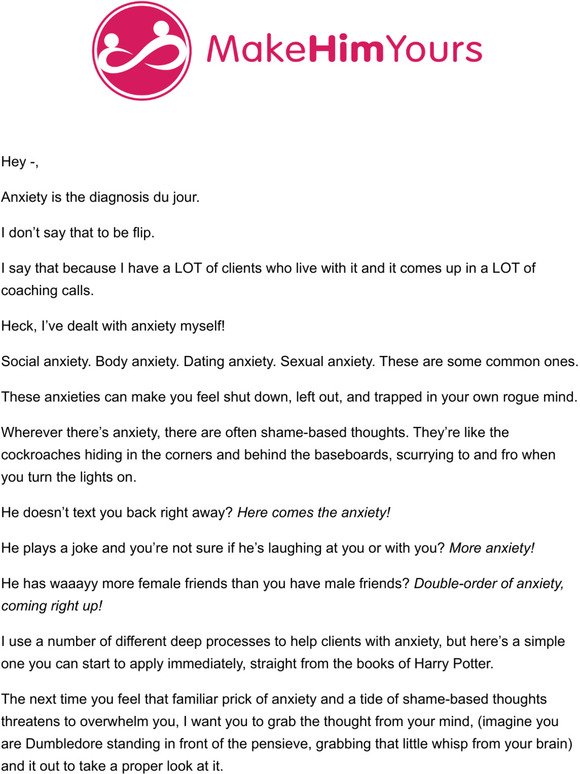 Apr 27, 2021

FREE: Magnetize the right man for you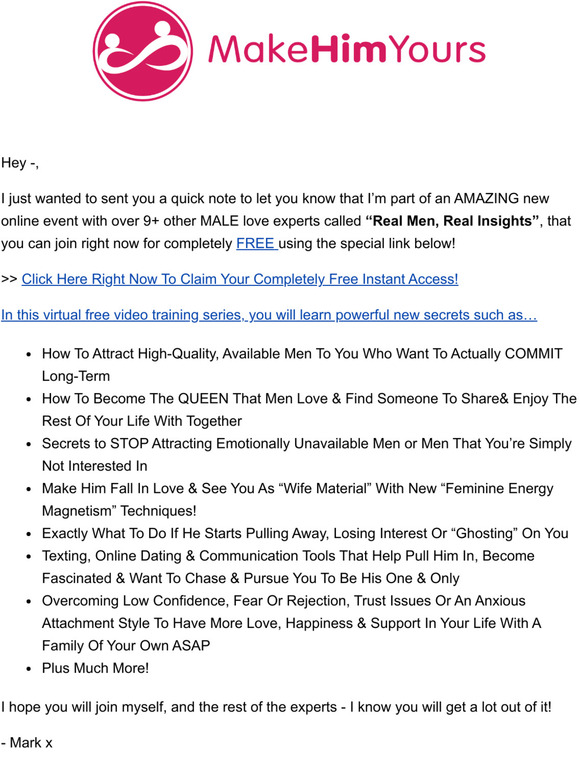 Shop without the noise.
Get our free newsletter of hand-picked sales you need to hear about from the web's best brands.