Idea sex 👯
Email sent: Jun 25, 2020 10:14am
Blank page syndrome, writer's block—most creators have once faced an overwhelming lack of inspiration. How can you generate ideas on demand?
Maker Mind
Make the most of your mind
Hi there! I'm Anne-Laure Le Cunff, the founder of Ness Labs. You are receiving this email because you signed up to Maker Mind, a weekly newsletter about mindful productivity. Thank you for being here. And if this email was forwarded to you, get your own ✨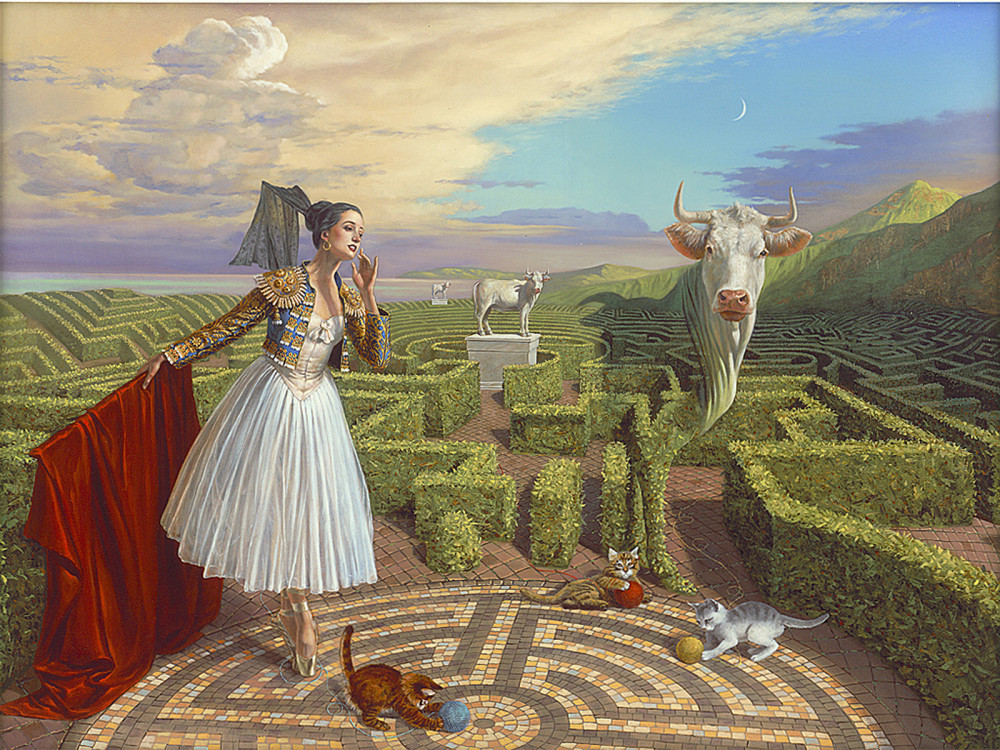 Current mood: me noticing patterns in my idea maze. Artist: Michael Cheval.
Idea sex.
Hi friends!
Have you ever sat down in front of a blank page, desperate for ideas to write about, unsure where to start? Writer's block is real. The good news is: it doesn't to be.
Creativity is combinational in nature. Instead of waiting for capricious Madame Inspiration to knock on your door, use idea sex to generate ideas on demand.
This week, we will discuss how to implement idea sex in your creative process. We will also talk about a simple productivity tool I have been using for years: the weekly review. Finally, we will explore the four axes of stress and three different approaches to stress management.
It's hard to believe next week will be the 50th edition of the newsletter. Thank you so much for tuning in every week.
Enjoy the read, and hit reply if you have any questions, feedback, or want to say hello!
p.s. Looking for something nice to watch on Netflix? This documentary will make you fall in love all over again with science.
Why is journaling so hard? Join a virtual meetup on June 30th, where we will discuss the benefits of journaling and why it's so hard to build a journaling habit. Register »
Brain food
From inspiration to idea sex: how to generate ideas on demand
The idea that creativity is something uncontrollable you either experience or not—that a sort of elusive muse may visit us to whisper ideas in our ear—is still prevalent among creators. But inspiration can, in fact, be programmed so you can generate ideas on demand.
The power of the weekly review
Checking tasks off a daily to-do list is not enough to make meaningful progress in life and work. A weekly review is a safeguard against productivity for the sake of productivity. It has the power to drive better decision making by clarifying your thinking.
Creating calm: how to manage stress
Ambition makes some levels of stress inevitable. While stress is a basic survival response, it can often be triggered in situations that are far from being life threatening—such as too much work, public speaking, or conflict. The good news is: stress is very often manageable.
Brain candy
Mindful productivity framework (Clo S.)
"I turned to one of my favourite communities and places to learn out there, Ness Labs. After rummaging through the Mindful Productivity category, this is what I've pieced together."
Citizen neuroscience (Science & Engineering Ethics)
"The rise of do-it-yourself (DIY) neuroscience may provide an enriched fund of neural data for researchers, but also raises difficult questions about data quality, standards, and the boundaries of scientific practice."
Notational compendium (Prathyush)
"A repository to track the historical evolution of notational systems in arts and sciences."
Brain trust
A glimpse into what's going on in the members area:

Until next week,
Anne-Laure.
Copyright © 2020 Ness Labs, All rights reserved.
You are receiving this email because you opted in at the Ness Labs website to receive productivity and creativity tips.

Our mailing address is:


Want to change how you receive these emails?
You can update your preferences or unsubscribe from this list.


Other emails from Maker Mind
Shop without the noise.
Get our free newsletter of hand-picked sales you need to hear about from the web's best brands.