The Benefits of Laziness 🦥
Email sent: Dec 3, 2020 11:15am
Sloth is one of the seven capital sins. Whether or not you believe in such vices, most cultures see laziness as a negative trait. But being lazy...
Maker Mind
Make the most of your mind

#070 | December 3rd, 2020
Hi there! I'm Anne-Laure Le Cunff, the founder of Ness Labs. You are receiving this email because you signed up to Maker Mind, a weekly newsletter about mindful productivity. Thank you for being here. If this email was forwarded to you, get your own ✨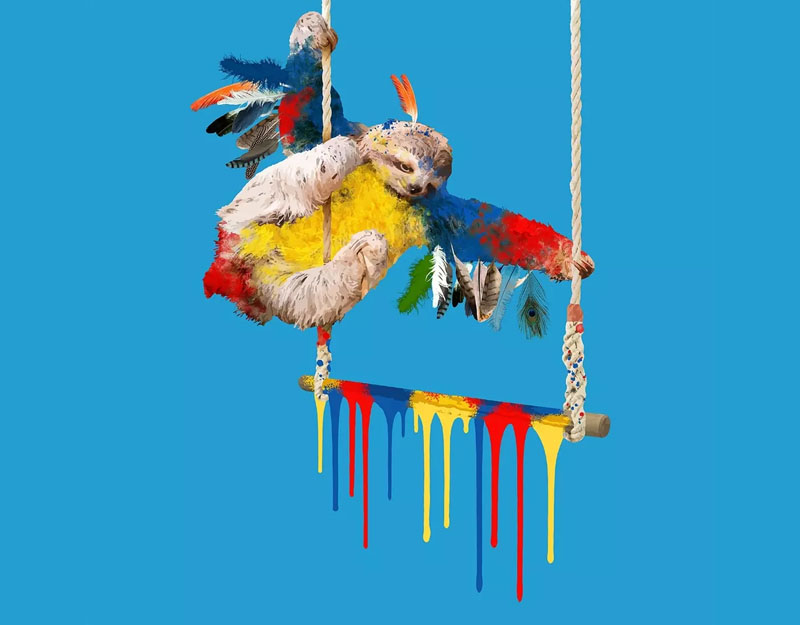 Current mood: tactically lazy. Artist: Carl Moore.
The benefits of laziness.
Hi friends!
It's... December? How did 2020 manage to be both the slowest and the fastest year ever? (cue this hilarious ad)
As we get closer to the end of the year, I feel a cozy feeling of laziness taking over me. I'm craving cheesy movies, hot cocoa, and long naps.
It's a shame being lazy has such a bad rep. As with most things in life, laziness can be helpful when practiced properly. So, this week, I wrote a little ode to laziness, including evidence that slacking off can be good for you.
In the spirit of celebrating laziness, I created a guide to identify high-leverage activities: the ones where minimum input yields outsized results. To automate some of your workflows, there is also a directory of handy plugins for Roam.
That's not all :) Why an Advent Calendar, when you can have a Curiosity Calendar? Each day, you'll get one of the best articles from the 2020 archives - 31 days of curiosity to take you right up to the new year!
Enjoy the read, and hit reply if you have any questions, feedback, or want to say hello!
p.s. we are now more than 1,500 members in the forums! 🥳
Year in Review Workshop. Take an hour off your busy life for self-reflection. What went well in 2020? What could have been better? Which of these were within or outside your control? What are your goals for 2021, and how are you going to set yourself up for success? Join »
Fostering Everyday Innovation. Join Vedika to discuss innovation. Where do good ideas come from? Can innovative thinking be learned? Which environments foster innovative thinking? Join »
Brain candy
Generated photos
"Protect your identity with generative media." (I don't know about you, but my generated photos look nothing like me)
How to think for yourself
"To be a successful scientist, for example, it's not enough just to be correct. Your ideas have to be both correct and novel."
Fermentation as metaphor
"Fermentation can give rise to deeply intimate moments of connection through the magic of invisible forces that transform our foods and our lives, generation by generation."
Writing Feedback Group. Consistency may be the key to starting a writing/creating habit, but feedback is the reward that sustains it. Bhumi is running live sessions to read each other's writing and provide written feedback. Get feedback »
Brain trust
Here's a sneak peek into what's going on behind the scenes. Don't miss out—if you enjoy Maker Mind, become a member to support the newsletter, expand your mind, and connect with like-minded people!
Brain waves
Share with friends, get a reward!

Who do you know who should also be part of the Ness Labs community? Refer them using your unique link (below) and you'll get the Mindful Productivity Bundle (normally $7.99) when just 2 people sign up!

Share via: Twitter | Facebook | Whatsapp

Or copy and paste your link: https://nesslabs.com/newsletter?rh_ref=2df690d6

Until next week, take care!
Anne-Laure.
Copyright © 2020 Ness Labs, All rights reserved.
You are receiving this email because you opted in at the Ness Labs website to receive productivity and creativity tips.

Our mailing address is:


Want to change how you receive these emails?
You can update your preferences or unsubscribe from this list.



Other emails from Maker Mind
Shop without the noise.
Get our free newsletter of hand-picked sales you need to hear about from the web's best brands.