Thinking inside the box 📦
Email sent: Aug 13, 2020 9:26am
When talking about creativity, many people will tell you: "Think outside the box!" The catchphrase is so common, it has become a bit of a cliché.
Maker Mind
Make the most of your mind
Hi there! I'm Anne-Laure Le Cunff, the founder of Ness Labs. You are receiving this email because you signed up to Maker Mind, a weekly newsletter about mindful productivity. Thank you for being here. If this email was forwarded to you, get your own ✨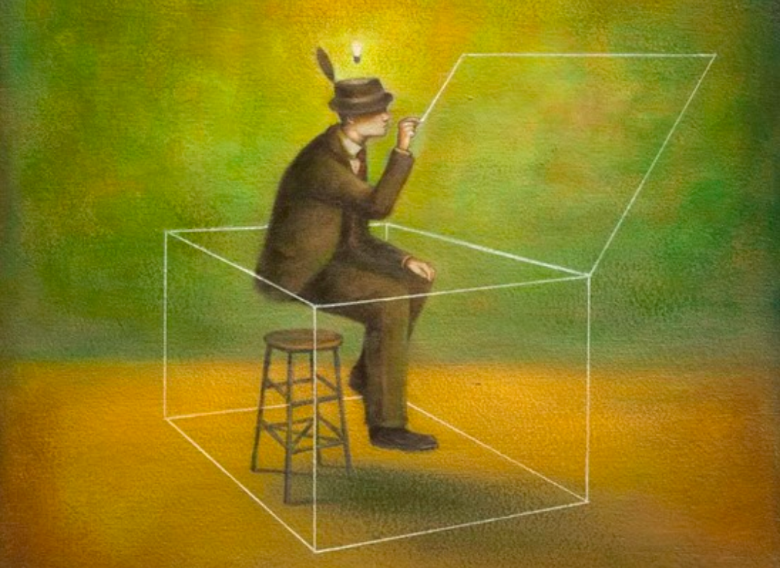 Current mood: enjoying the freedom of creative constraints. Artist: David Arioch.
Thinking inside the box.
Hi friends!
You are now 15,000 readers receiving the newsletter, and 500 curious minds have become members of the community. Thank you for being such a wonderful bunch of people, it's a privilege to be able to learn from you all.
Now, back to our regularly scheduled programming.
So... I have a pet peeve. "Think outside the box" is one of the vaguest, most useless piece of advice you can give to someone trying to come up with a new idea or a solution to a problem.
In this edition, I want to discuss how we can turn this cliché on its head, and think inside the box instead. How can we make the most of creative constraints?
I also share some tips to give and receive constructive criticism, as well as my approach to intermittent fasting.
Enjoy the read, and hit reply if you have any questions, feedback, or want to say hello!
p.s. I love this photo of our "Future of Text" meetup where everyone is looking super serious 🤔
Mental models. Are they helpful or dangerous? How do you identify and use them to your advantage? Join the virtual meetup and share your thoughts. Register »
Mental gym jam sessions. What if we treated mental health as we treat physical health? What if we improved our mental abilities based on lessons learned from physical exercise? Join »
Brain candy
Ode to a flower (Richard Feynman)
"Science knowledge only adds to the beauty and mystery of a flower."
Neuralink may soon allow users to control moods and emotions (Tech Times)
"A new feature on their brain chip will enable humans to go forth and choose the mood by balancing off a person's hormone levels."
Wall of ideas (Mental Codex)
"I publish short definitions, and what I find essentials in concepts hidden behind complex words."
Brain trust
A sneak peek into the members area. Becoming a member is a great way to expand your mind, and to support the newsletter!
Brain waves
Enjoying the Maker Mind newsletter? Share it with a fellow curious mind to receive a free ebook. You have 0 referrals, and your next referral is only a click away.

Copy and paste your referral link to others: https://nesslabs.com/newsletter?rh_ref=2df690d6

Until next week, take care!
Anne-Laure.
Copyright © 2020 Ness Labs, All rights reserved.
You are receiving this email because you opted in at the Ness Labs website to receive productivity and creativity tips.

Our mailing address is:


Want to change how you receive these emails?
You can update your preferences or unsubscribe from this list.


Other emails from Maker Mind
Shop without the noise.
Get our free newsletter of hand-picked sales you need to hear about from the web's best brands.