Boost Immunity with 1 Training Session @ This 1RM% + Mava Workout Glove Discounts
Email sent: May 4, 2021 9:08am
It only takes 1 Strength Training Session to Boost Immunity! I'll show you the Scientific Research here..
—> Click HERE-10% SALE💰ALL Mava Sports Items - Discount (MVALLSPORT10)
—> Click HERE-SAVE 15%💪Pair Ultimate Workout Gloves - Discount (MVULWORK15)
Today I'm going to show you the Research behind how Lifting super-charges the Human Immune System:) 
👉 Time Under Tension = Strong Immune System 
I tell my clients that Volume Matters, specifically the Volume of Weight Lifted over the years. The clinically term for this is "Time Under Tension."
Basically the more Time they spend "under weight" - the longer they'll Live, and the Healthier they'll be during their extended-life. 
There's a TON of reasons why this is true, and today I wanted to share the specifics regarding how Lifting Weights can dramatically Boosts your Immune System:) 
👉 "Strength Training changed the Count & Total Number of circulating Immune Cells and also increased the level of Plasmatic Apelin, BDNF, & FLTS1."
Plasma Apelin regulates Blood Pressure in a good way & BDNF stand for "Brain-Derived Neurotrophic Factor" and this puppy Boosts Cognitive Function💪
"BDNF acts on certain Neurons of the Central Nervous System and the Peripheral Nervous System, helping to support survival of existing Neurons, and encourages growth and differentiation of new Neurons & Synapses."
FLTS1 is a protein that accelerates the Wound Healing process via Re-Epithelialization which is "the process of creating a new barrier between Wound and the environment through epithelial cell migration."
👉 1 Training Session Works!
One of the fastest ways to Boost Immunity is to increase the number of White Blood Cells flowing through your veins. Amazingly enough, this happens after just 1 Training Session..
"Analyses of Results show that a Single Session of Strength Training elevates the Total Number of White Blood Cells."
This is Great News b/c white blood cells protect the body from "Foreign Substances, Microbes, & Infectious Diseases."
👉 Best 1RM for Immunity Boost
The Studies I found saw the Best Immune Boosting Results when people Lifted heavier weight. 
I found a ton of Studies for this Email. Here's one that sums up the ideal level of Intensity you should focus on, if your Goal is to Boost Your Immune System… 
"Load components around 60–85% of the values obtained in Maximum Strength Test 1RM (one repetition maximum)."
There ya have it! Lifting is Amazing for the human Immune System😊
—> Click HERE & SAVE 10% Today with Discount Code (MVALLSPORT10)
Thanks for reading! & I hope you have a ROCKING Tuesday!!! 
Until Next Time,
Brent Cameron

P.S. - LAST DAY to👉Click HERE-SAVE 15%💪PAIR Knee Wraps - Discount (AWESOME15)

Other emails from Mava Sports
May 12, 2021

High or Low Bar Squats for Strength & Low-Back Pain + 7MM Knee Sleeve Mava Discounts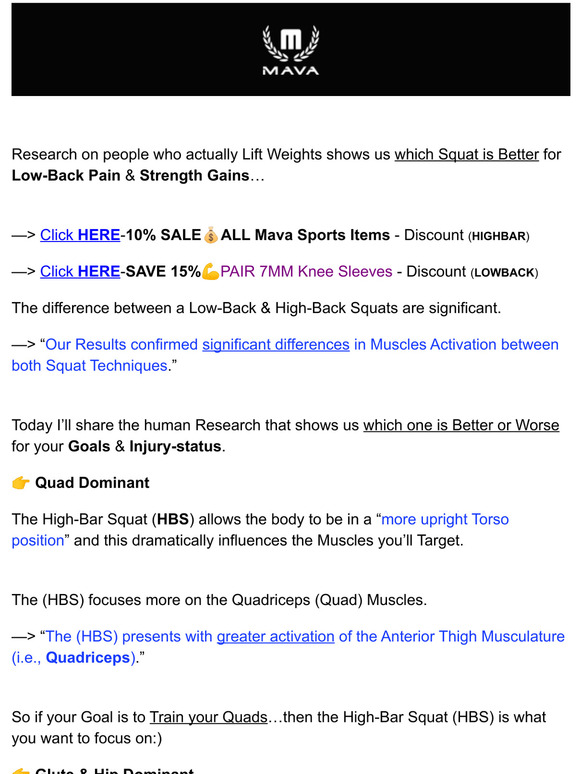 May 7, 2021

Effective vs Ineffective Stretching To Avoid Injuries & Get Stronger + All Mava Discounts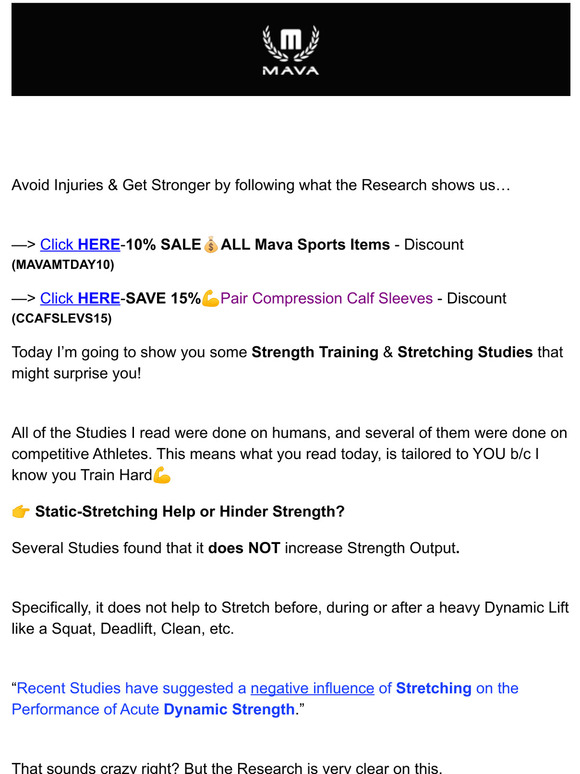 May 1, 2021

Do Protein Shakes Really Help? Science Gives Answers + Mava Knee Sleeve Discounts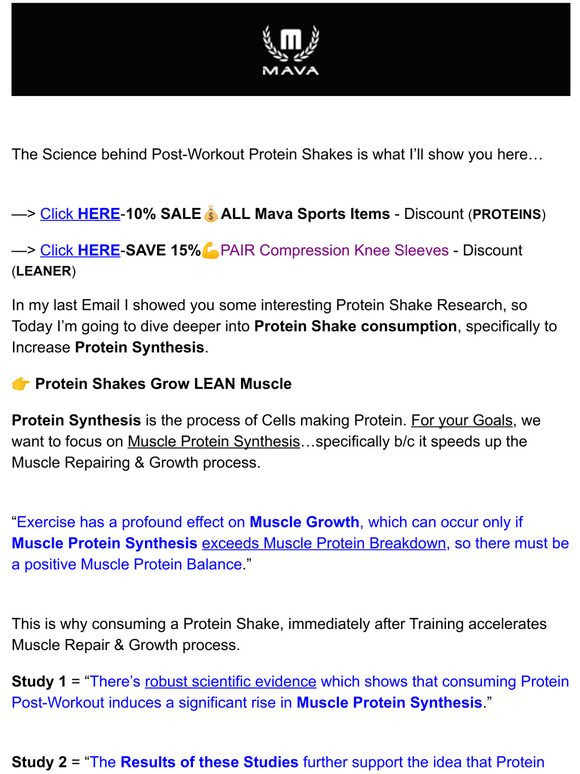 Apr 27, 2021

Adequate Nutrition for Muscle Growth & Repair Reported + Mava Compression Discounts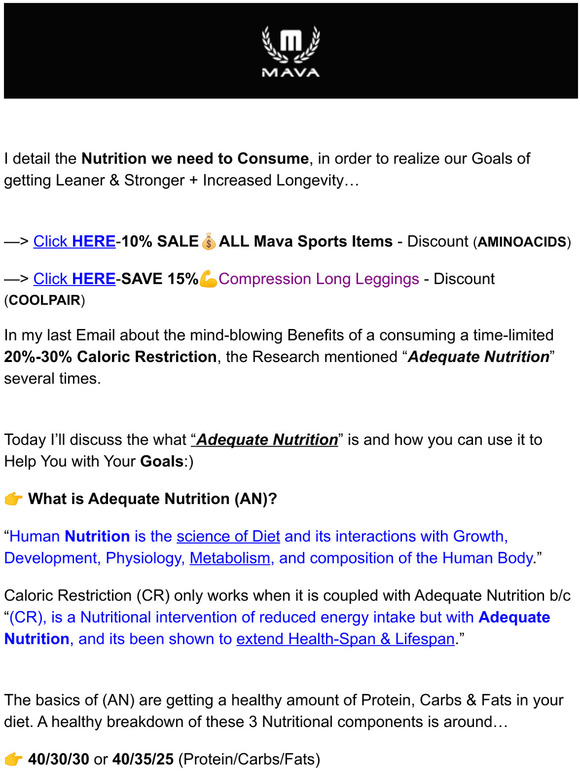 Shop without the noise.
Get our free newsletter of hand-picked sales you need to hear about from the web's best brands.