Exciting CBD themed live events & CBD Surprise Box
Email sent: Jun 11, 2021 3:00am
read about our latest live events and how you can take part
 ‌ ‌ ‌ ‌ ‌ ‌ ‌ ‌ ‌ ‌ ‌ ‌ ‌ ‌ ‌ ‌ ‌ ‌ ‌ ‌ ‌ ‌ ‌ ‌ ‌ ‌ ‌ ‌ ‌ ‌ ‌ ‌ ‌ ‌ ‌ ‌ ‌ ‌ ‌ ‌ ‌ ‌ ‌ ‌ ‌ ‌ ‌ ‌ ‌ ‌ ‌ ‌ ‌ ‌ ‌ ‌ ‌ ‌ ‌ ‌ ‌ ‌ ‌ ‌ ‌ ‌ ‌ ‌ ‌ ‌ ‌ ‌ ‌ ‌ ‌ ‌ ‌ ‌ ‌ ‌ ‌ ‌ ‌ ‌ ‌ ‌ ‌ ‌ ‌ ‌ ‌ ‌ ‌ ‌ ‌ ‌ ‌ ‌ ‌ ‌ ‌ ‌ ‌ ‌
Hello...
If you didn't already know, mellow is so much more than just your trusted destination to learn more about and buy CBD. We love connecting with you in so many ways, that's why we've been hard at work hosting live and interactive events...
We were so excited to welcome podcaster, entrepreneur and author Poppy Jamie onto the panel for our latest online mellow talk. This talk was filled with interesting insights, a live Q&A and loads of prizes were given away too
"The cream we bought from you recently truly does wonders for my son's knee pain. I've started taking CBD gummies that we bought from your brilliant store and it's helping my migraines ever so much" Sue

"I honestly can't believe how good value for money the surprise box is. I was well and truly surprised and loved it so much I've just ordered one for my wife!" - Michael

"Started taking CBD for my knee pain from a rugby injury and I have never looked back!" Daniel

To make sure you keep getting these emails, please add [email protected] to your address book or allow list. Want out of the loop? Unsubscribe.

201 Borough High Street, London, United Kingdom, SE1 1JA

Other emails from Mellow Store Uk
Apr 30, 2021

CBD for active lifestyles: natural ingredients & performance-focused CBD brands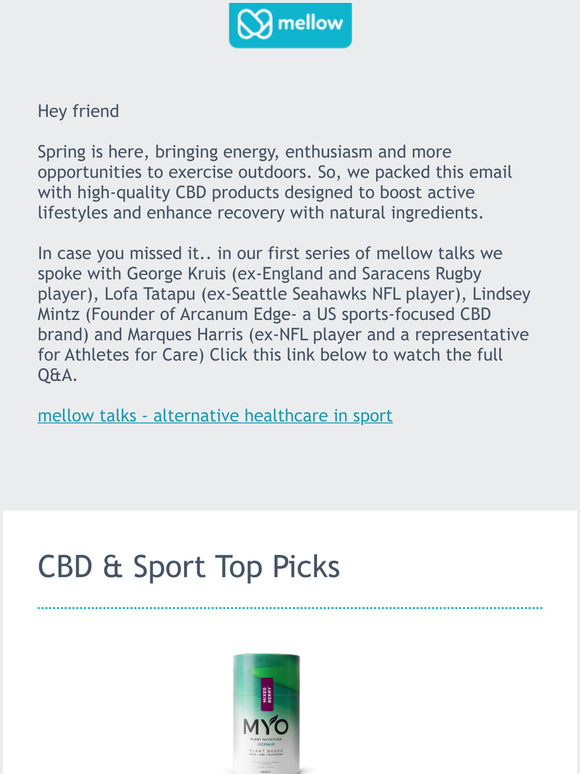 Shop without the noise.
Get our free newsletter of hand-picked sales you need to hear about from the web's best brands.