10% off 2021 Yeartext Supplies
This email was sent
Take advantage of the first sale of the year! Keep the 2021 year text close in mind: "Your strength will be in keeping calm and showing trust" - Isaiah 30:15.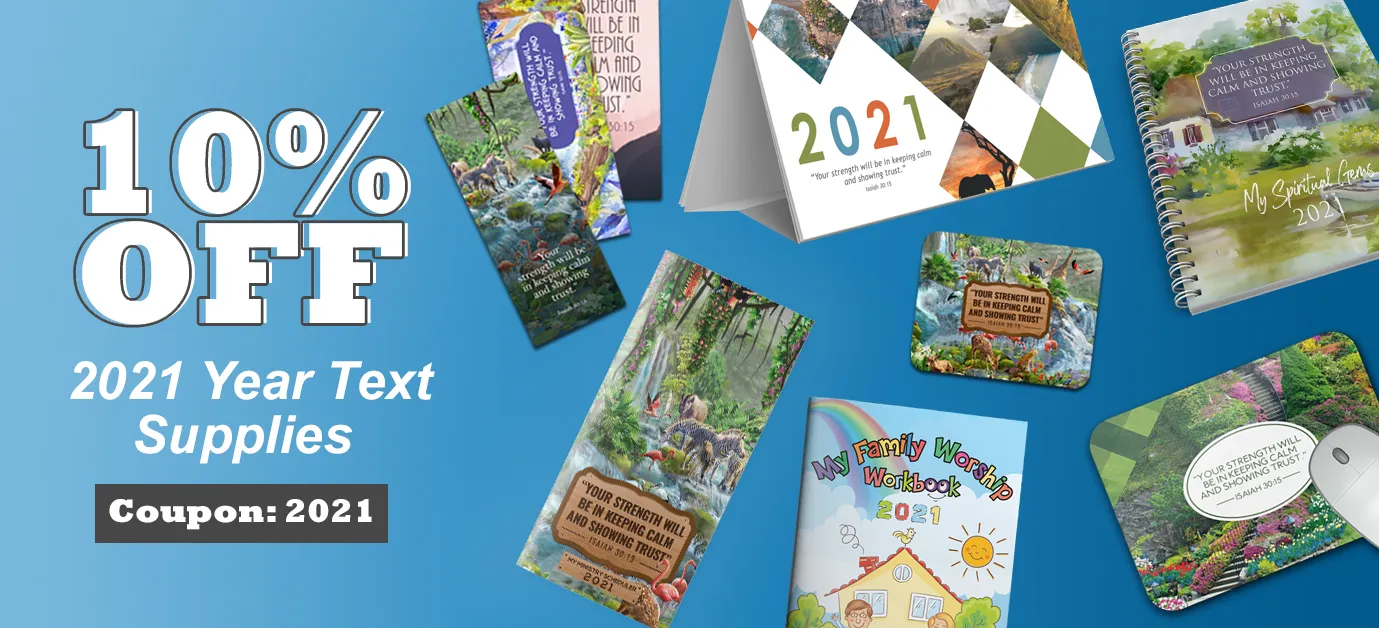 Annual items on sale!
Hello -:
If you haven't updated your calendars, now is the time! Yes, we are well into January now. Are you still struggling with writing "2021" instead of "2020"? To help you remember, we are providing 10% off all 2021 year text supplies.
These handy items will help you not only remember which year this is. You will also be reminded of the beautiful yeartext: "Your strength will be in keeping calm and showing trust" - Isaiah 30:15.
There is something for any occasion, whether you are taking notes at the meeting, planning out your service schedule, helping your children prepare for and focus at the meeting, working at the computer, or keeping up with your daily Bible reading.
10% off 2021 yeartext supplies!
Coupon code: 2021
*Terms and conditions: Deluxe Weekly Agenda (WEEK2021) not included in this sale. Cannot be combined with other coupons or discounts. Does not apply to previous orders. Expires January 31st, at 11:59 PM Central Time.

Read what others say:
★★★★★
"Happy to see the wall calendar is available and it looks beautiful. I always order one for myself and my daughter and son-in-law and they like it, too. I also order a pocket calendar every year and enjoy having that as well. This year, the postal service damaged my first order and when I reported it to Ministry Ideaz Customer Service, they promptly apologized and refunded my money. I truly desired to have the pocket calendar because that is what was important to me, so I immediately ordered another one. The quality is good and it helps me to stay organized." - Lauren
★★★★★
"I love the spiritual gems notebook. It makes studying for meetings so easy! It's so handy, having all the information right in front of me and I can jot down thoughts and notes as we go along." - Virginia

2021 Kids Meeting Workbooks
Get three different feature-filled workbooks packed with activities that will keep the kids focused at the meeting.

2021 'Spiritual Gems' Notebooks
Organize your notes and stay on track with these notebooks. Find special sections for different parts of the meeting. Also available in Spanish.

2021 Ministry Scheduler
It may be compact, but it's certainly not limited in features. Keep track of everything, from your service report to Bible reading, studies to family worship plan, and everything in-between.

2021 Pocket Planner
This customer favorite is small and mighty. The ministry planner is a go to for keeping track of your ministry schedule and service record. They make great gifts too!

2021 Calendars
Take a journey around the world with the full-color wall or desk calendars for 2021. Each calendar features the 2021 yeartext on each page, fast facts from around the world, weekly and memorial Bible reading, and beautiful scenery.

2021 Yeartext Pens
Keep the 2021 yeartext to the forefront of your mind throughout the year with these handy pens. The multi-functional pens are just what you want for all your note-taking needs.
Also available in Spanish.

Play and the Google Play logo are trademarks of Google LLC. Apple and Apple logo are trademarks of Apple Inc.
Address :

PO Box 27096 Langford PO | Victoria, BC | V9B 5S4 | Canada    

Ph:

+1-877-446-0784    

Email :

Click here
Ministry Ideaz © Copyright 2020. All Rights Reserved

You are currently signed up to Ministry Ideaz' newsletters. Click here to unsubscribe. If you need to change your email address please log in to update your profile.