10% off Convention Activity Books, ends tomorrow
This email was sent
Last chance to get your notebooks and save on shipping. Plus, save 10% off Kids' Workbooks.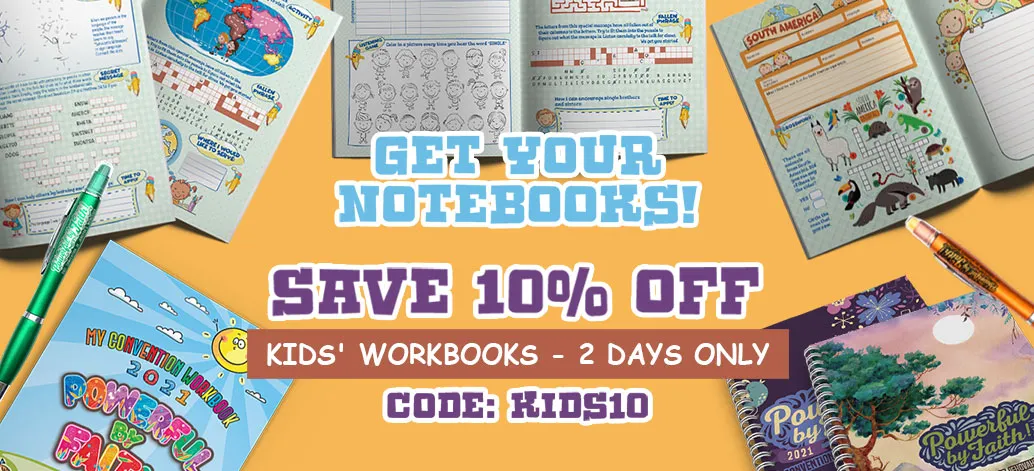 Time is running out! Order now.
Hello -:
With the "Powerful By Faith" Convention streaming soon, make sure to order your notebooks on time! It's your last chance to get your notebooks on time for the first session and save on shipping. (If you wait too long, you will need courier shipping.) Simplify note-taking with the many features of the convention notebooks!
Know a young one who would like a convention activity book? These workbooks, filled from cover to cover with activities, were designed to help kids follow the program. "Time to apply" sections encourage the child to reflect on what they learned. For 2 days only: save 10% on the Kids' Convention Workbooks.
Activities for preschoolers
Activities for preteens
"Time to Apply" sections
The "Listening Game" for each talk
"Complete the text" exercises
291 activities
Did you know we also have downloadable notebooks? Take notes on your tablet with the interactive version, or print your notebook from home. Plus, with a download, you don't have to wait for a shipment to arrive. You get the file right away.

*Terms and conditions: Expires Friday, June 11th, 2021, at 11:59 PM Central Time. Coupon only applies to the kids' convention notebooks (CU21DCPQ-P). Cannot be combined with other coupons. Must use coupon code "KIDS10".
Read what others have said about the convention notebooks:
★★★★★
"This product is a must-have especially since we have online conventions. Well made and fast service." - Edelmira (June 2021)
★★★★★
"Really love the MI products and this years' convention book went above and beyond. It's beautiful in its layout and concept. Really LOVE the new features. Will recommend highly to others!" - Cynthia (June 2021)
★★★★★
"I was gifted the Regional Assembly Note Taker, and loved the vibrant colors, and how easy it was to bullet point important notes. Very neat." - Anonymous (June 2021)
★★★★★
"I ordered the convention notebooks for myself and family gifts and have done so every year. I am satisfied with the new design and my gift recipients also were happy. I will continue to order them each year they are available. I was pleased to see the free shipping this time. I increased my order to qualify." - Dori (June 2021)

Play and the Google Play logo are trademarks of Google LLC. Apple and Apple logo are trademarks of Apple Inc.
Address :

PO Box 27096 Langford PO | Victoria, BC | V9B 5S4 | Canada    

Ph:

+1-877-446-0784    

Email :

Click here
Ministry Ideaz © Copyright 2021. All Rights Reserved

You are currently signed up to Ministry Ideaz' newsletters. Click here to unsubscribe. If you need to change your email address please log in to update your profile.
Recent emails from Ministry Ideaz for Jehovah's Witnesses

See more