2022 Yeartext Supplies Coming Soon
This email was sent
The supplies you've been waiting for. Sign up now to be notified!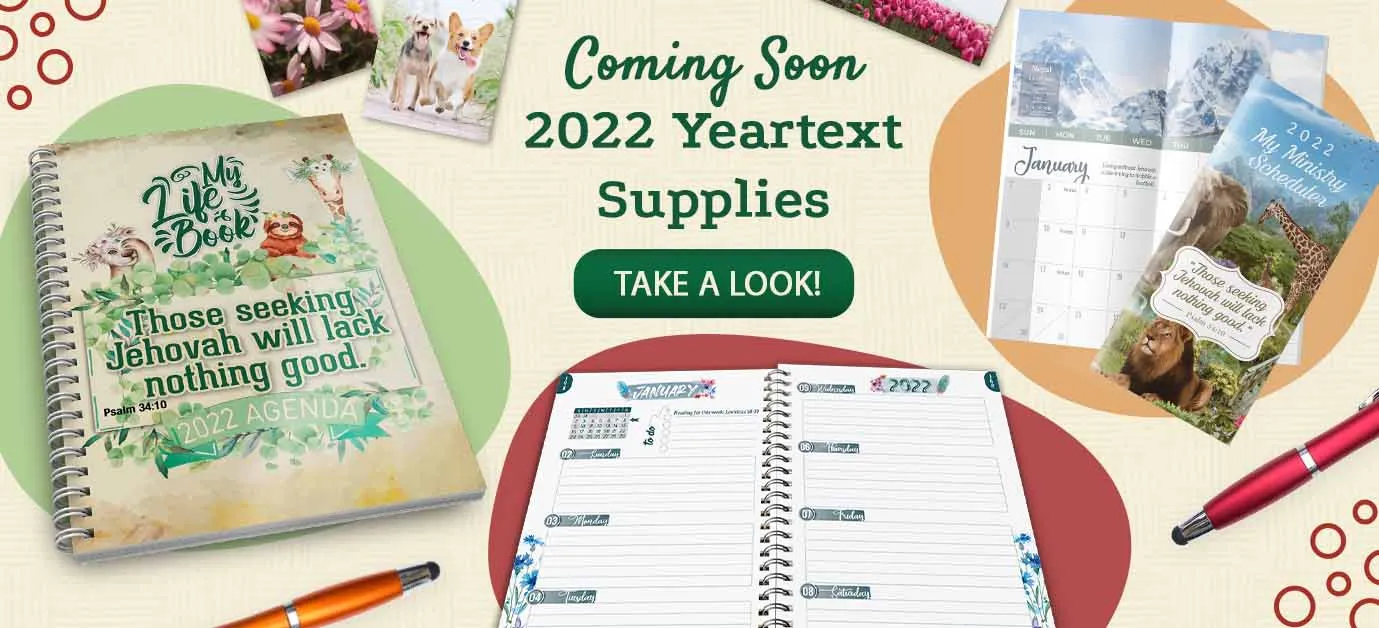 Agendas, Calendars, Notebooks, Bookmarks, Magnets, and More!
Hello -:
One of our most frequently asked questions: "When will [favorite 2022 supply] be available?" We get it. There are less than 3 months until your calendar runs out of days. So, whether you are looking for the 2022 Deluxe Weekly Agenda, or the "My Spiritual Gems" Notebook, or something else, we have news for you!
We are hard at work polishing up the designs. Each product will feature the 2022 yeartext:
"Those seeking Jehovah will lack nothing good." - Psalm 34:10
Do you want to know when you can order your favorite 2022 supplies? We plan to start taking pre-orders on November 1st (or sooner). Don't miss it! Go to the product page of your favorite items and click "Sign up to be notified when you can order."
See you then!
Special thanks to all our kind customers.
★★★★★ "A friend recommended the My spiritual gems workbook to help with attention at meetings. This website was well organized and it took me less than a minute to find what I was looking for. Overall highly satisfied with my experience and purchase." - Chloe (July 2021)
★★★★★ "Site is logically organized; from past experience, the quality of the products is high; the prices are exceptional when you consider the shipping can be free if you're willing to wait. This company is my first choice for anything to do with my precious brothers and sisters." - Tina (September 2021)

Play and the Google Play logo are trademarks of Google LLC. Apple and Apple logo are trademarks of Apple Inc.
Address :

PO Box 27096 Langford PO | Victoria, BC | V9B 5S4 | Canada    

Ph:

+1-877-446-0784    

Email :

Click here
Ministry Ideaz © Copyright 2021. All Rights Reserved

You are currently signed up to Ministry Ideaz' newsletters. Click here to unsubscribe. If you need to change your email address please log in to update your profile.
Recent emails from Ministry Ideaz for Jehovah's Witnesses

See more