25% off Ministry Pocket Planners
This email was sent
Time to save 25% off your new favorite planner: the 2022 Ministry Pocket Planner.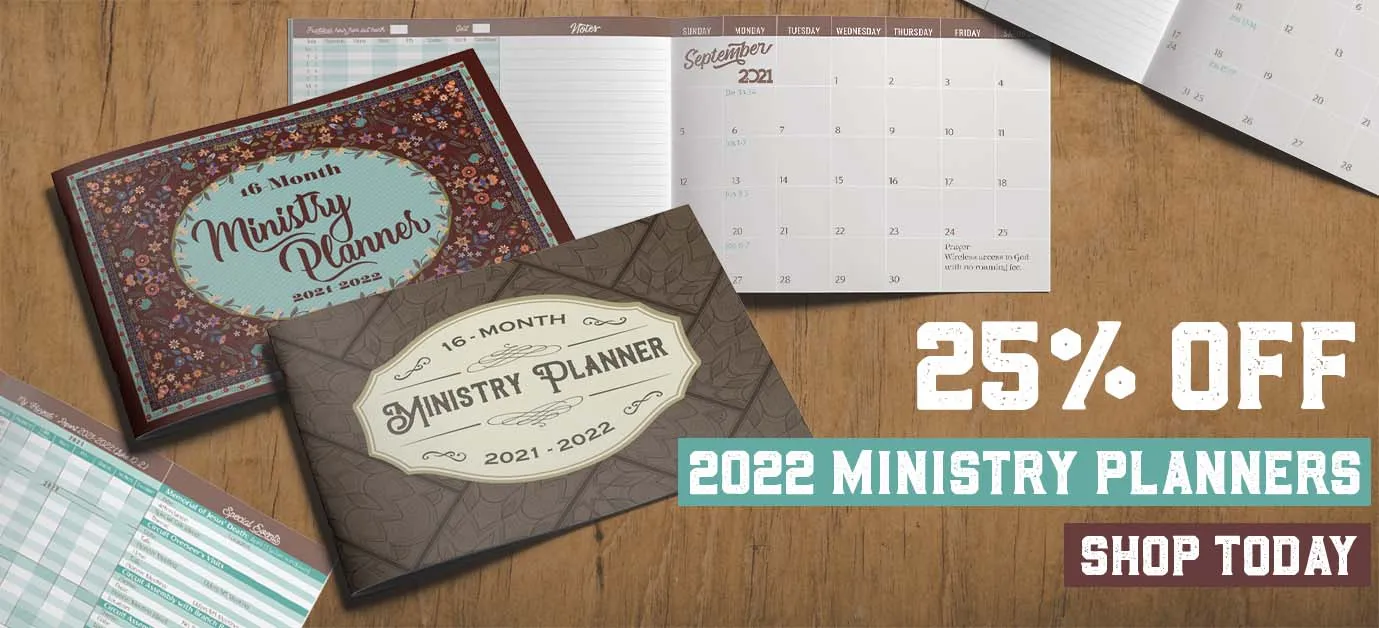 All the features, one compact design
Hello -:
What a year we had. Quarantines, distancing, and isolation have made service, and daily life, a challenge. A couple of years ago, you may have never heard of Zoom or imagined not going to the Kingdom Hall for meetings. This year may not have been the service year that you imagined. But, we are positive that you were able to accomplish more than you thought possible!
As we enter into a new service year, we will accomplish new goals and make plans! We are confident that no matter what the year may bring, you can persevere and thrive.
To help you get a headstart on your goals, we are offering the 2021-2022 Pocket Planner at 25% off. No need for a coupon! Just add it to your cart.
"I still like to record my service time in these day planners. There are electronic apps that do this too but I enjoy using a hard copy and Ministry Ideaz has a great product."
- Anonymous
This much-appreciated planner has been a customer favorite for years! Each month features a section to track your service report. Extra pages in the back help you plan your study schedule, make arrangements for the C.O. visit, arrange your family Worship, and track your Bible reading. All these features and more in one compact design - easy to slip into your suit-jacket or purse.

Have you seen the latest on our blog?
Big thanks to all the kind remarks we have received!
★★★★★ "Hi! I have been ordering from you for many years now. I'm Always delighted when I receive my package! The Quality is Always Outstanding! A+++++" - Julie (August 2021)
★★★★★ "The company has wonderful items and are inexpensive. Colorful and bright pictures to really show you what items looks like. Easy to order and they let you know through emails where your item is all the time" - Dana (July 2021)
★★★★★ "Our family loves Ministry Ideaz! Thank you for your love and hard work!" - Ruben (May 2021)
Just for fun:
My grandparents talk to me about when conventions were 8 days long. My parents talk to me about when conventions were 4 days long.
One day, I'll speak to my kids about when conventions were 2 months long.
Play and the Google Play logo are trademarks of Google LLC. Apple and Apple logo are trademarks of Apple Inc.
Address :

PO Box 27096 Langford PO | Victoria, BC | V9B 5S4 | Canada    

Ph:

+1-877-446-0784    

Email :

Click here
Ministry Ideaz © Copyright 2021. All Rights Reserved

You are currently signed up to Ministry Ideaz' newsletters. Click here to unsubscribe. If you need to change your email address please log in to update your profile.
Recent emails from Ministry Ideaz for Jehovah's Witnesses

See more