36 New Greeting Cards to Encourage Your Brothers and Sisters
This email was sent
Cards for a wedding anniversary, for pioneers, to send encouragement, to say "thanks," or to commend. Check out all 36 new designs.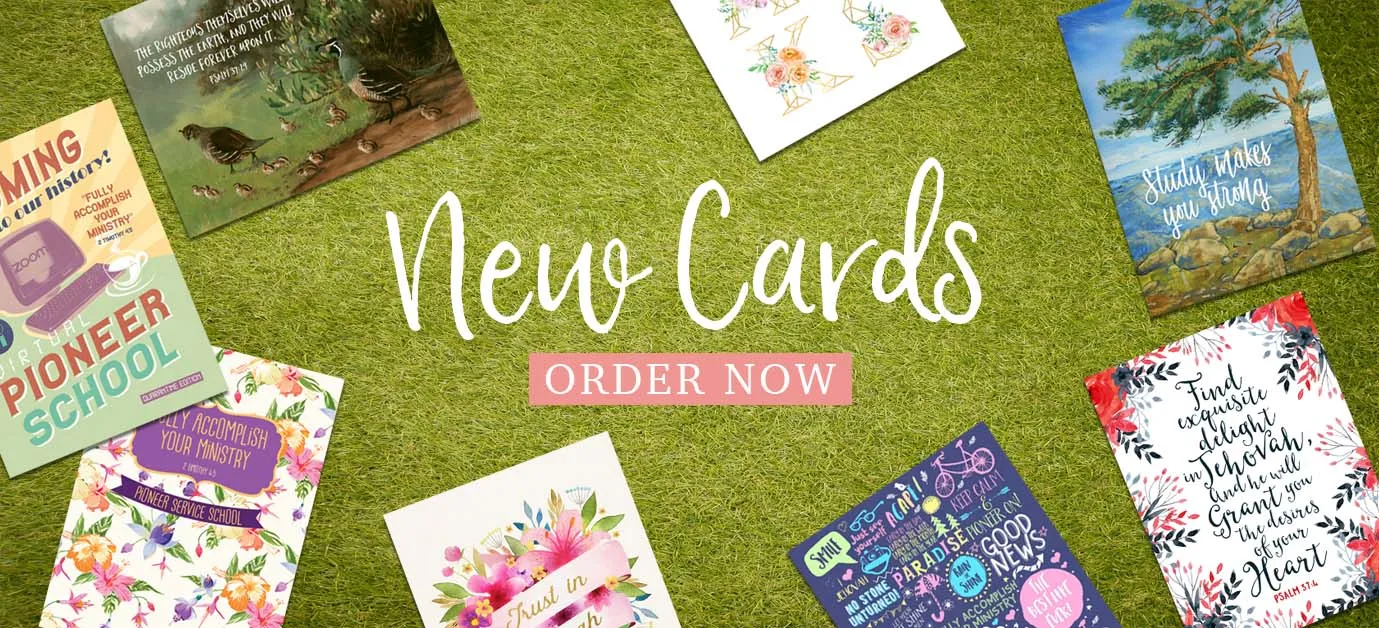 Thoughtful Cards Turn Into Smiles
Hello -:
Greeting cards are versatile and great for a variety of occasions. Are you looking to thank someone for an act of kindness? We have a card for that. Is your anniversary coming up? Don't forget a beautiful card for your spouse. Attending pioneer school? Send a card to your classmates or instructors. Has a good friend endured some hardship? Commend them for their fine example with an encouraging card.

Better yet: get a discount when you purchase 10 or more greeting cards!

★ ★ ★ ★ ★
"We always enjoy sending cards to friends and family for encouragement. Ministry Ideaz' cards are beautiful and send the right message." - Sally (January 2022)
★ ★ ★ ★ ★
"I love my orders of books, cards, and supplies. I can really depend on the company to help keep me up to date. Every time I give a greeting card the friends say they always look on the back of card to see where I order them from. Now they know I send cards from Ministry Ideaz." - Mrs. P (October 2021)

Play and the Google Play logo are trademarks of Google LLC. Apple and Apple logo are trademarks of Apple Inc.
Address :

PO Box 27096 Langford PO | Victoria, BC | V9B 5S4 | Canada    

Ph:

+1-877-446-0784    

Email :

Click here
Ministry Ideaz © Copyright 2021. All Rights Reserved

You are currently signed up to Ministry Ideaz' newsletters. Click here to unsubscribe. If you need to change your email address please log in to update your profile.
Recent emails from Ministry Ideaz for Jehovah's Witnesses

See more