37 New Greeting Cards and 10% off Convention Activity Books
This email was sent
Send some love with 37 new greeting card designs and bundles. Plus, save 10% on Kids Convention Workbooks for 2 days only.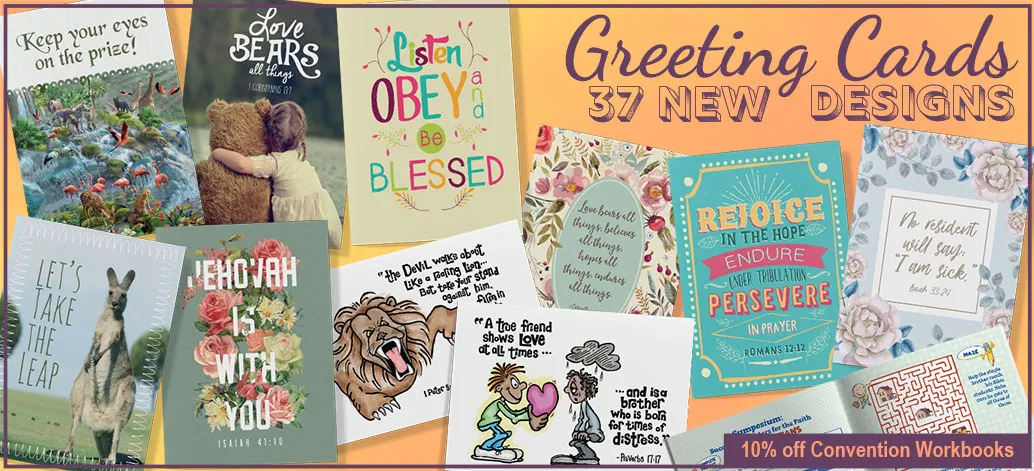 More Greeting Cards to Send
Hello -:
When is a greeting card valuable? We use them when a couple gets married or celebrates an anniversary, when someone's loved one dies, when a new brother or sister gets baptized, and when someone has a baby. How many occasions was that? I think I lost count. That's not to mention other reasons to send a greeting card!
Greeting cards are not just for special occasions. They provide a means to encourage others, commend a brother or sister, thank a good friend, or just say "hello!" Yet, tracking down an appropriate card can feel like a chore. It's no easy task. That's where our 37 new card designs come in. No matter what occasion, we want to make sure you can find an appropriate greeting card. With the increased selection, we are sure you can find something that suits your needs.
To make it even easier, we even set up various greeting card sets for different occasions and recipients. Many of our collections come with the option to choose how many cards you need. So you can adjust it to your needs and save at the same time!

*Terms and conditions: Expires June 25th, at 11:59 PM, Central Time. Cannot be combined with other coupons. No rainchecks.

Baptism Card Collection
This collection of cards is packed with gorgeous baptism cards! Don't be struggling to find a last-minute card when you have this bundle on hand. Choose a pack of 8, 11, or 14 different cards.

Encouragement Card Collection
This collection of encouragement and sympathy cards will help you be ready to share a kind word at the right time. Choose a pack of 6, 8, or 11 different cards.

Pioneer Card Collection
Do you know a zealous pioneer that you want to encourage? This collection of cards is a great start! Filled with various cards for pioneers. Choose a pack of 6 or 8 different cards.

Collection of Cards for Single Moms
Hard-working single parents need our love and support. So we put together this collection of cards to help give you a headstart! Choose a pack of 4 or 7 different cards.

Collection of Wedding & Anniversary Cards
A collection of lovely cards for a happy couple. These cards are for anniversaries and weddings. Choose a pack of 5 or 7 different cards.

Collection of Cards for Kids
We are always happy to see the progress of young ones in the congregation. This collection of cards was hand-picked with kids in mind. Choose a pack of 4 or 8.

Play and the Google Play logo are trademarks of Google LLC. Apple and Apple logo are trademarks of Apple Inc.
Address :

PO Box 27096 Langford PO | Victoria, BC | V9B 5S4 | Canada    

Ph:

+1-877-446-0784    

Email :

Click here
Ministry Ideaz © Copyright 2021. All Rights Reserved
You are currently signed up to Ministry Ideaz' newsletters. Click here to unsubscribe. If you need to change your email address please log in to update your profile.
Recent emails from Ministry Ideaz for Jehovah's Witnesses

See more