Are you ready for games night? New computer game
This email was sent
Get together with the friends and have some fun with this brand new game! "Open your heart wide" and get to know your brothers and sisters better.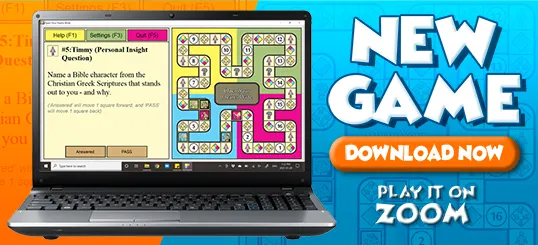 Get ready to have fun!
Hello -:
Looking for something fun to do for your next virtual games night? Break the ice and have some fun with the brand new game "Open Your Hearts Wide"! Send those invites and get 4-16 people together for a night of fun and bonding.
Unique gameplay encourages everyone to work together to answer Biblical questions. Get to know your brothers and sisters better with insightful questions like: "Name a Bible character from the Christian Greek Scriptures that stand out to you." Or build enthusiasm when players are encouraged to share recent experiences from service.
Ideal for video conferencing! Share your screen with your guests so all can see the questions, and let the fun begin. Get your copy today!

Are you looking for more ways to have fun with friends? Check out our blog post: "Having Fun in This Time of Physical Distancing." Be sure to leave a comment about your games night.
Read what others have said about our other computer games:
"These games are so much fun. We play with different friends on Zoom for hours." - Linda
"I enjoyed playing the Accurate Bible Knowledge Game so much with a group of friends after field service." - Sandra
"I recently was online with a group of friends playing the Knowledge game. I really enjoyed the questions and it kind of gave me a snapshot of my Bible knowledge. I try to be a good student, but there is still a lot to learn! I believe this will be a fun way to increase my awareness during my personal study and help me to target where my children may need assistance in a fun and relaxed setting. I came to this site to check out this program and to see what else was available. I was very pleased to see 5 programs bundled for a reasonable price! I am looking forward to exploring all of these programs." - Anonymous

Play and the Google Play logo are trademarks of Google LLC. Apple and Apple logo are trademarks of Apple Inc.
Address :

PO Box 27096 Langford PO | Victoria, BC | V9B 5S4 | Canada    

Ph:

+1-877-446-0784    

Email :

Click here
Ministry Ideaz © Copyright 2021. All Rights Reserved

You are currently signed up to Ministry Ideaz' newsletters. Click here to unsubscribe. If you need to change your email address please log in to update your profile.