"Best Life Ever" gift bags. Make giving simple.
This email was sent
Our new gift bags are a beautiful way to simplify giving. Remember: heartfelt gifts don't have to be elaborate or complicated.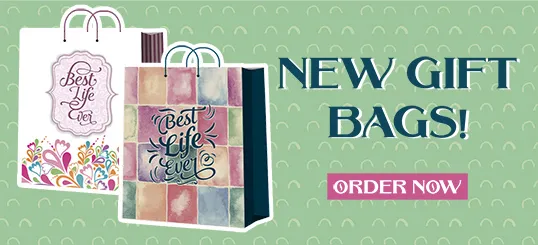 Pack Your Bags - Gift Bags
Hello -:
What do you appreciate the most in a gift? If you are like us, it's the heartfelt genuine care expressed by the giver. To help you focus on what's most important, we have new gift bags! These make packaging your gift a breeze and take the stress out of scouring the store for appropriate gift-wrapping. The "Best Life Ever" gift bags help you present a thoughtful, beautiful gift no matter the occasion.
Where will you use them? For a new pioneer? To cheer up a friend? To encourage a young one? To express your appreciation for someone's hard work? With these handy bags, all you need to do is pack them full of personalized gifts for the recipient.
Don't know what to pack? Find a selection of gift ideas on our website. You can also find tips to build your encouragement recipient list on our blog.

Thank you for all your kind words!
★★★★★ "I really like this website. The variety they have is great. If you are looking for a gift this is a good place to start looking" - Michelle (December 2020)
★★★★★ "I always order products from Ministry Ideaz, especially the annual items. Sometimes I make purchases for gift giving. Some of my friends, after admiring my products, have also ordered from MI. I plan on continuing to use them as my sole source for JW products." - Eleanor (January 2021)
★★★★★ "I try to order from Ministry Ideaz every year. The merchandise I ordered is used by me and the folks whom I gift thru out the year. They put a lot of effort to fulfill our needs and the products are exceptionally well made." - Janet (January 2021)
Play and the Google Play logo are trademarks of Google LLC. Apple and Apple logo are trademarks of Apple Inc.
Address :

PO Box 27096 Langford PO | Victoria, BC | V9B 5S4 | Canada    

Ph:

+1-877-446-0784    

Email :

Click here
Ministry Ideaz © Copyright 2021. All Rights Reserved

You are currently signed up to Ministry Ideaz' newsletters. Click here to unsubscribe. If you need to change your email address please log in to update your profile.
Recent emails from Ministry Ideaz for Jehovah's Witnesses

See more