Bethel Souvenir Pins + Free Paradise Mask
This email was sent
These pins of Bethel locations are great souvenirs or gifts. Plus, this week get a free mask with your purchase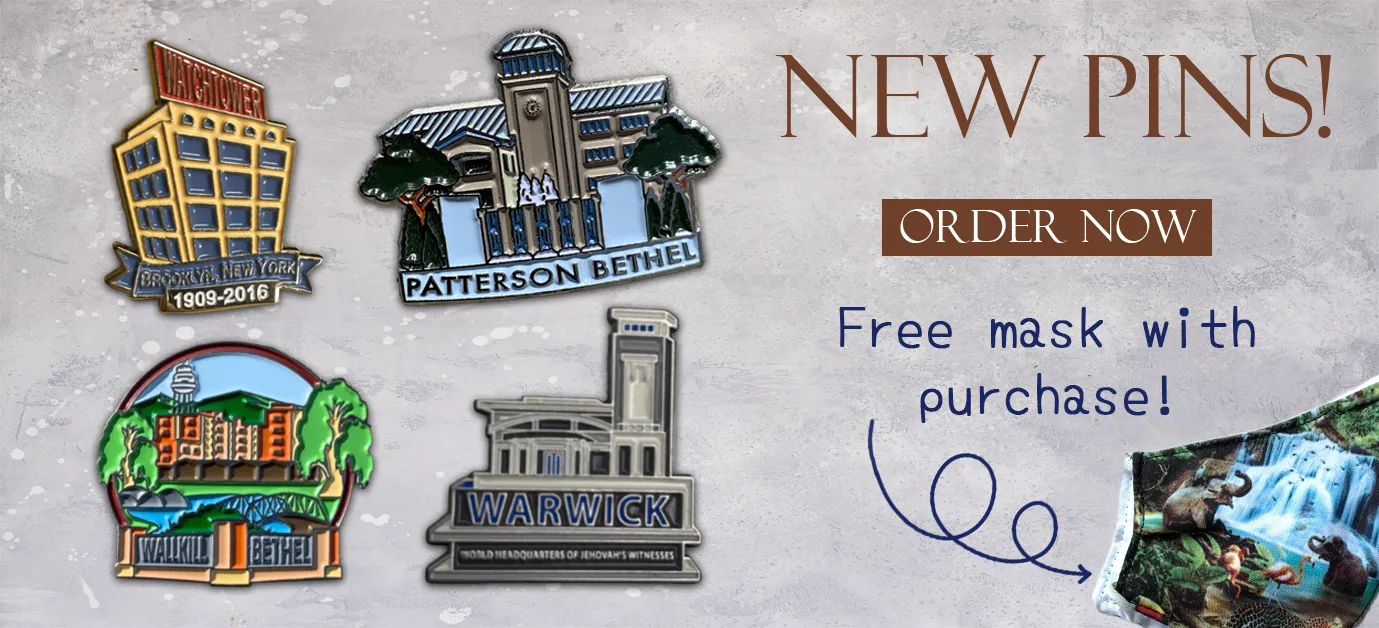 Do you collect pins?
Hello -:
Have you seen what's new? These beautiful metallic pins are in stock and ready to order. Each pin features a different Bethel location, including the old Brooklyn Bethel. They serve as great little gifts or keepsakes.
Bonus: First 100 orders get a free paradise face covering
Even though masks are optional in many places, many indoor places still require them. Get a nice fresh mask and a conversation starter all in one. Order soon! One free paradise mask per customer while supplies last.
(No need to add to your cart. Free mask will be added at shipment. To order extras, click here.)

A big thank you to all the kind reviews we have received!
★★★★★
"I would recommend Ministry Ideaz to anyone trying to organize their ministry! It has everything you need to make organizing your ministry easy and effective! I love the colors they have and pictures for the bookmarks and the agendas! They are beautiful! Great quality products!" - Anonymous (December 2020)
★★★★★
"I love Ministry Ideaz! A lot of wonderful products at decent prices. I've always been very pleased." - Kathleen (May 2021)
★★★★★
"I have purchased from Ministry Ideaz 3 times and I absolutely love their items! They send you emails on how their items are handmade. . .such wonderful talents! The shipping is very little and the items are so worth purchasing! I also bought extra as gifts for family members and they love their gifts! So very thankful for this website!" - Veronica (May 2021)

Play and the Google Play logo are trademarks of Google LLC. Apple and Apple logo are trademarks of Apple Inc.
Address :

PO Box 27096 Langford PO | Victoria, BC | V9B 5S4 | Canada    

Ph:

+1-877-446-0784    

Email :

Click here
Ministry Ideaz © Copyright 2021. All Rights Reserved

You are currently signed up to Ministry Ideaz' newsletters. Click here to unsubscribe. If you need to change your email address please log in to update your profile.
Recent emails from Ministry Ideaz for Jehovah's Witnesses

See more