Bible ABCs: Our fun new flashcard game
This email was sent
How well do you know your ABCs? Test your knowledge of the scriptures with our fun and colorful ABC Flash Card game based on the New World Translation. It's a great way to learn for young and old alike.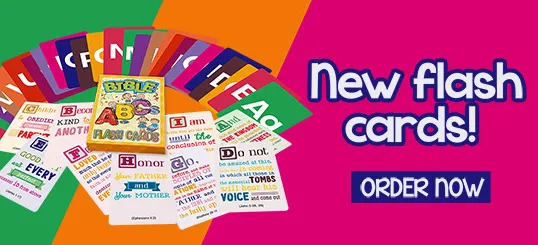 Learn your ABCs and your scriptures too
Hello -:
Z is for Zebra. OR Z is for "Zealous for fine works" (Titus 2:14). This fun take on flashcards is a great way to learn key scriptures. Play it solo or find a friend and quiz each other!
Each of the 26 colorful cards features a scripture to go along with the letter on the back. Hold the card so that the verse is hidden and try to remember where the scripture is located. Play as a family! Split the deck and take turns quizzing each other. However you play, these cards are a great addition to your game collection.
Before you know it, you will be thinking:
B is for "Become kind to one another" - Ephesians 4:32.

We would like to thank our customers for all the happy comments!
★★★★★
"I just bought some items from Ministry Ideaz, and I love them. I love the board game because it gives me and William something to do other than play on his game console. I also bought some letter-writing stationery to do my letter writing. It was easy and fast. I will buy from them again." - Jacquelyn (December 2020)
★★★★★
"I ordered some weekly planners as gifts, a book cover for my baby's "first lessons" book, and an agenda for 2021 for me. I loved every single thing. You can definitely see the care they take to make everything. The agenda is full of wonderful reminders, scriptures, pioneer scheduling help, note sections, monthly service report for each month, etc. It's so lovely and detailed!" - Jeanette (December 2020)
★★★★★
"I bought a bundle of games and the assembly notebook(all at excellent prices), they were all digital downloads, which is fantastic!! I bought these as a gift for my children, they will be so thrilled about all of it, I can't wait to show them!" - Terry (March 2021)

Play and the Google Play logo are trademarks of Google LLC. Apple and Apple logo are trademarks of Apple Inc.
Address :

PO Box 27096 Langford PO | Victoria, BC | V9B 5S4 | Canada    

Ph:

+1-877-446-0784    

Email :

Click here
Ministry Ideaz © Copyright 2021. All Rights Reserved

You are currently signed up to Ministry Ideaz' newsletters. Click here to unsubscribe. If you need to change your email address please log in to update your profile.
Recent emails from Ministry Ideaz for Jehovah's Witnesses

See more