Bundle and Save On Ministry Essentials
This email was sent
Have you seen the Ministry Value Pack? Save $20 when you get these essentials bundled together.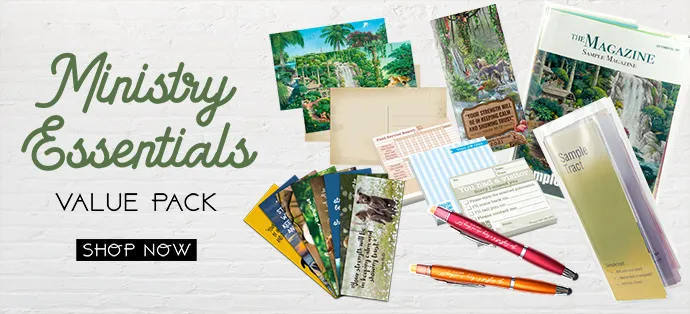 All the essentials in one place
Hello -:
Looking for a cheap way to get the basics? With this bundle, you get all the essentials for less. This value pack includes:
One Tract and Magazine Organizer
One Tract Display Booklet
One Ministry Scheduler for 2021
Eight beautiful Bible Reading Bookmarks
One set of 24 Ocean Paradise Postcards
One set of 24 Jungle Paradise Postcards
"Visit JW.org" Sticky Notes
Not-At-Home Sticky Notes
Field Service Record Sticky Notes
Two Yeartext 3-in-1 Pens for 2021
Whew. That's a lot.
This bundle is $20 less than buying these items separately. Get it for yourself or give away the supplies to friends! Do you know someone who would appreciate a kind gesture?

Have you seen our latest blog article? Check it out and let us know: "How do you express appreciation?"
Thank you for all the kind words!
"I don't have a lot of time. But Ministry Ideaz has many innovative practical meeting, ministry, and miscellaneous supplies. If you want to get your theocratic life and priorities organized, this is a site worth visiting" - anonymous customer
"I was shopping for a baptism gift for a special someone and I remember my girlfriend talking about these great items you could find on this site. I was very pleased to see what variety they had and can't wait for the new items to be available. I'll definitely shop again. These little things makes serving Jehovah fun!!" - Arceli

Play and the Google Play logo are trademarks of Google LLC. Apple and Apple logo are trademarks of Apple Inc.
Address :

PO Box 27096 Langford PO | Victoria, BC | V9B 5S4 | Canada    

Ph:

+1-877-446-0784    

Email :

Click here
Ministry Ideaz © Copyright 2020. All Rights Reserved

>
You are currently signed up to Ministry Ideaz' newsletters. Click here to unsubscribe. If you need to change your email address please log in to update your profile.