Convention Notebooks for Download
This email was sent
Did you forget to order your convention notebooks? It's not too late to download one! Check out our new interactive or printable note-takers.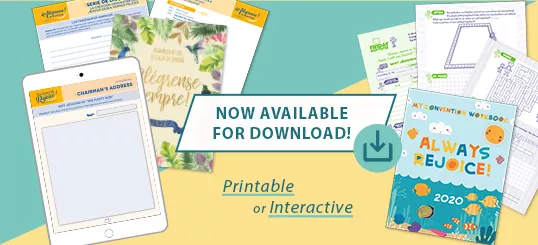 Quick Digital Delivery
Hello -:
Did you forget your convention notebooks? It's not too late for digital delivery.
By popular request, we are now offering downloadable notebooks. Our talented graphics artist has worked hard on this new format of our beautiful notebooks. You can choose from 2 download options: digital or printable. (Available in English, or Spanish.)
The printable version has lines for easy hand-written notes and is perfect for printing at home.
The digital version is interactive, with text fields to type in your notes. Load it on your tablet with your favorite PDF reader app.
Don't forget the kids! If you are still looking for a great way to help kids follow along with the convention program, check out our Printable Kids Workbook. Print one session at a time or print it all at once. This printable workbook has all the same fun features of our regular paper workbooks.

With downloadable products, there is no need to wait for a package to arrive. You can get your notebooks now!

Printable Kids' Workbook
Purchase a downloadable workbook for the kids and print the pages at home. With over 350 activities, this workbook has something for all ages.

Interactive or Printable Convention Notebooks
Choose either the digital version with interactive text boxes, or get the printable version for hand-written notes.

Play and the Google Play logo are trademarks of Google LLC. Apple and Apple logo are trademarks of Apple Inc.
Address :

PO Box 27096 Langford PO | Victoria, BC | V9B 5S4 | Canada    

Ph:

+1-877-446-0784    

Email :

Click here
Ministry Ideaz © Copyright 2020. All Rights Reserved
You are currently signed up to Ministry Ideaz' newsletters. Click here to unsubscribe. If you need to change your email address please log in to update your profile.