Encouraging Biblical Magnets - 22 New Designs
This email was sent
Have you seen the newest magnets? The perfect little gift now in over 95 designs.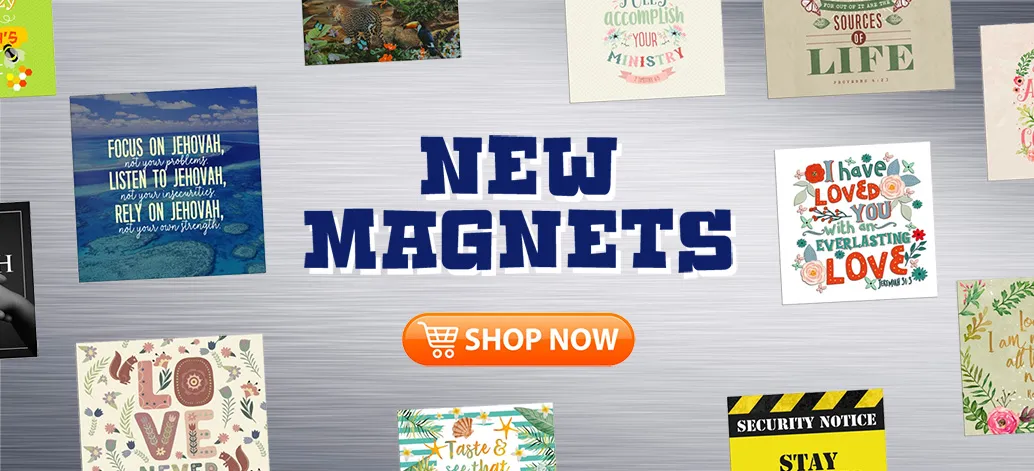 Magnets For You
Hello -:
Did you know we have added to our selection of magnets? Now with over 95 different magnet designs, there is something for everyone. Some of the featured phrases include:
"Stay buzzzzzzy in Jehovah's Service"
"Just Around the Corner"
"Love Never Fails"
"The only one who can truly satisfy the human heart is the one who made it."
"Friends make the good times better and the hard times easier."
"Let Jehovah renew your strength - Isaiah 40:31"
These are just some of the 22 new magnets recently added! Check out the complete collection on our website. Save when you get 10 or more of them or when you order a set. Magnets make beautiful little gifts - keeping fun and encouraging thoughts readily visible, creating smiles every day.
A big thank you to all the kind reviews we have received!
★★★★★
"I received my package in a timely manner and very well wrapped. I appreciated the quality items I received at a reasonable price. They even tucked a couple of thank you gifts in as well as a coupon for a percentage off a future purchase. It was a nice touch that I was encouraged to share the coupon with friends and family. I will definitely be ordering from Ministry Ideaz in the future. I purchased a couple of fridge magnets for gifts and the recipients were very happy. So was I! The one I ordered for myself is just beautiful!" - Anonymous (January 2021)
★★★★★
"I love the information they share on Instagram and their encouragement. It is wonderful to see a variety of beautiful pictures for their magnets and bookmarks to visually remind us of the beauty of Jehovah's creation and our hope for the future. I have seen a few of their workbooks for writing notes and like the format so I am looking forward to using them to encourage my note-taking during the meetings." - Lori (July 2021)
★★★★★
"I've been getting some really nice lined paper with background pictures. Paper is a good quality for letter writing. This was my 3rd order of this item, it is delivered in a timely way." - Brad (March 2021)
Play and the Google Play logo are trademarks of Google LLC. Apple and Apple logo are trademarks of Apple Inc.
Address :

PO Box 27096 Langford PO | Victoria, BC | V9B 5S4 | Canada    

Ph:

+1-877-446-0784    

Email :

Click here
Ministry Ideaz © Copyright 2021. All Rights Reserved

You are currently signed up to Ministry Ideaz' newsletters. Click here to unsubscribe. If you need to change your email address please log in to update your profile.
Recent emails from Ministry Ideaz for Jehovah's Witnesses

See more