"Enjoy Life Forever" covers - Keep your book like new
This email was sent
Keep your new Bible study aid in good condition with these vinyl covers. Protect it from wear and tear.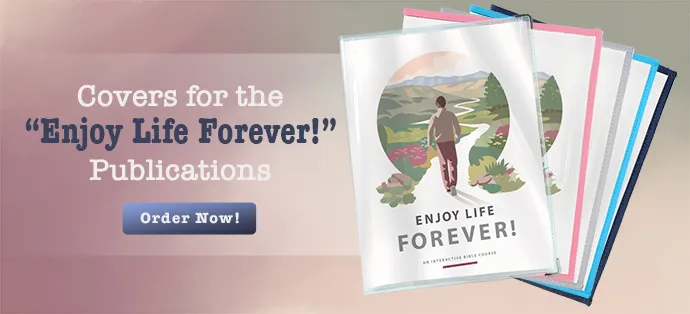 Protect your new book
Hello -:
When a new publication is released we are always excited and eager to use it in the ministry. Keep your copy of the brochure or book in top shape with a high-quality vinyl cover. What are the benefits of our vinyl covers?
Protects the publication from damage
Helps keep your book clean
Does not hide the cover of the book
Quality materials and workmanship that lasts
Our vinyl covers have been a customer favorite for years!
★★★★★ "Love these covers. I've purchased them in the past because of their durability and simplicity. Highly recommend these covers for any of your cherished publications." - Mrs. A (January 2021)
★★★★★ "Keeps the books for the Bible Book Study nice and protected. Plus it adds stability. Looking forward to using it with the new Ezekiel Book!" - Swiss (January 2020)
★★★★★ "The covers are so nicely made. Perfect fit and protects my books very nicely!" - Dawn (May 2019)
Keep your book like new. Get a cover today!


Clear Vinyl Cover
- for the book
Keep it simple! High-quality vinyl, hand-stiched for a long-lasting cover. Metal corners add a simple touch of elegance.

Colorful Covers
- for the book
Make it personal by adding a touch of color. Featuring the same high-quality materials and workmanship of all our vinyl covers.

Clear Vinyl Cover
- for the brochure
Getting a brochure for the ministry? Keep it in good shape too with this handy cover. Choose size N for a perfect fit.

Play and the Google Play logo are trademarks of Google LLC. Apple and Apple logo are trademarks of Apple Inc.
Address :

PO Box 27096 Langford PO | Victoria, BC | V9B 5S4 | Canada    

Ph:

+1-877-446-0784    

Email :

Click here
Ministry Ideaz © Copyright 2021. All Rights Reserved

You are currently signed up to Ministry Ideaz' newsletters. Click here to unsubscribe. If you need to change your email address please log in to update your profile.
Recent emails from Ministry Ideaz for Jehovah's Witnesses

See more