Forgot to get your convention notebook? Download one today.
This email was sent
It's the last chance to download a convention notebook in time for the first session. Get a printable or digital copy.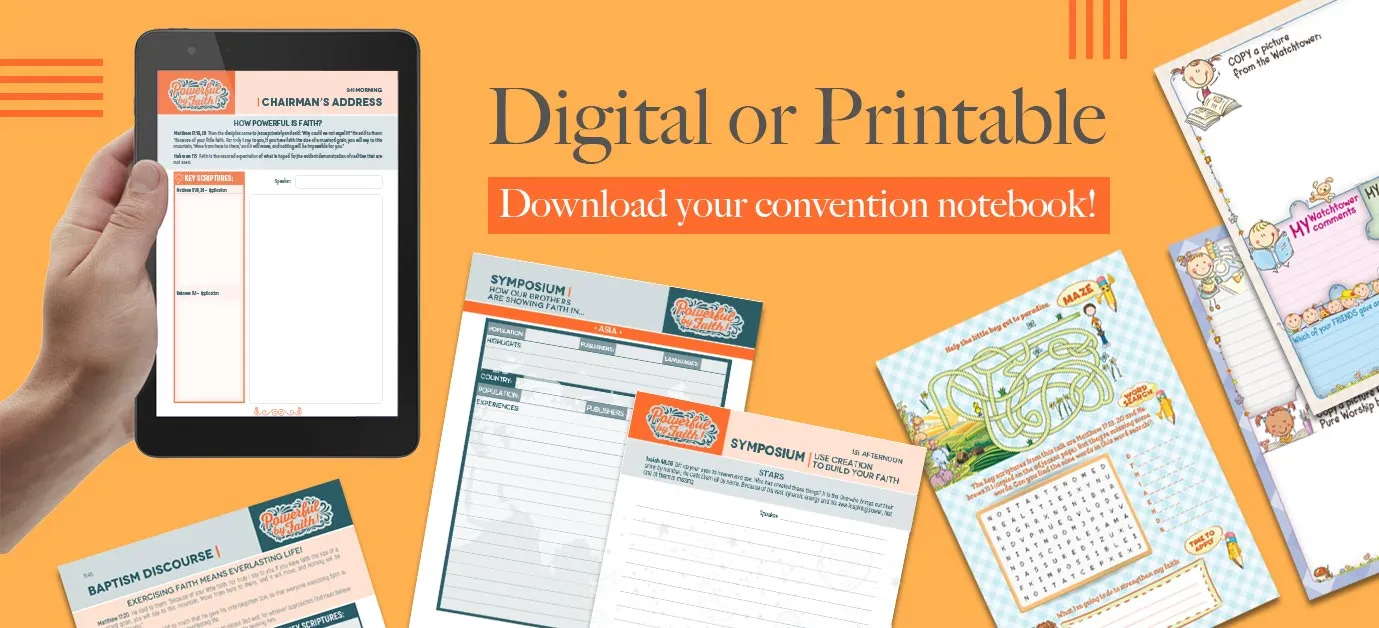 Download a Notebook
Hello -:
Did you want a convention notebook but ran out of time for delivery? Get a downloadable copy! It's your last chance to get a digital or printable copy in time to watch the convention this weekend. Load the digital version into your favorite PDF reader and start adding your notes, or get a printable version and print your own notebook.
Don't forget the kids. We have activity books for them too.
"These workbooks are amazing and super high quality! Well worth the cost. Next year I'll order earlier as we are just 6 days before the start of our convention 😳  and I was a little worried they wouldn't arrive in time. Will most definitely recommend to any parent/grandparent 👍 👏  " - Karen
We are so happy that our customers are excited about this year's kids' activity books! We realize that many wanted workbooks but were a little too late to get them in time for this week. Not to worry, you can download one and print it at home! To help you get started, or if you're still waiting for a paper copy, you can get the Friday morning portion as a free sample. Click the free sample link in the product description.

Read what others have said about the convention notebooks:
★★★★★
"I downloaded the 2021 convention notebook. It was more than I expected. I know I am going to enjoy using it. I would recommend Ministry Ideaz to my friends as it always has such a great selection of items." - Teresa (June 2021)
★★★★★
"I just purchased the printable version of the convention notebook. I love being able to get it right away." - Joyce (June 2021)
★★★★★
"Very easy site to use, even though I am not a techy person, and hate shopping online. Every item is described well, and in some cases (ie: convention notebooks) with multiple pictures to show in detail the item and its many pages." - April (June 2021)
Printable Kids Workbook
291 activities. 112 pages. And available as a printable. What a great resource to help the young ones follow along with the program. Get a free sample!

Digital Notebook
Select a digital version and load it into your favorite PDF reader. The digital version comes with text fields so you can type your notes directly into the PDF file.

Printable Notebook
Select a printable version for a high-quality file that you can print yourself; no need to wait for a delivery.

Play and the Google Play logo are trademarks of Google LLC. Apple and Apple logo are trademarks of Apple Inc.
Address :

PO Box 27096 Langford PO | Victoria, BC | V9B 5S4 | Canada    

Ph:

+1-877-446-0784    

Email :

Click here
Ministry Ideaz © Copyright 2021. All Rights Reserved

You are currently signed up to Ministry Ideaz' newsletters. Click here to unsubscribe. If you need to change your email address please log in to update your profile.
Recent emails from Ministry Ideaz for Jehovah's Witnesses

See more