Fun scriptural magnets. Make someone smile.
This email was sent
Stick one of these magnets to your fridge for daily encouragement, or send one to a friend.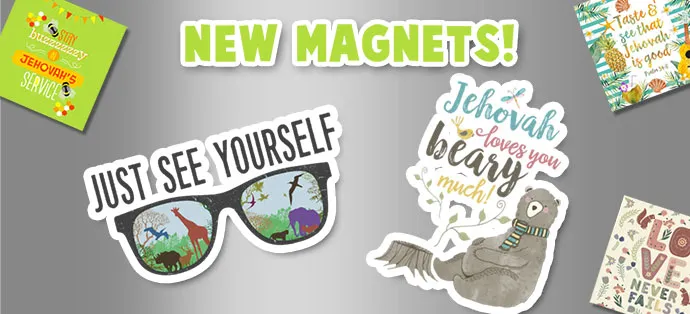 Small Gift, Big Heart
Hello -:
Are you looking for a simple gift to send to a friend? We have new magnets in store! Magnets are a simple yet effective way to spread upbuilding words of encouragement. For years, a magnet can adorn a refrigerator and bring back happy memories of good times or kindness.
Our brand new cutout-style magnets feature two popular themes you may have seen on our website in the past. Remind someone that "Jehovah loves you beary much" with the adorable bear magnet. Bring a smile to a friend's face as they look to the future paradise with the "Just see yourself" glasses magnet. (Of course, there is nothing wrong with getting one for yourself too.) See the complete selection of magnets on our website!
Who will you gift a magnet?
Thank you for all your kind words!
★★★★★ "I wanted to improve on our scheduling and letter writing for our family. So we decided to get calendars and the beautiful stationery and the cool Sophia pen for my daughter. It was so easy to find what we wanted and a big plus was the website telling me how close I was to free shipping! Such a wonderful perk!" - Hassan
★★★★★ "I bought these for the encouragement of scriptures on them. Also to help my grandchildren be organized and engaged at their meetings for worship. And also to help a Bible Study enjoy her study of the Bible and progress toward baptism. I ordered these to show love to those we love as Jehovah and Jesus taught us." - Theresa
★★★★★ "I love the tailored products for the weekly meetings and Bible study programs it makes studying and organizing a breeze for me." - Kimberly

Play and the Google Play logo are trademarks of Google LLC. Apple and Apple logo are trademarks of Apple Inc.
Address :

PO Box 27096 Langford PO | Victoria, BC | V9B 5S4 | Canada    

Ph:

+1-877-446-0784    

Email :

Click here
Ministry Ideaz © Copyright 2021. All Rights Reserved

You are currently signed up to Ministry Ideaz' newsletters. Click here to unsubscribe. If you need to change your email address please log in to update your profile.
Recent emails from Ministry Ideaz for Jehovah's Witnesses

See more