Get 50% off Kids Supplies
This email was sent
Introducing the fun kids' bundle, plus, receive 50% off kids' supplies. Grab this deal with coupon code: 4KIDS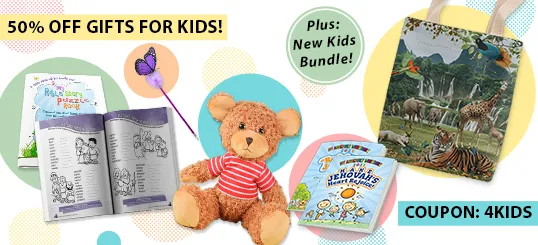 Get something for the kids
Hello -:
Introducing a new bundle for young ones! With the Kids Bundle of Fun, get a selection of hand-picked supplies that the kids will love! You will get:
A Caleb Teddy Bear,
A Sophia Butterfly Pen,
2 puzzle books,
Workbooks for both Circuit Assemblies,
A beautiful paradise notepad,
A waterfall paradise tote to hold it all, and
A free 2020 Convention Workbook for some bonus puzzles.
This bundle is a great deal on its own, but that's not all. To introduce this cute set of supplies, we are offering kids supplies at 50% off! That means bonus savings on this bundle, savings on individual items, or half-price children's cases.
Sale ends Friday night!
Claim this deal with coupon code*:
4KIDS

*Terms and conditions: Offer expires on October 9th at 11:59 PM Central Time. Does not apply to previous orders.
Thank you for all the kind reviews!
Rhonda says: "I have been shopping with Ministry Ideaz for several years, and am always very satisfied. The quality of the products and special designs are especially nice. Order fulfillment is always correct and timely."
Tiffany says: "I love 💕 this product I bought 3. One for my son and nephews. I hope you make more products like these 💕🤗" (Caleb Teddy Bear)

Play and the Google Play logo are trademarks of Google LLC. Apple and Apple logo are trademarks of Apple Inc.
Address :

PO Box 27096 Langford PO | Victoria, BC | V9B 5S4 | Canada    

Ph:

+1-877-446-0784    

Email :

Click here
Ministry Ideaz © Copyright 2020. All Rights Reserved

You are currently signed up to Ministry Ideaz' newsletters. Click here to unsubscribe. If you need to change your email address please log in to update your profile.