Get Ready: JW Convention Supplies Are Here
This email was sent
Order soon to avoid rush shipping charges later! Get all your "Powerful By Faith" Convention supplies and check out the all-new Kids' Workbooks.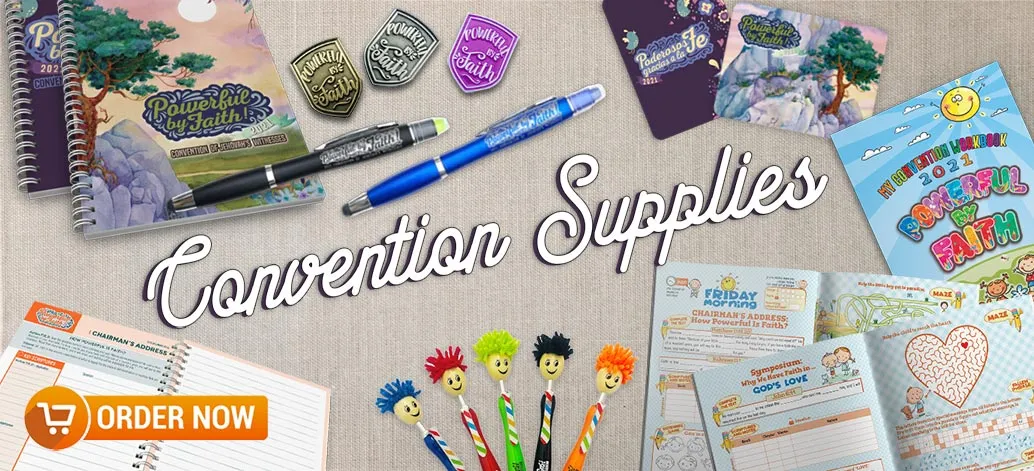 Powerful By Faith Convention Supplies
Hello -:
What are your streaming plans for this year's "Powerful By Faith" convention? Keep your notes tidy and your kids focused with our 2021 Convention Supplies!
Secular "ready-made" Bible activities will invariably have unscriptural details. By contrast, our convention activity books were designed from the ground up. And with 53 talks and parts on the program, making a variety of activities and puzzles for a variety of age groups was a monumental task.  Check out our video/blog to see how it all came together and to get a sneak peek 'behind the scenes.' The result of 2 months of work is a beautiful, full-color workbook with 291 activities - designed to help young ones focus on the program, not distract them. Read what others have said about our past kids' workbooks:
★★★★★ "Made an excellent gift for many families! It has been so nice for the kids, fits all age ranges. I gifted several and the parents are telling how much their kids are enjoying it! Thanks again very much!" - Erika (August 2020)
★★★★★ "Best convention notebook I've seen! I have a nine-year-old son and this notebook has been great for him. There are easier activities for him and also more challenging ones, but all on the theme of the convention talks. Great job on this notebook!" - Shannon (August 2020)
The kids are not the only ones who deserve a great note-taking experience. Our convention notebooks for adults contain pre-printed talk titles and theme scriptures for note-taking simplicity. Even more space than last years' notebooks, each talk has ample room for writing - up to 3 pages for longer talks.

New features this year:
more pages for longer talks

six special "Session Review" pages to record 'goals and improvements' and 'things to pray for'
special boxes to record "Key Scripture Application"
easy 'fill in the blanks' feature for field experiences highlights
special boxes to record memorable illustrations and experiences
You save when you purchase in bulk. Plus, these notebooks are now available as a download.
Finally, why not complete the convention experience with a lapel badge holder and special "Shield of Faith" metal pin?
★★★★★ "It helps to feel more like we are attending conventions and assemblies in person when we maintain our 'dressing up' and wearing our pins and using our convention notebooks and pens. I appreciate that we are able to get these items from Ministry Ideaz." - Anonymous (May 2021)
The magnets lapel badge holder will protect your clothes and your printed lapel badge. Get a special "Shield of Faith" metal pin to compliment it.


International customers: remember to order soon! This is your last chance to receive convention items in time.

Convention Notebook
★★★★★ "I was looking for a convention notebook that was reasonably priced and had the talk and theme scriptures for that talk already printed on the page. These are exactly what I wanted. Thank you!"
- Linda (May 2021)
Also available in Spanish.

Kids' Workbooks
- 291 activities
- Activities for preschoolers to pre-teens
- 46 "Time to Apply" questions
- Full-color

Convention Pens For All Ages
Add some fun to your note-taking with these pens. The handy multi-use designs have got you covered whether you take notes on paper or tablet. The special highlighters don't bleed through Bible pages. Also available in Spanish.

Convention Pack
Get free worldwide shipping on a bunch of everything and save big! This bundle has 20 adult notebooks, 12 kids' workbooks, 32 pens, and 10 magnets.

Convention Fridge Magnets
Choose your favorite design or get multiples and save! Magnets are great gifts and a perfect way to remember the 2021 convention theme: "Powerful By Faith." Also available in Spanish.

Play and the Google Play logo are trademarks of Google LLC. Apple and Apple logo are trademarks of Apple Inc.
Address :

PO Box 27096 Langford PO | Victoria, BC | V9B 5S4 | Canada    

Ph:

+1-877-446-0784    

Email :

Click here
Ministry Ideaz © Copyright 2021. All Rights Reserved

You are currently signed up to Ministry Ideaz' newsletters. Click here to unsubscribe. If you need to change your email address please log in to update your profile.
Recent emails from Ministry Ideaz for Jehovah's Witnesses

See more