Get Your 2021 Pocket Planner
This email was sent
Stay focused: set goals. Get ready for a new service year with the 2020-2021 pocket planner.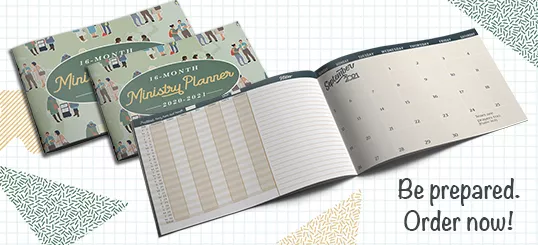 Make a Plan
Hello -:
Are you already setting goals for the new service year? Stay on schedule with the handy pocket planner. Keep track of your service report, appointments, and more!
Zina says: "During this time of isolation, it is good to get materials such as games, convention books, etc. With the publisher calendar, it keeps me organized with my placements, RVs, and hours. I like how some are kid-friendly too. The magnets with scriptural words of encouragement are little reminders that I enjoy reading."
Phyllis says: ". . . I did find the letter writing tablet with the paradise scene down the side & was very excited about that since we're all doing a lot of letter writing these days! Each scene was beautiful so of course I had to get one of each! Then I decided to look around & saw that you now have the pocket calendars in a larger size so I thought about some of my older friends & purchased 4 of those. . ."
Our day-to-day routine may have changed. However, with goals and a schedule, we can plan out our new daily activities. Make the most of your time and keep track of your goals with the new pocket planner.


Play and the Google Play logo are trademarks of Google LLC. Apple and Apple logo are trademarks of Apple Inc.
Address :

PO Box 27096 Langford PO | Victoria, BC | V9B 5S4 | Canada    

Ph:

+1-877-446-0784    

Email :

Click here
Ministry Ideaz © Copyright 2020. All Rights Reserved

You are currently signed up to Ministry Ideaz' newsletters. Click here to unsubscribe. If you need to change your email address please log in to update your profile.