Get Your 2021 Theocratic Calendars
This email was sent
Get ready for 2021 with these beautiful calendars featuring the 2021 year text. Each calendar includes the weekly Bible reading and Memorial Bible reading schedules.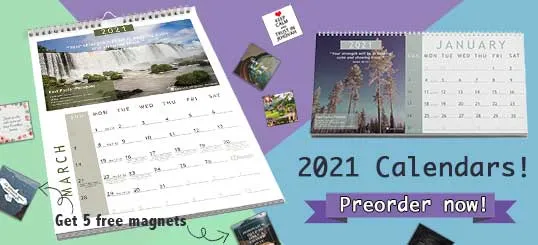 Time to change calendars
Hello -:
If you look at the calendar on your wall, it likely says "November". (Unless you're like us and forget to change it each month. Oops!) It's time for a refresh. In a couple of months, we start 2021!
Our high-quality wall calendars are perfect for getting a quick overview of your month. With a desk calendar, adorn your workspace with beautiful pictures from around the world. Both calendars feature "fast facts" about how our brothers and sisters are "keeping calm and showing trust" around the world. (Isaiah 30:15) Each page features our beautiful new year text and the weekly Bible reading. Click for a sneak peek of how we manufacture them. :) They'll be ready soon!
Bonus: First 100 orders will get five encouraging magnets for free. Order soon! These mini magnets contain scriptures and phrases to encourage us during these troublesome times. (If you qualify for this free gift, the magnets will be automatically added when your order is packaged.)

Thank you to everyone for the kind words!
"Considering that we are living in critical times hard to deal with this is a positive and delightful experience. Their products make you smile." - Carol
"I love Ministry Ideaz because they have unique products. I love things that are different, yet very helpful in preparing for meetings, taking notes at assemblies and conventions. They also make perfect gifts for some young girls in our congregation!" - Virginia

2021 Wall Calendar
From "Finland to Turkey," each month features "fast facts" on how the brothers and sisters are "keeping calm and showing trust." (Isaiah 30:15) A handsome decoration for your wall.

2021 Desk Calendar
Adorn your workspace and learn "fast facts" from Czechia to Sri Lanka on how the brothers and sisters are "keeping calm and showing trust." (Isaiah 30:15) Includes the weekly Bible reading in March.

Play and the Google Play logo are trademarks of Google LLC. Apple and Apple logo are trademarks of Apple Inc.
Address :

PO Box 27096 Langford PO | Victoria, BC | V9B 5S4 | Canada    

Ph:

+1-877-446-0784    

Email :

Click here
Ministry Ideaz © Copyright 2020. All Rights Reserved

You are currently signed up to Ministry Ideaz' newsletters. Click here to unsubscribe. If you need to change your email address please log in to update your profile.