Get Your Circuit Assembly Notebooks
This email was sent
Circuit Assembly notebooks are shipping! More supplies ready for preorder.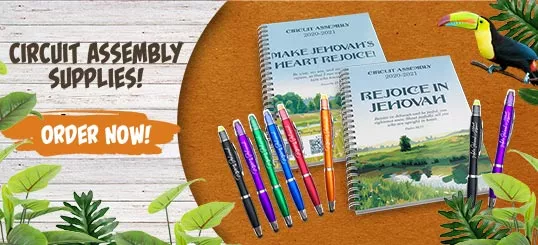 Notebooks to help you prepare
Hello -:
Wow! Are we into August already? We know, it still feels like May, but it's already time to start shipping Circuit Assembly supplies! Be sure to plan ahead to receive your notebooks in time.
The notebooks are in stock and shipping (both in English and Spanish). Here are some of the features:
Pre-printed talk themes - so you can get right down to writing down key points
2-in-1 style - so you can keep the same notebook for both assembly programs
Now with 2 pages for each talk - so you have more room to write.
Available for download!
Based on the many requests and the well-received downloadable convention notebooks, we are now offering downloadable Circuit Assembly notebooks! Download one assembly at a time, get both digital assembly notebooks, or purchase our "Super Combo" to get a paper and digital copy.

What customers have said about our past notebooks:
This publication is so handy - it makes it super easy to follow along at assemblies & take notes for each talk and then review at our meeting later on. - Tom
I love theses Notetakers. This is my third set of Notetakers I have ordered from Ministry Ideaz and they are great for note taking. There is a place for everything and all I have to do is fill in Speaker's name and take notes. So they are very efficient. - Eureka
Made note taking easy! - Joyce

2-in-1 Circuit Assembly Notebook
Available in English and Spanish, this notebook is designed to help keep your notes organized for both the "Rejoice In Jehovah" and "Make Jehovah's Heart Rejoice!" Assemblies.

Circuit Assembly Pen/Stylus/Highlighter Combo
All the writing tools you need in one convenient combo pen! It will even work on your tablet. (Click here for Spanish Version.)

Digital Note Takers for the Circuit Assemblies
Get a notebook to print at home with these downloads! Or, better yet, use the interactive version to take notes right on your tablet. Pre-order now, and download as soon as the files are ready! (Also available in Spanish!)

Big Bundle of Assembly Supplies
Pre-order everything with this big bundle and save! This bundle will ship when the Kids' Workbooks arrive next week. (Click here for Spanish Version.)

Play and the Google Play logo are trademarks of Google LLC. Apple and Apple logo are trademarks of Apple Inc.
Address :

PO Box 27096 Langford PO | Victoria, BC | V9B 5S4 | Canada    

Ph:

+1-877-446-0784    

Email :

Click here
Ministry Ideaz © Copyright 2020. All Rights Reserved

You are currently signed up to Ministry Ideaz' newsletters. Click here to unsubscribe. If you need to change your email address please log in to update your profile.