Last Chance: 10% off Yeartext Items
This email was sent
Hurry! This sale is ending soon. Get 10% off your 2021 supplies with coupon code: "2021".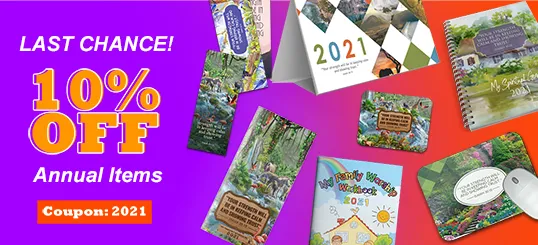 Time is running out
Hello -:
This is your last chance to get 10% off 2021 yeartext supplies.
Get your meeting notebooks, plan your schedule with the Ministry Scheduler, get some Bible Reading Bookmarks for you and your friends, or decorate your fridge with Yeartext Magnets. Whatever 2021 supplies you are looking for, don't wait! This sale ends on Saturday.
10% off 2021 yeartext supplies!
Coupon code: 2021
*Terms and conditions: Deluxe Weekly Agenda (WEEK2021) not included in this sale. Cannot be combined with other coupons or discounts. Does not apply to previous orders. Expires January 31st, at 11:59 PM Central Time.

Read what others say:
★★★★★
"Hey there, just wanted to say how happy I am with my purchase! I love my new notebook for the meetings and the wall calendar!! I also appreciated the extra pocket planner included and the nice handwritten note. I can tell you put a lot of love and care into your products :) I recommend you guys to everyone I know and I get many compliments on my purchases. Very happy overall :)" - Hannah
★★★★★
"I ordered another calendar this year, and an extra for a gift. I really like seeing the statistics from various countries regarding the ministry, and having the Bible reading schedule as well as the memorial schedule printed on the calendar. Thank you so much for providing these lovely products." - Sally

2021 Kids Meeting Workbooks
Activity-pack workbooks to keep the kids engaged in the meeting!
Leah says: "My kids love the workbooks for the meetings and assemblies. It really helps them to pay attention and listen for key words or scriptures. The books are well made with a great variety of activities."

2021 'Spiritual Gems' Notebooks
This notebook is a great meeting companion designed to keep your notes organized throughout 2021. Also available in Spanish.

2021 Ministry Scheduler
This small yet mighty scheduler is filled with features to help you stay on track with your goals.

2021 Bible Reading Bookmarks
These beautiful bookmarks are not just great little gifts, but they are useful tools. With the weekly Bible reading schedule pre-printed on the back, you can easily keep track of your place. Also available in Spanish.

Yeartext Mousepad
Keep the yeartext close in mind throughout your work or study time with these mousepads. They will make a great addition to your office space. Also available in Spanish.

2021 Yeartext Magnets
Do you collect magnets? Add one of these to your collection - featuring the 2021 yeartext: "Your strength will be in keeping calm and showing trust" - Isaiah 30:15.Also available in Spanish.

Play and the Google Play logo are trademarks of Google LLC. Apple and Apple logo are trademarks of Apple Inc.
Address :

PO Box 27096 Langford PO | Victoria, BC | V9B 5S4 | Canada    

Ph:

+1-877-446-0784    

Email :

Click here
Ministry Ideaz © Copyright 2020. All Rights Reserved

You are currently signed up to Ministry Ideaz' newsletters. Click here to unsubscribe. If you need to change your email address please log in to update your profile.