New Bundles to Encourage
This email was sent
Use these bundles to get a start on sending encouraging gifts to friends! Bundles include magnets, bookmarks, greeting cards, and even gift bags.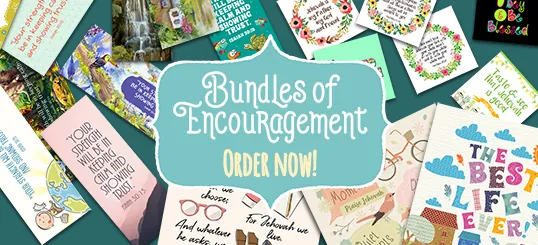 Get a head start on gift-giving
Hello -:
I'm sure we can all agree: no one is without the need for encouragement from time to time. Perhaps you're looking for some ideas to build a comfort pack for friends. These new bundles are designed to help you do just that!
Each bundle comes with:
A selection of 8 greeting cards,
A variety of 16 magnets,
16 different Bible Reading Bookmarks, and
8 giftbags
With these bundles, you get a variety of gifts and the gift bags are thrown in for free! Check out Gift Pack A and Gift Pack B now!
These packs are a great way to get a head-start on preparing comfort packs. Be sure to add some more personalized items with your recipient in mind. (See our suggestions below.)

Have you seen the latest on our blog?
It's always a pleasure to get such kind comments!
★★★★★
"I loved everything that I ordered and the couple of surprises I received that I didn't order. My grandkids were so happy with their gifts." - Celestine (December 2020)
★★★★★
" I received the Field ministry books to give to my friends and they were very pleased to have them for the coming year. They contain so much information that will be helpful to them as well as myself." - Sandra (December 2020)
★★★★★
"Hey there just wanted to say how happy I am with my purchase! I love my new notebook for the meetings and the wall calendar!! I also appreciated the extra pocket planner included and the nice handwritten note. I can tell you put a lot of love and care into your products :) I recommend you guys to everyone I know and I get many compliments on my purchases. Very happy overall :)" - Hannah (December 2020)

'Caleb' Teddy Bear
The perfect gift for a little one you know.
Tiffany says: "I love 💕 this product I bought 3. One for my son and nephews. I hope you make more products like these 💕 🤗"

Paradise Totes
These paradise totes make beautiful gifts for young and old alike.
Debra says: "I got this for a young lady who wants to do nothing more than pet a tiger when she gets to paradise! I thought she would love to have the tote to help keep her dream alive! She was so happy with it."

Beautiful Paradise Puzzles
Beautiful puzzles, like these, are a great way to cheer up!
Mary says: "We love the design. We kept one and gave one to our Bible students. They also love the puzzle."

Play and the Google Play logo are trademarks of Google LLC. Apple and Apple logo are trademarks of Apple Inc.
Address :

PO Box 27096 Langford PO | Victoria, BC | V9B 5S4 | Canada    

Ph:

+1-877-446-0784    

Email :

Click here
Ministry Ideaz © Copyright 2021. All Rights Reserved

You are currently signed up to Ministry Ideaz' newsletters. Click here to unsubscribe. If you need to change your email address please log in to update your profile.