New designer face wear + 75% off masks. 2 days only
This email was sent
Get these masks for 75% off the regular price. Get them before they're gone.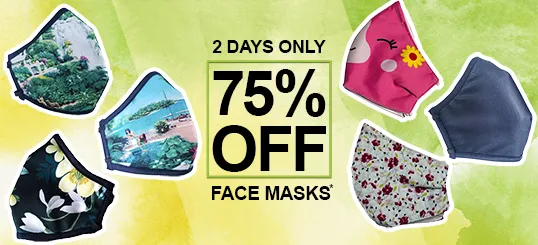 Clearance on Masks!
Hello -:
We recently released new designer face wear. Check them out! Do you know what that means? Time to clear some of the old stock. If you are looking for a great deal, you found it. For 2 days only, you can get our original faces masks for 75% off the regular price. Adult and child sizes on sale. Do not delay - supplies are limited!
"We have not had an easy time finding quality face masks. I trust Ministry Ideaz to provide quality products and a good understanding of the specific product we are buying. It will be nice to have something pretty to wear that is also a conversation starter. We have always enjoyed our purchases from Ministry Ideaz" - Mandian
Choose from Paradise scenes, flowery patterns, a classic navy, or white. Get a mask that features comfort built around-the-head straps or the standard earloop straps. Don't forget the kids - we have masks especially for them.
Make sure to order soon - the sale ends Friday night and supplies are limited.

*Terms and Conditions: Limited supplies. No rainchecks. Does not apply to previous orders. Does not apply to the new masks with filter or matching headband. Prices as marked. Sale ends Friday, October 23rd, at 11:59 PM Central Time.
Have you seen the latest on our blog?

New Fashionable Mask with Matching Headband
This designer face wear is handmade and features:
Water-resistant material
Adjustable ear loops
Beautiful matching headband

(not included in 75% off clearance)

Beautiful New Facewear with Filter
These beautiful new masks feature a filter pocket and come with a filter. They also feature adjustable earloops for a perfect fit.
(not included in 75% off clearance)

Play and the Google Play logo are trademarks of Google LLC. Apple and Apple logo are trademarks of Apple Inc.
Address :

PO Box 27096 Langford PO | Victoria, BC | V9B 5S4 | Canada    

Ph:

+1-877-446-0784    

Email :

Click here
Ministry Ideaz © Copyright 2020. All Rights Reserved

You are currently signed up to Ministry Ideaz' newsletters. Click here to unsubscribe. If you need to change your email address please log in to update your profile.