New Letter Writing Stationery
This email was sent
These beautiful writing pads make a great first impression. Plus, last chance for the July freebie.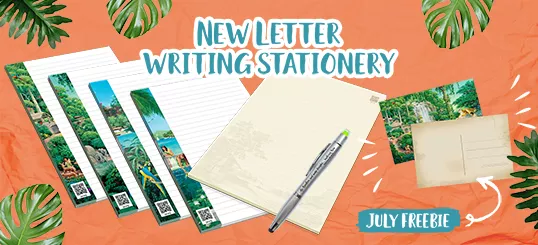 Put pen to paper
Hello -:
Have you seen our new paper for letter writing? Beautifully designed with paradise scenes, this letter witnessing paper is sure to add emphasis to your hand-written letter. Use the Paradise Stationery and write in your well-worded message next to a colorful paradise scene that adorns the edge of this paper. Get writing paper with the sepia look for 52 pages featuring 4 different illustrated scenes.
Whether you are letter witnessing or writing to a friend, this paper is designed to enhance your message.
July Freebie
*
This is your last chance to get a free set of postcards! How?
Shop online and add $50 worth to your cart,
Add a Jungle Paradise postcard set to your cart,
Apply coupon code*:

FREEPOSTCARD
*Don't forget to add the postcards to your shopping cart! Expires July 31st at 11:59 PM Central Time. Order must total $50 (after discounts).

Thank you to our many kind customers!
"Ministry Ideaz has high quality products, and the shipping packaging was very nice! I love the options to return and the satisfaction guarantees, but, I won't be returning anything because I love the products I purchased! Kudos to the team at Ministry Ideaz! I have used this company for many years and is a 5 out of 5 company! They even enclosed a coupon for myself or my friends. Thank you!" - Anonymous
"I always share my purchases with others and I tell as many people as possible because I love the products." - Cheryl

Play and the Google Play logo are trademarks of Google LLC. Apple and Apple logo are trademarks of Apple Inc.
Address :

PO Box 27096 Langford PO | Victoria, BC | V9B 5S4 | Canada    

Ph:

+1-877-446-0784    

Email :

Click here
Ministry Ideaz © Copyright 2020. All Rights Reserved

You are currently signed up to Ministry Ideaz' newsletters. Click here to unsubscribe. If you need to change your email address please log in to update your profile.