New Phone Witnessing Supplies + 50% off Letter Stationery 2 Days Only
This email was sent
New telephone witnessing worksheets are ready. Plus, get 50% off your letter writing stationery for 2 days only.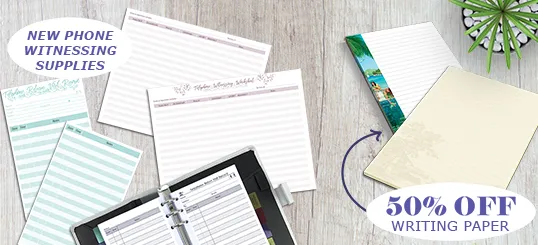 Ring ring. "Hello"
Hello -:
We are happy to introduce some handy new items for your telephone witnessing. Keep track of the numbers you dial with the handy tear-away Telephone Witnessing Worksheets. Each double-sided worksheet has space to help you keep track of which phone numbers you tried and to which you wrote letters. Plus, pick up the Return Visit Notepads for making note of your new return visits.
Are you looking for an RV book? Maybe you've seen our gorgeous Theocratic Organizer. We have added some additions. Now available with Telephone RV pages and address book pages! These new pages are included with your purchase of an RV book, or you can order refills separately.

*Terms and conditions: Coupon expires Friday, November 6th, 2020, at 11:59 PM Central Time. Cannot be combined with other coupons/offers. Only applies to the paradise letter writing stationery pads.
Thank you to everyone for the kind words!
"I may still be old school, but I really love paper and pen, even if it's to make tiny notes I love paper and pen, so I decided to get some letter Writing paper, its beautiful and amazing 👏 😊" - Lisa
"The letter writing stationery I ordered has a subtle, but beautiful, background art. A reader will certainly notice it, yet not be distracted by it. I am very pleased with my purchase." - annonymous
New Telephone Witnessing Worksheet
Keep track of your whole territory with these handy worksheets. Letter sized with 25 sheets.

New Telephone Return Visit Sheets
This notepad is great for making note of your phone witnessing return visits. 72 sheets.

New pages for your Theocratic Organizer
Introducing address book pages and Telephone RV pages to keep track of all your return visits and contacts.

Play and the Google Play logo are trademarks of Google LLC. Apple and Apple logo are trademarks of Apple Inc.
Address :

PO Box 27096 Langford PO | Victoria, BC | V9B 5S4 | Canada    

Ph:

+1-877-446-0784    

Email :

Click here
Ministry Ideaz © Copyright 2020. All Rights Reserved

You are currently signed up to Ministry Ideaz' newsletters. Click here to unsubscribe. If you need to change your email address please log in to update your profile.