New: something special for the kids in your congregation
This email was sent
Get three brand new workbooks to help and encourage the young ones you know.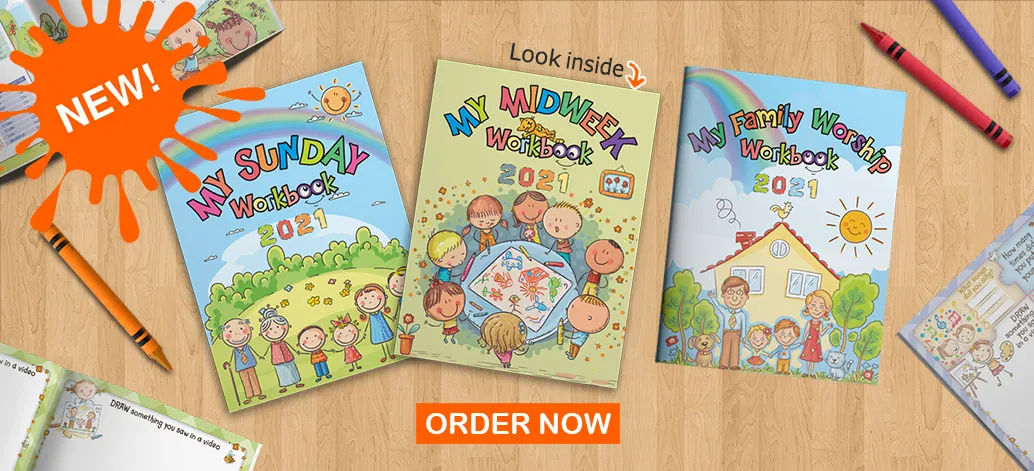 Help for the kids (and their parents too)
Hello -:
Admittedly, we've all faced stressful situations this past year, but for parents with little children, such stressful times have doubled - even tripled. Even if you don't have young children, you see this as a time we especially need to express empathy to families with little "pioneers in training." How can we help out?
A great help could be Ministry Ideaz' brand new workbook trio for kids. These colorful workbooks have been specially designed not only to help them stay focused and participate in the meetings, but also to help them to prepare their comments. How many families with young children in your congregation could use a nice pat on the back? Check out our new kids' notebooks to see if they'll fit the bill.
Loene says: "I usually buy for some very special people and it always puts a big smile on my face and makes me happy. They always enjoy products from your company."
We completely revamped the workbooks this year - with a unique notebook for the Sunday meeting, mid-week meeting, and even Family Worship night! Here is a look at some of the benefits:
Encourage meeting participation

"How many times did you put up your hand?"
Space to prepare a comment



Help for paying attention

"Draw a picture of the brother giving the talk"
The Listening Game



Review and action

"My Favorite part of the meeting was..."
"What I have to work on"
These workbooks are great for helping the little ones pay attention at the meetings, including meetings on Zoom which can be especially challenging. Check out the video on our website for a look inside. How many families do you know that would love these? They make a great gift and we could all use a little encouragement.
Don't forget! We have notebooks for adults too in English and Spanish.


'My Midweek Workbook'
Designed especially for the midweek meetings: this workbook features the listening game, drawing prompts, and questions to help kids reflect on what they learned.

'My Sunday Workbook'
Like the mid-week workbook, this workbook is filled with colorful illustrations. It encourages participation with a spot for the kids to prepare a comment for the weekend meeting and to track the talk scriptures and keep notes.

'My Family Worship Workbook'
A brand new design concept! Each page features space to prepare a service presentation, make note of the scriptures, draw something from a video, and more.

Fun 3-in-1 Year Text Pens
Add to the fun with these 3-in-1 pens. These are a pen, stylus, and duster. They are great for helping the young ones stay focused, making it more entertaining to take notes.

Kids' Meeting Bundle
The ultimate kids' meeting gift is the ultimate value too. For one low price, this bundle comes with:
'My Midweek Workbook',
'My Sunday Workbook',
'My Family Worship Workbook',
A Fun 3-in-1 Year Text Pen,
Eight Kids' Bookmarks,
One 2021 'My Ministry Scheduler',
One 2021 Pocket Planner.

Play and the Google Play logo are trademarks of Google LLC. Apple and Apple logo are trademarks of Apple Inc.
Address :

PO Box 27096 Langford PO | Victoria, BC | V9B 5S4 | Canada    

Ph:

+1-877-446-0784    

Email :

Click here
Ministry Ideaz © Copyright 2020. All Rights Reserved

You are currently signed up to Ministry Ideaz' newsletters. Click here to unsubscribe. If you need to change your email address please log in to update your profile.