Now Shipping Circuit Assembly Supplies + Save 10% on Kids' Workbooks
This email was sent
Save 10% off Kids' activity workbooks for the Circuit Assemblies! Use Coupon Code: KIDS10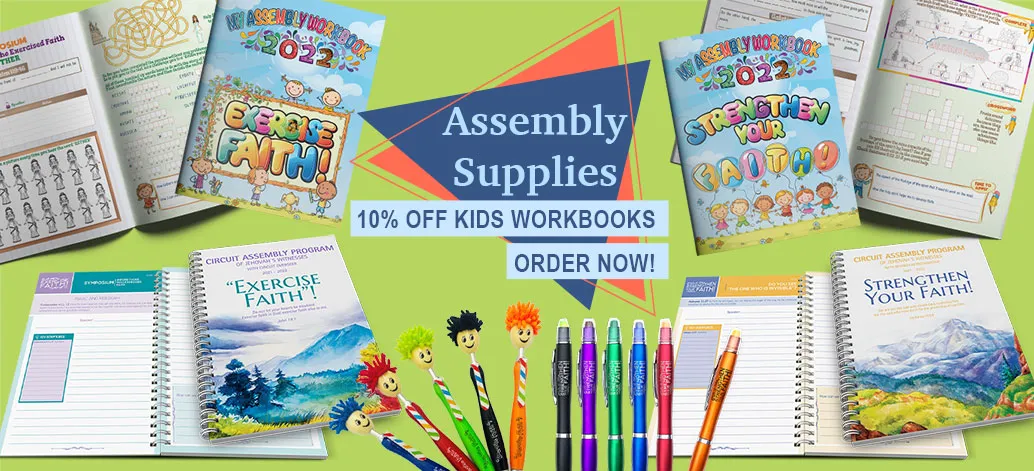 Now Shipping Assembly Supplies
Hello -:
As we head into September, Circuit Assemblies will be starting. Notebooks help you pay close attention and remember the key points. Now is the time to prepare!
Find unique notebooks for each assembly. Get a notebook for the "Strengthen Your Faith" Assembly and one for the "Exercise Faith" Assembly. Based on feedback, each notebook now features two or more pages per talk so that you have even more space. We also added these much-appreciated features from past notebooks:
"I love the extra boxes! Like what to pray for, goals, application of key scriptures. It makes it easy to meditate on how to apply information."- Sara (about the Convention Notebook)
"The session review section was a perfect addition."- Janet (about the Convention notebook)
Let's not forget the kids! To introduce the assembly supplies, we have a special offer. Get 10% off the kids' workbooks. Just use the coupon below. But hurry, this limited-time offer ends Friday night.
Here are a few of our favorite features:
"Time to Apply" box to help the kids reflect on what they learned;
An "achievements" list of things to do throughout the session. (For example: "Iron lungs: Sing all the Kingdom songs at the top of your lungs");
Special "Screen-Free Fun" pages with 2-person activities for the trip to the assembly, or with a friend at lunch;
Each talk features a variety of activities, so there is something for all ages.
"It was great for helping my kiddos follow along. It also allowed me to take more notes because the kids could follow along without needing my assistance." - Elecia (about last year's Kids Assembly Workbook)
*Terms and conditions: Only applies to circuit assembly activity books for kids. Must use coupon code "KIDS10". Does not apply to previous orders. No rainchecks. Expires Aug 27, 2021, at 11:59 PM Central Time.


"Exercise Faith" Kids Activity Book
Our workbooks are specially designed for kids 3-13 years old. Each talk has a variety of activities to accommodate a variety of ages.

"Strengthen Your Faith" Kids Workbook
Be sure to check out all the new features on our website! These activity books are designed to be a helpful aid and not a distraction.

Fun Stylus/Pen/Duster Combo
Pair your kid's workbooks with fun, colorful combo pens. These pens feature the assembly themes and are also available in Spanish.

"Exercise Faith" Notebook
The 2021/2022 Assembly Notebooks have great new features, like the session review pages. Keep track of the key points and set new goals. Also available in Spanish.

"Strengthen Your Faith" Notebook
Each talk has at least 2 pages. The longest talk at the "Strengthen Your Faith" Assembly has 6 pages. With the extra pages, you will have plenty of room for all your note-taking needs. Also available in Spanish.

Pen/Highlight/Stylus Combo
These handy assembly pens are a perfect companion for your notebook. Write notes with the pen, use the stylus to look up scriptures on your tablet, then highlight the main points. Also available in Spanish.

Play and the Google Play logo are trademarks of Google LLC. Apple and Apple logo are trademarks of Apple Inc.
Address :

PO Box 27096 Langford PO | Victoria, BC | V9B 5S4 | Canada    

Ph:

+1-877-446-0784    

Email :

Click here
Ministry Ideaz © Copyright 2021. All Rights Reserved

You are currently signed up to Ministry Ideaz' newsletters. Click here to unsubscribe. If you need to change your email address please log in to update your profile.
Recent emails from Ministry Ideaz for Jehovah's Witnesses

See more