"Pursue Peace" campaign starts tomorrow. Download our attractive stationery today.
This email was sent
Make sure your letters get read with attractive stationery to complement them. Instant delivery and no shipping cost. Download today.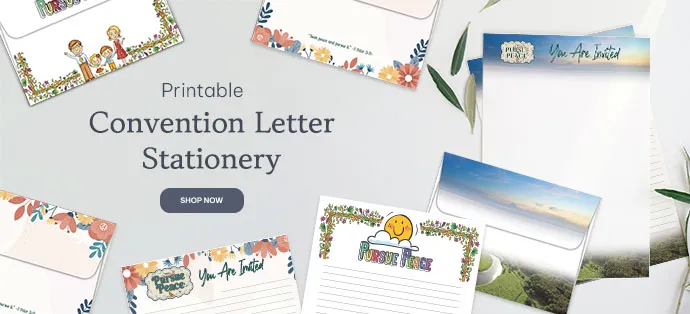 Download + Print = Beautiful Letter Paper
Hello -:
The campaign starts tomorrow. YAY! Complement your letter-writing with color and elegance. Get instant delivery with downloadable convention campaign stationery. Even better, there's no shipping cost!
Just order
Download
And print!
Choose from 3 different designs (for adults) and 3 designs for kids. Each beautiful style comes with a ruled and blank version, for any writing style. The PDFs are set-up for letter-sized (8.5"x11") paper. Print and fold your own envelopes too! Print at home or at a local copy center. (Also available in Spanish.)
Get the little ones involved with paper that suits them. We have paper for the kids too! Our kids' stationery for pre-schoolers is pre-typed and they just need to add their name and some color. For school-age kids, there are three fun styles to complement their letter to include with Mom's or Dad's.
Happy letter-writing!

★ ★ ★ ★ ★
"Love the downloadable stationery for the Memorial! It makes my letters look neat & professional. It's so easy, just download, no waiting! No shipping costs. Best idea yet! Hope Ministry Ideaz does more stationery like this!" - anonymous online shopper (April 2022)
★ ★ ★ ★ ★
"I have never had a problem with ordering from Ministry Ideaz supplies. They have always had the products on hand or informed you when they got them in. I have never had a problem in the many years I've been going to them. They are very professional, especially in all they do and they send you a thank you card for the purchase you made. They are great for giving discounts on products they have, and their products are very useful in my ministry as a new pioneer. There are so many items you can use as a gift for others. I bought a pack of flashcards for my great-grandson. Just purchased some gifts for other pioneers from our Kingdom Hall. I thank you all for your courtesy, your professionalism and the love you share with others. May Jehovah bless you all, for showing loyal love to your brothers and sisters. Thank you. ❤️" - Richard (November 2021)
Play and the Google Play logo are trademarks of Google LLC. Apple and Apple logo are trademarks of Apple Inc.
Address :

PO Box 27096 Langford PO | Victoria, BC | V9B 5S4 | Canada    

Ph:

+1-877-446-0784    

Email :

Click here
Ministry Ideaz © Copyright 2022. All Rights Reserved
You are currently signed up to Ministry Ideaz' newsletters. Click here to unsubscribe. If you need to change your email address please log in to update your profile.
Recent emails from Ministry Ideaz for Jehovah's Witnesses

See more