Sale Alert: 30% off Designer Face Masks
This email was sent
Save on face coverings for all ages including our paradise scenes. Plus, last chance to get half-price annual items.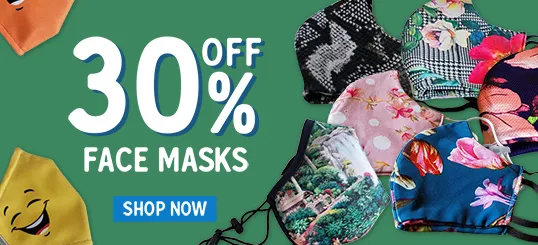 Face Wear On Sale
Hello -:
Keep things fresh and stylish with our designer face masks. Get your face masks at 30% off now! Choose from a wide range of designs, from paradise scenes to fun smiley faces, masks with filters, or masks with matching headbands. Whatever your style, you can grab some for you and the kids.
Have you ever wondered how we make our paradise masks? Check out our blog post!
I doubt any of us enjoy wearing masks. Yet, we can make the most of the circumstances by adding a touch of color and personality to our face wear collection.

ps. 2021 annual items are 50% until Friday!
A special thanks to all our kind customers!
★★★★★
"Best products ever, thank you! Their clear Bible and book covers are excellent and their face masks are absolutely the highest quality. I already had a dozen (what I thought were) "good quality" face masks and then I tried their face masks - now, I see the difference!" - Lori (December 2020)
★★★★★
"I have been purchasing items from Ministry Ideaz for both use at weekly meetings, conventions, and gifts for family and friends because they have beautiful and useful and quality products. They feel like family now. When I shop and order I wait anxiously to get them. I just purchased a gift and I am confident it will be enjoyed. I plan to order in the future. My experiences with Ministry Ideaz have always positive. They deal with me in a timely, professional, and courteous manner. I appreciate them." - Clara (May 2021)
★★★★★
"This is the only website that I found where you can get all of your supplies for the Ministry in one place whatever you are looking for they have it, and at a reasonable price." - Anonymous (April 2021)

Play and the Google Play logo are trademarks of Google LLC. Apple and Apple logo are trademarks of Apple Inc.
Address :

PO Box 27096 Langford PO | Victoria, BC | V9B 5S4 | Canada    

Ph:

+1-877-446-0784    

Email :

Click here
Ministry Ideaz © Copyright 2021. All Rights Reserved

You are currently signed up to Ministry Ideaz' newsletters. Click here to unsubscribe. If you need to change your email address please log in to update your profile.
Recent emails from Ministry Ideaz for Jehovah's Witnesses

See more