Sale Alert: 4 Dollar Assembly Notebooks
This email was sent
4 Dollars. 2 Days. 1 Coupon. Save on your circuit assembly notebooks for a limited time.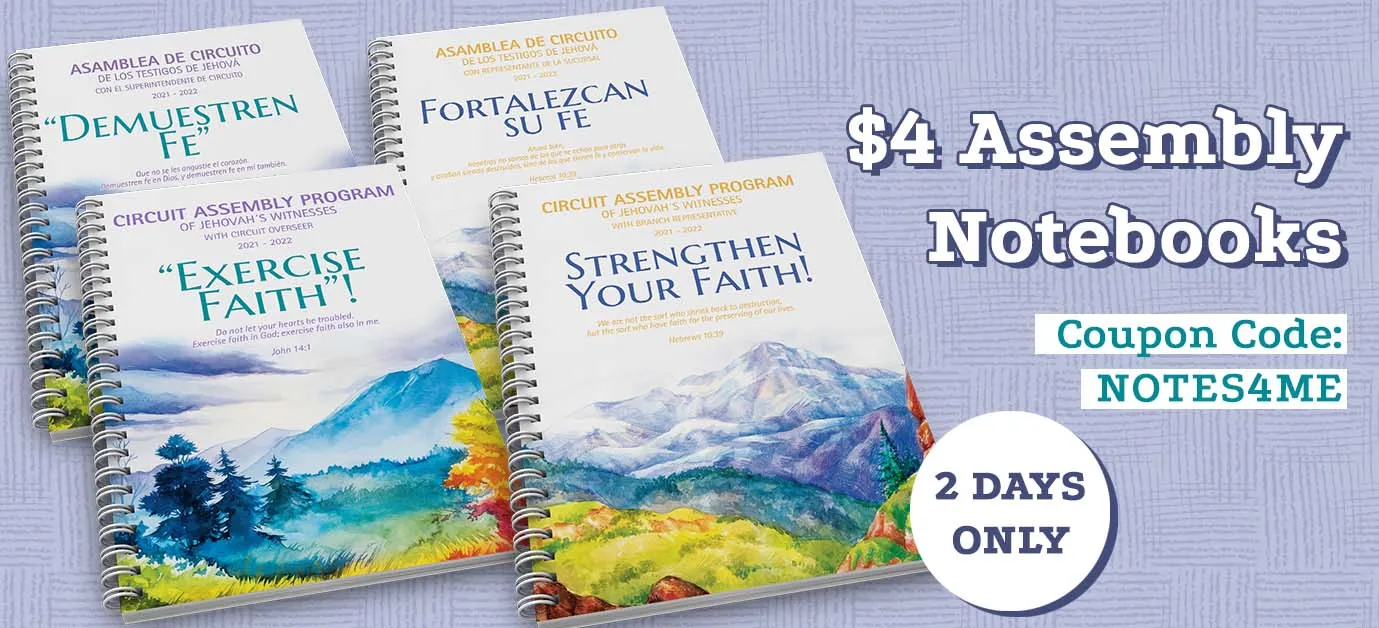 A Noteworthy Sale!
Hello -:
As you read this, the clock is ticking on our latest sale. Do you have your notebook for your next Circuit Assembly? For 2 Days only, get a notebook for only $4. Get one for the "Exercise Faith" Assembly and one for the "Strengthen Your Faith" Assembly. These notebooks are packed with features to make taking notes a breeze.
Coupon code*: NOTES4ME
What are people saying about the assembly notebooks?
"Love the convention & assembly notebooks and the recent changes made to the format. I think it's a good idea to make the assembly notebooks 2 instead of 1!"
- Carol
"I love the notebooks for the Conventions and Assemblies. So much of the information for each talk is listed. The scriptures that are highlighted in the talk are given special areas to comment on. So much thought and work have gone into making the Assembly and Convention notebooks user friendly. And practical."
- Anonymous
This offer will not last long! Be sure to grab your notebooks before it's too late. While you are there, make sure to get a workbook for the kids.

Have you seen the latest on our blog?
• Exciting New Features of the Kids' Assembly Workbook
Thank you to everyone for the kind reviews.
★★★★★ "It was great. Items are beautiful and I appreciate the effort made to make them. They are perfect for assemblies and I have given most of my order as gifts." - Kristie
★★★★★ "I had a very good experience. Love the convention notebooks. They are formatted so well and nice to take notes and have everything organized. Thank you so much for your products ☺" - Valjean
*Terms and conditions: Sale ends Friday, October 1st at 11:59 pm Central Time. Cannot be combined with other coupons or offers. Does not apply to previous orders.

Play and the Google Play logo are trademarks of Google LLC. Apple and Apple logo are trademarks of Apple Inc.
Address :

PO Box 27096 Langford PO | Victoria, BC | V9B 5S4 | Canada    

Ph:

+1-877-446-0784    

Email :

Click here
Ministry Ideaz © Copyright 2021. All Rights Reserved

You are currently signed up to Ministry Ideaz' newsletters. Click here to unsubscribe. If you need to change your email address please log in to update your profile.
Recent emails from Ministry Ideaz for Jehovah's Witnesses

See more