Sale Alert: 50% Off Yearly Supplies
This email was sent
2021 supplies are on sale. Don't wait for them to sell out! Order your supplies now.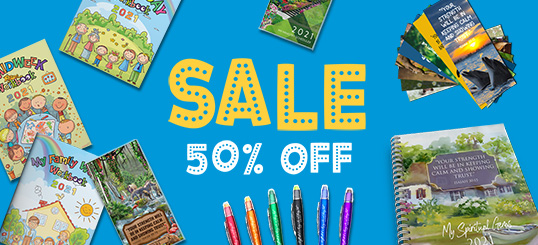 50% off 2021 supplies*
Hello -:
Have you ordered your 2021 supplies? With these low prices, it is a good idea to grab some more. Meeting notebooks, bookmarks, and pens, are extremely useful throughout the year and for any year. Getting extras while they are on sale is a great way to save.
Our yearly supplies have been customer favorites for years. Don't wait for them to sell out! Order your supplies now.

See what others have to say about our 2021 supplies:
★★★★★
"Happy to see the wall calendar is available and it looks beautiful. I always order one for myself and my daughter and son-in-law and they like it, too. I also order a pocket calendar every year and enjoy having that as well. This year, the postal service damaged my first order and when I reported it to Ministry Ideaz Customer Service, they promptly apologized and refunded my money. I truly desired to have the pocket calendar because that is what was important to me, so I immediately ordered another one. The quality is good and it helps me to stay organized." - Lauren (December 2020)
★★★★★
"Thank you so much for these workbooks! My kids are 6 and 3 and they loved writing down every time their friends answered. It was perfect to get them engaged with the meeting instead of just drawing and coloring their own pictures. We loved them!" - Janna (January 2021)
★★★★★
"I was given a notebook for 2020, My Spiritual Gems! I wasn't sure how much I would use it. Surprisingly, I have filled it up and am anxious to have another to work with. It is so helpful and keeps me well prepared for every meeting. So I am also ordering extra to give to other Sisters." - Gail (February 2021)
*Terms and conditions: Limited time offer, subject to end without notice. Does not apply to previous orders. No rainchecks. Prices as marked. No coupon necessary

My Spiritual Gems Notebook
Designed to keep your notes organized, we gave this notebook the ideal format for the weekly midweek and weekend meetings. Use it each week of the year and on into the next. Now 50% off!

My Ministry Scheduler
Designed to keep your time organized, we packed this scheduler full of handy features. Find built-in Bible reading schedules, beautiful scenes from around the world, weekly service report pages, and so more. Now 50% off!

Children's Workbooks
Designed to keep the young ones involved, we loaded these workbooks with fun, engaging activities. It may say "2021" on the cover, but there is no expiry date. The workbooks are good for any week of any year. Now 50% off!

Weekly Agenda Printable
Our weekly agendas were more popular than anyone anticipated! So, by popular request, the 2021 Weekly Agenda has been re-released as a downloadable version. Purchase a license and download your printable copy today.

Play and the Google Play logo are trademarks of Google LLC. Apple and Apple logo are trademarks of Apple Inc.
Address :

PO Box 27096 Langford PO | Victoria, BC | V9B 5S4 | Canada    

Ph:

+1-877-446-0784    

Email :

Click here
Ministry Ideaz © Copyright 2021. All Rights Reserved

You are currently signed up to Ministry Ideaz' newsletters. Click here to unsubscribe. If you need to change your email address please log in to update your profile.
Recent emails from Ministry Ideaz for Jehovah's Witnesses

See more