Sale Alert: Get 25% off 'Powerful By Faith' Convention Supplies
This email was sent
Yes, all our convention supplies are on sale. Use code "CONVENTION" to get 25% off. This sale ends Saturday night.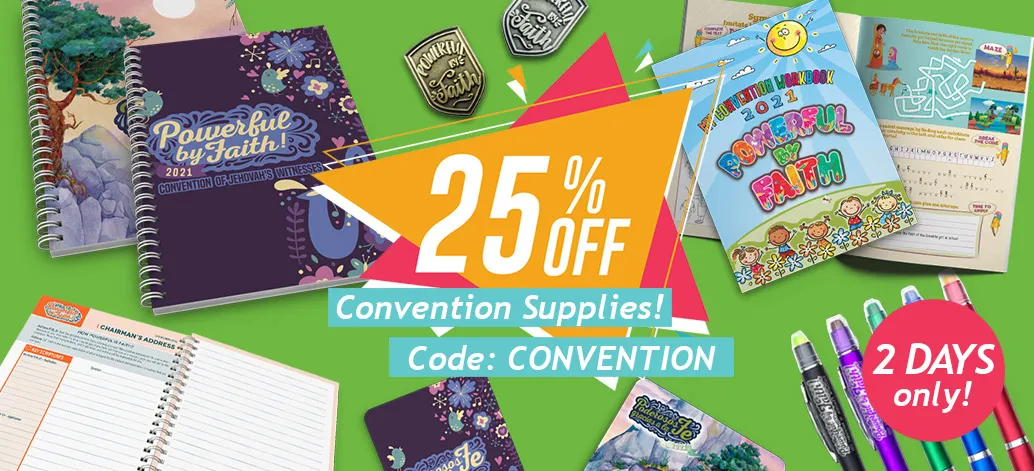 25% off Convention Notebooks and More
Hello -:
You read that correctly. Convention supplies are on sale! Catch up on your note-taking, or get a kids' workbook for the rest of the program and save. The childrens' activity book is packed full of activities — great for during and after the program. So, you're not too late! Kids will enjoy reviewing the program by doing all the activities they missed.
Until Saturday night, get 25% off Convention Supplies. Just use coupon code: "CONVENTION"
This sale includes more than just notebooks. Get pens, lapel pins, or magnets to keep the convention theme in mind well beyond the summer.
Use coupon code: CONVENTION
*Terms and conditions: Only applies to items for the "Powerful By Faith" Convention. Must use coupon code "CONVENTION". Does not apply to previous orders. No rainchecks. Expires Aug 7, 2021, at 11:59 PM Central Time.

p.s. Notebooks for the "Strengthen Your Faith" and "Exercise Faith" assemblies are ready for pre-order.
It's always a pleasure to hear from our customers! Thank you for all the kind words.
★★★★★
"I purchased assembly notebooks for my husband and I, about 2 years ago and we really loved using them for taking notes and organizing important points from the talks. Since then we have decided to purchase assembly and convention notebooks to share with our brothers and sisters. Each time we pick a few different friends in the congregation; we have given a little gift bag with pens, snacks and water. In this pandemic, we are separated at our homes for the assemblies and conventions but in this way we can give to others and share the day. Every time we have done this it has been a blessing and we plan to continue!" - Lori (June 2021)
★★★★★
"I ordered this convention notebook because I have trouble organizing my notes when taken on blank paper. This has all kinds of features that will help me be organized this year! It has plenty of space designated for each talk and every symposium part, places to make notes on key Scriptures, special places for experiences and interviews and a full program for this year's convention. I've purchased many products from Ministry Ideaz and have never been anything less than delighted with my orders. Thank you!" - Lynelle (June 2021)
★★★★★
"The convention books for children are great! Better than I imagined. I got these for my grandchildren so they could have an easier time following along. And because their attention naturally strays at least it can continue to be occupied by spiritual things. And the cute little pens with hair and ties!! SO adorable! Oh how I wish these things were available when I was little!" - Renee (July 2021)

Play and the Google Play logo are trademarks of Google LLC. Apple and Apple logo are trademarks of Apple Inc.
Address :

PO Box 27096 Langford PO | Victoria, BC | V9B 5S4 | Canada    

Ph:

+1-877-446-0784    

Email :

Click here
Ministry Ideaz © Copyright 2021. All Rights Reserved

You are currently signed up to Ministry Ideaz' newsletters. Click here to unsubscribe. If you need to change your email address please log in to update your profile.
Recent emails from Ministry Ideaz for Jehovah's Witnesses

See more