Sale Alert: Half Price Assembly Supplies
This email was sent
For 2 days only use coupon code "ASSEMBLY" to get 50% off your circuit assembly supplies.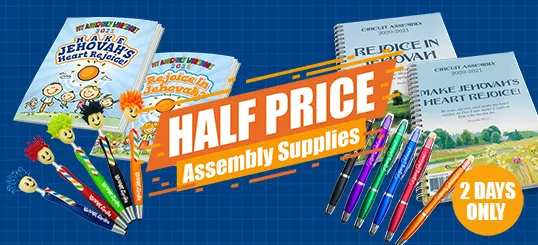 Half-off all assembly supplies
Hello -:
Whether you take notes with pen and paper, or with stylus and tablet, we have helpful note-taking supplies for you! Choose from a 2-in-1 ring-bound notebook to easily organize your favorite points from the circuit assemblies, or download a note-taker to use in your favorite PDF/Notes app. Don't forget to add a handy Pen/Stylus to make note-taking a breeze.
Rosie W. says: "I am fully satisfied with everything that I have purchased from Ministry Ideaz. I was very impressed with the promptness of delivery. My sisters and I, and five sisters, enjoy all the note books that we order from you. I usually make my own note books, but my computer is down at the moment. But we love yours too. The only difference between mine and yours, is the amount of pages for taking notes, more on each title. Thanks to Jehovah first for giving you the ability to produce such a wonderful and helpful product."
Let's not forget the kids! The new and improved "Always Rejoice" workbooks were such a great hit, we applied some of the same design features for the Circuit Assembly Workbooks. Plus, a few more little improvements. This year get a separate workbook for each program, filled with a variety of activities to help various ages pay close attention. Add a fun pen to make a set!
Apply coupon code*:
ASSEMBLY
Tip: for even more savings, purchase in bulk or get a pack.

*Terms and conditions: Offer expires on September 25th at 11:59 PM Central Time. Does not apply to previous orders.



(Cannot be combined with other offers. Expires September 30th.)

Play and the Google Play logo are trademarks of Google LLC. Apple and Apple logo are trademarks of Apple Inc.
Address :

PO Box 27096 Langford PO | Victoria, BC | V9B 5S4 | Canada    

Ph:

+1-877-446-0784    

Email :

Click here
Ministry Ideaz © Copyright 2020. All Rights Reserved

You are currently signed up to Ministry Ideaz' newsletters. Click here to unsubscribe. If you need to change your email address please log in to update your profile.