Scriptural envelopes to match your stationery
This email was sent
We've got paper and envelopes for you. Now all you need is the stamp.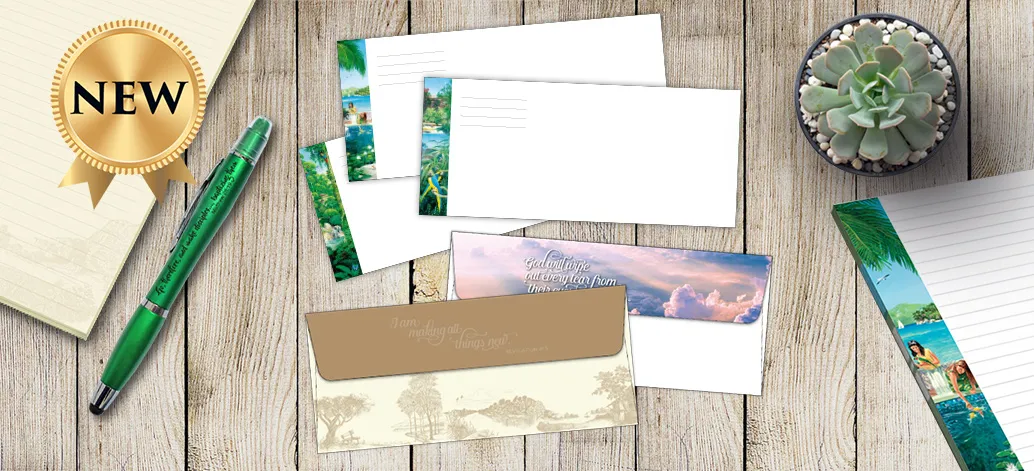 Write, Sign, and Seal
Hello -:
Have you tried new avenues of service this year? If letter writing is one of them, we have the supplies to help - from pens to paper.
Now you can be even more prepared with our beautiful new scriptural envelopes! These new envelopes each have a comforting paradise scripture discreetly printed on the back. Depending on the style, you'll get:
I am making all things new. - Revelation 21:5
God will wipe out every tear from their eyes. - Revelation 21:4
You will be with me in paradise. - Luke 23:43
The meek will possess the earth. - Psalm 37:11
A future and a hope. - Jeremiah 29:11
Pair our paradise stationery with matching envelopes, and you will be all set. Although your letter witnessing is tucked privately inside, everyone who handles it will see the beautiful paradise scripture on the outside. Available in 5 different designs, you can get these envelopes individually or get a complete letter writing kit, in full-color or sepia, and save.
Each letter writing kit comes with:
a pad of paper
40 matching envelopes, and
a pen
The only thing not included with this kit is the stamp. Order yours today!
While you're at it, take a look behind the scene at how the envelopes are made.

We appreciate all the kind feedback. Thank you!
"I previously ordered stationary for letter writing. Our congregation is now on Zoom, and telephone witnessing / letter writing is primary.I chose your stationary because of the subtle scenery, and the script lines. I like to have letters look as professional as possible.Thanks" - Linda
"I love their cards - the graphics & the sayings are just what we need for so many different occasions. I also look at the games available and with quarantine, it's been difficult to keep our spirits up and the games are going to be so helpful." - Rachel

Paradise Envelopes
Get the exact amount you need. Did you know these envelopes are available for purchase individually?

Sepia Stationery Bundle
Get everything you need with the full-size sepia letter pad, 40 envelopes, and even a pen. Save when you get this complete kit.

Paradise stationery kit
This bundle pairs the colorful 6" x 8" paper with 40 matching envelopes. With the included pen, you will have all you need to get down to writing.

Play and the Google Play logo are trademarks of Google LLC. Apple and Apple logo are trademarks of Apple Inc.
Address :

PO Box 27096 Langford PO | Victoria, BC | V9B 5S4 | Canada    

Ph:

+1-877-446-0784    

Email :

Click here
Ministry Ideaz © Copyright 2020. All Rights Reserved

>
You are currently signed up to Ministry Ideaz' newsletters. Click here to unsubscribe. If you need to change your email address please log in to update your profile.