Study Bible Covers Are Here
This email was sent
Get your cover now! Protect your Study Bible with a beautiful leather or leatherette cover.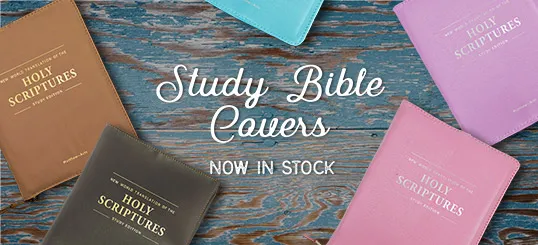 Study time
Hello -:
Since the release of the Study Edition, we have been hard at work to produce a gorgeous new cover expertly designed to fit your Study Bible. These beautiful covers are designed to help your Bible last through all your avid study sessions.
Pick out a genuine leather in our special "Bible Brown" designed to complement the color of your Bible. Or, add some color with leatherette covers - choose from turquoise, pink, maroon, navy, and more.
Plus, no matter where your cross-references take you, you will easily find your way back with handy ribbons to mark your place.

Find out even more about our covers on our blog: "Product Spotlight: NWT Study Bible Covers"
It's always a pleasure to get such kind comments!
★★★★★
"I have been purchasing products from MinistryIdeaz for 20+ years. I still have the original glove leather zippered bible cover I purchased. It is still like new, just softer from years of handling. I have purchased literature pouches, book covers, service record materials, and misc. items. All have been of excellent quality and I have recommended your products to many other friends over the years." - Anonymous
★★★★★
"I have purchased many times from Ministry Ideaz. Some items have been for my own Field Ministry work, while other items have been gifts for others. All of the merchandise I have purchased has been high quality. The folders and other organizers I bought years ago, are still strong, and working as well as the day I received them. The clear covers for my books never get sticky, like other suppliers covers get. This is my favorite site from which to buy JW supplies. I appreciate the free shipping option and have taken advantage of their kindness for this many times. Thank you again for having excellent merchandise, always." - Chryse
★★★★★
"Best products ever, thank you! Their clear Bible and book covers are excellent and their face masks are absolutely the highest quality. I already had a dozen (what I thought were) "good quality" face masks and then I tried their face masks - now, I see the difference!" - Lori (Dec 2020)

Play and the Google Play logo are trademarks of Google LLC. Apple and Apple logo are trademarks of Apple Inc.
Address :

PO Box 27096 Langford PO | Victoria, BC | V9B 5S4 | Canada    

Ph:

+1-877-446-0784    

Email :

Click here
Ministry Ideaz © Copyright 2021. All Rights Reserved

You are currently signed up to Ministry Ideaz' newsletters. Click here to unsubscribe. If you need to change your email address please log in to update your profile.