Take Note: Spiritual Gems Notebooks Are Here
This email was sent
These favorites are back for 2021. Get ready to take notes at the meetings next year with the new 'Spiritual Gems' notebook and year text pens.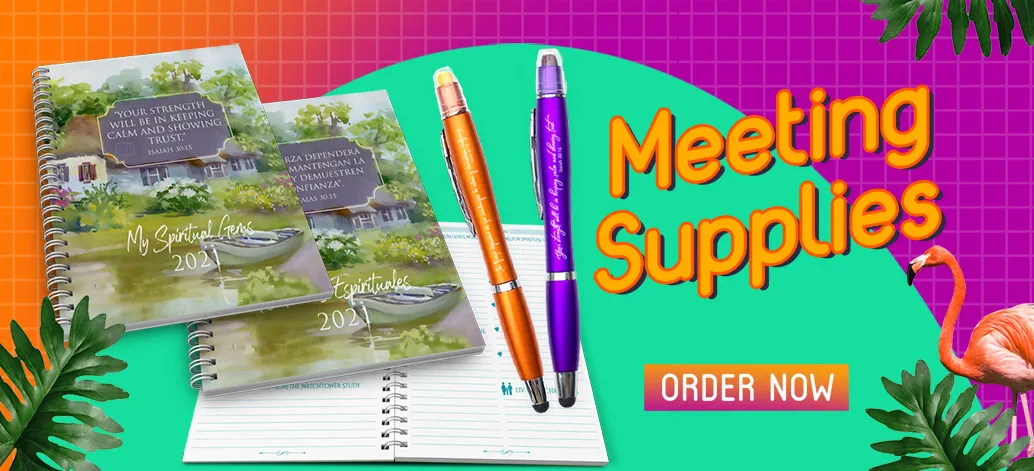 How many gems will you find?
Hello -:
Do you fill up your notebooks with all your favorite gems? Having a go-to notetaker is a great way to keep your notes organized. Plus, it makes it easier to go back and review them later! Here's what others say about the 'My Spiritual Gems' Notebooks:
★★★★★
"I love the MY SPIRITUAL GEMS notebook because I am taking much better notes and can review them easier. Also taking notes during the Sunday meeting and writing down highlights from the Watchtower has been instrumental in remembering key points better. I ordered several Spiritual Gem Notebooks as gifts so others enjoy their study even more." - Anonymous
★★★★★
"I love all the products I have gotten from Ministry Ideaz. The quality is always superior. The price is good. Shipping is on time. I love the Spiritual Gems notebooks. I look forward to my new one with the new year text!" - Melanie
★★★★★
"I always do research for our mid-week so the notebook I ordered will be nice and while I have downloaded the publication for our congregation book study I like my hard copy and the book cover will keep it nice." - Anonymous
★★★★★
"I have purchased from this site before and I love the wall calendars to put in my room. It helps me to be reminded of Jehovah and his creation and to help me remember to keep up with the weekly Bible reading. I also love the notebooks for the meetings and the field service supplies. I get so many compliments and I always recommend this site to the friends. :)" - Hannah
Get supplies to help you study each week. This notebook features the 2021 year text: "Your strength will be in keeping calm and showing trust." - Isaiah 30:15. Don't forget to pair the meeting notebook with a 3-in-1 year text pen.


'My Spiritual Gems' Notebook
This meeting workbook companion is just right for noting those important gems you want to remember. Easily keep track of your notes with this all-in-one meeting notebook.
3-in-1 Year Text Pens
What good is a notebook with no pen? The 2021 year text pens do it all. They are pens, no-bleed highlighters, and even a stylus for your tablet or phone!
Meeting Bundle
Get everything you need in one discounted bundle! This bundle comes with:
One 'My Spiritual Gems' Notebook,
One 3-in-1 Year Text Pen,
Eight 'Cute Creations' Bookmarks,
One 2021 'My Ministry Scheduler,'
One 2021 Year Text Magnet, and
One 2021 Pocket Planner.
Play and the Google Play logo are trademarks of Google LLC. Apple and Apple logo are trademarks of Apple Inc.
Address :

PO Box 27096 Langford PO | Victoria, BC | V9B 5S4 | Canada    

Ph:

+1-877-446-0784    

Email :

Click here
Ministry Ideaz © Copyright 2020. All Rights Reserved
You are currently signed up to Ministry Ideaz' newsletters. Click here to unsubscribe. If you need to change your email address please log in to update your profile.