The Feature-Packed 2021 Ministry Scheduler to Keep You Organized
This email was sent
What's your schedule for 2021? Keep track of your goals and plan the year with the new 2021 Ministry Scheduler.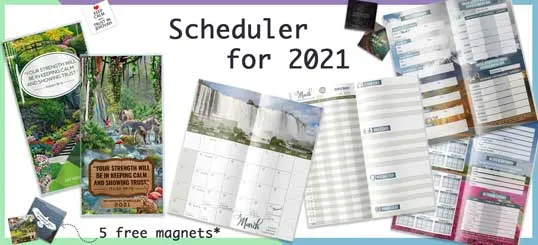 Set a goal. Make a plan.
Hello -:
No matter what this world throws our way it's important to set goals! Keep track of your goals and make plans for 2021 with the new Ministry Scheduler.
This year the scheduler is better than ever - packed full of features in one compact design. The Ministry Scheduler is the perfect companion. Track goals with the provided space, note important dates, make plans for the circuit overseer visit, make note of your monthly service report, and more! See how the Ministry Scheduler is made with the video at this link (click here).
Choose between two beautiful designs and add a vinyl cover for extra durability.
Order today to receive five different encouraging magnets for free! These mini magnets contain scriptures and phrases to encourage us during these troublesome times. (*If you qualify for this free gift, the magnets will be automatically added when your order is packaged. Limited supply.)

Thank you to everyone for the kind words!
"Knowing that I can schedule my daily life to Jehovah and look at the beautiful way it is presented brings joy and a smile to my soul. I will be gifting also to my close friend who suffers from mental illness. My granddaughters love the artwork and it compliments how soon the world will look like paradise" - Nathalie

New: Set Monthly Goals
Each month features a new "Goals" section to help you "make sure of the more important things" as you make plans for the month.

New: Read the Bible in a Year
Is one of your goals reading the Bible in a year? Based on the "read the Bible in a year" schedule from JW.org, this beautiful color-coded schedule is designed to help you track your progress. Space is provided to fill in the date you plan on reading each portion. Then check it off when finished.

Weekly and Memorial Bible Reading Schedules
This scheduler helps you with everything, including the weekly Bible reading schedule, and Memorial Bible reading. Stay up to date for each week.

Service Report, Return Visits, and Bible Studies
Each month has a special section to keep track of your monthly service report, including a "countdown" column to track the progress you are making toward your monthly goal. Use the adjacent page to make note of Bible studies and return visits.

Useful Schedules
Some important things need a bit more space than a monthly page can supply. Schedules are provided to help you plan your pioneer schedule, Family Worship and personal study, and the special weeks of activity with the Circuit Overseer. Use these schedules to help you "make sure of the more important things." (Phil 1:10)

Play and the Google Play logo are trademarks of Google LLC. Apple and Apple logo are trademarks of Apple Inc.
Address :

PO Box 27096 Langford PO | Victoria, BC | V9B 5S4 | Canada    

Ph:

+1-877-446-0784    

Email :

Click here
Ministry Ideaz © Copyright 2020. All Rights Reserved

You are currently signed up to Ministry Ideaz' newsletters. Click here to unsubscribe. If you need to change your email address please log in to update your profile.