Enhance Images with This New Smart Photo Editor
Email sent: Feb 24, 2021 8:20am
Don't miss your chance to get 30% off Movavi Picverse and take your photo-editing experience to the next level! ‌
 ‌ ‌ ‌ ‌ ‌ ‌ ‌ ‌ ‌ ‌ ‌ ‌ ‌ ‌ ‌ ‌ ‌ ‌ ‌ ‌ ‌ ‌ ‌ ‌ ‌ ‌ ‌ ‌ ‌ ‌ ‌ ‌ ‌ ‌ ‌ ‌ ‌ ‌ ‌ ‌ ‌ ‌ ‌ ‌ ‌ ‌ ‌ ‌ ‌ ‌ ‌ ‌ ‌ ‌ ‌ ‌ ‌ ‌ ‌ ‌ ‌ ‌ ‌ ‌ ‌ ‌ ‌ ‌ ‌ ‌ ‌ ‌ ‌ ‌ ‌ ‌ ‌ ‌ ‌ ‌ ‌ ‌ ‌ ‌ ‌ ‌ ‌ ‌ ‌ ‌ ‌ ‌ ‌ ‌ ‌ ‌ ‌ ‌ ‌ ‌ ‌ ‌ ‌ ‌ ‌ ‌ ‌ ‌ ‌ ‌ ‌ ‌ ‌ ‌ ‌ ‌ ‌ ‌ ‌ ‌ ‌ ‌ ‌ ‌ ‌ ‌ ‌ ‌ ‌ ‌ ‌ ‌ ‌ ‌ ‌ ‌ ‌ ‌ ‌ ‌ ‌ ‌ ‌ ‌ ‌ ‌ ‌ ‌ ‌ ‌ ‌ ‌ ‌ ‌ ‌ ‌ ‌ ‌ ‌ ‌ ‌ ‌ ‌ ‌ ‌ ‌ ‌ ‌ ‌ ‌ ‌ ‌ ‌ ‌ ‌ ‌ ‌ ‌ ‌ ‌ ‌ ‌ ‌ ‌ ‌ ‌ ‌ ‌ ‌ ‌ ‌ ‌ ‌ ‌ ‌ ‌ ‌ ‌ ‌ ‌ ‌ ‌ ‌ ‌ ‌ ‌ ‌ ‌ ‌ ‌ ‌ ‌ ‌ ‌ ‌ ‌ ‌

Movavi Picverse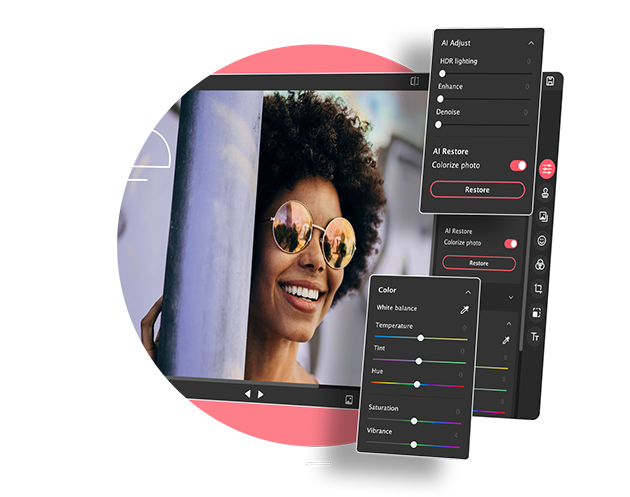 Dear Friend,
Do you want to make your photos look stunning without having to learn complex image editors?
Our new Movavi Picverse Photo Editor is designed for photographers of any skill level and gives you the smart tools and freedom to create amazing images in no time.
Enjoy 30% Off as a Movavi Subscriber
Buy at 30% Off
Offer ends March 2, 2021, 11:59 p.m. PST.
Polish Your Images with Our Top Photo-Editing Tools
Quick Object Removal
Remove unwanted elements from photos. Get natural-looking results with no signs of editing.
Photo Background Removal and Replacement
Change out the background or make it transparent in a few simple steps.

Old Photo Restoration
Bring old photos back to life with our artificial intelligence technology. Get rid of visual noise, erase cracks, and colorize black-and-white photos.

Noise Reduction
Reduce visual noise in low-light images and photos taken at the wrong ISO setting
Offer ends March 2, 2021, 11:59 p.m. PST.
| | |
| --- | --- |
| | Some computers may display a warning stating that the app is not Microsoft-verified. We assure you that our software is safe for your PC. Check out what to do if you see this message. |




This email was sent to -
You are receiving this email because you subscribed to our newsletters at www.movavi.com 
Please add us to your contact list to be sure our emails always get to your inbox. 
View in Browser  Contact Support Team  Read Privacy Policy  Unsubscribe
© 2004-2021 Movavi. All rights reserved.
Products are offered by Movavi Software Ltd.
Movavi Software Ltd. • 7 Naxou Street • • Apsiou • 4542 • Cyprus 

Shop without the noise.
Get our free newsletter of hand-picked sales you need to hear about from the web's best brands.