News from the Pomeranian Mayor of Raleigh!
👻 SPOOKY SEASON ARRIVING! 🎃
This email was sent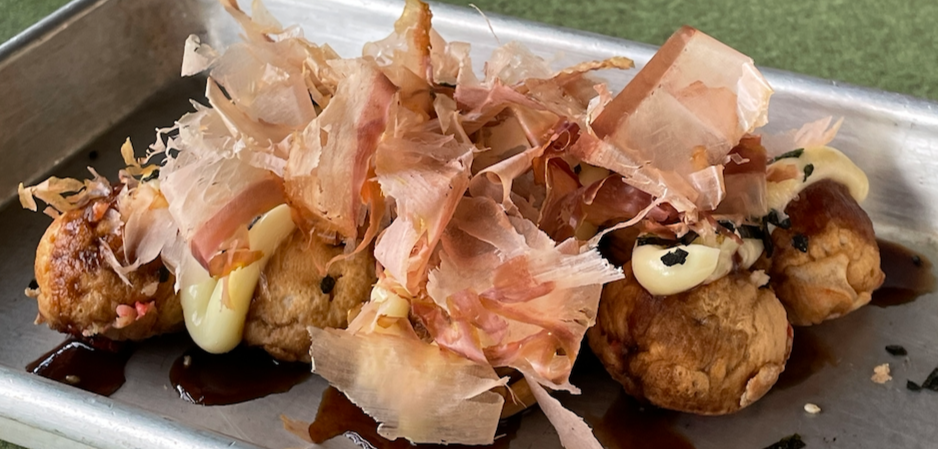 WWRD pop-up dinners are coming to an end as Jackie takes on a new role to elevate her cooking experience, so join us down at Foundation tonight from 5-9pm for the final night of delicious ramen, side features, & a final guest appearance by our own Ambear on the grill cooking up Takoyaki with all the good stuff made from scratch!

at FOUNDATION BAR: 213 FAYETTEVILLE ST
RALEIGH, NC  |  5-9pm
Oaks & Spokes is our local bike/ped advocacy group doing the work to make streets safer for humans & their fur-baby owners in Raleigh.
Their annual "CRANK FOR A CAUSE" fundraiser is kicking off with a fun, 12 mile group ride including 3 local brewery stops + great raffle prizes!
Not only is bicycle riding important to us, but Ambear also did this year's design featured on tees, water bottles, and cycle caps!
Tees, bottles, and caps will be available individually online through O&S soon!
H A L L O W E E N   S H O P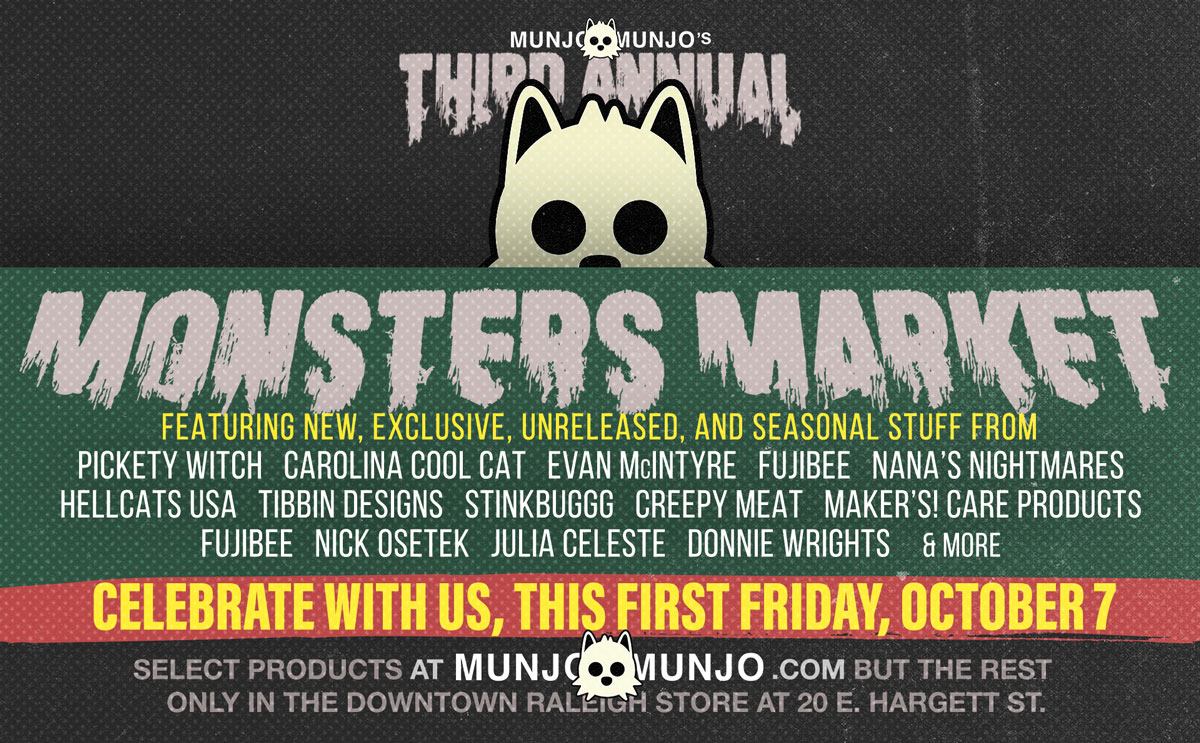 October is nearly here, and that means the return of the Monster's Market at Munjo Munjo! A soft launch this weekend in-store, followed by most of the full stock being available starting on First Friday, Oct. 7th!
*Patreon gets access online before everyone else!
ARTIST POP-UPS IN-STORE
C O M I N G   U P   S O O N !
C U R R E N T   H O U R S :
OPEN LATE FRIDAY OCTOBER 7 TIL 9PM!


THU: 12-5pm • FRI: 12-6pm •  |  SAT: 11am-6pm
FRI: 12-6pm  |  SUN: 12-5pm
[MON - WED: USUALLY CLOSED]
W E ' R E    O N   P A T R E O N !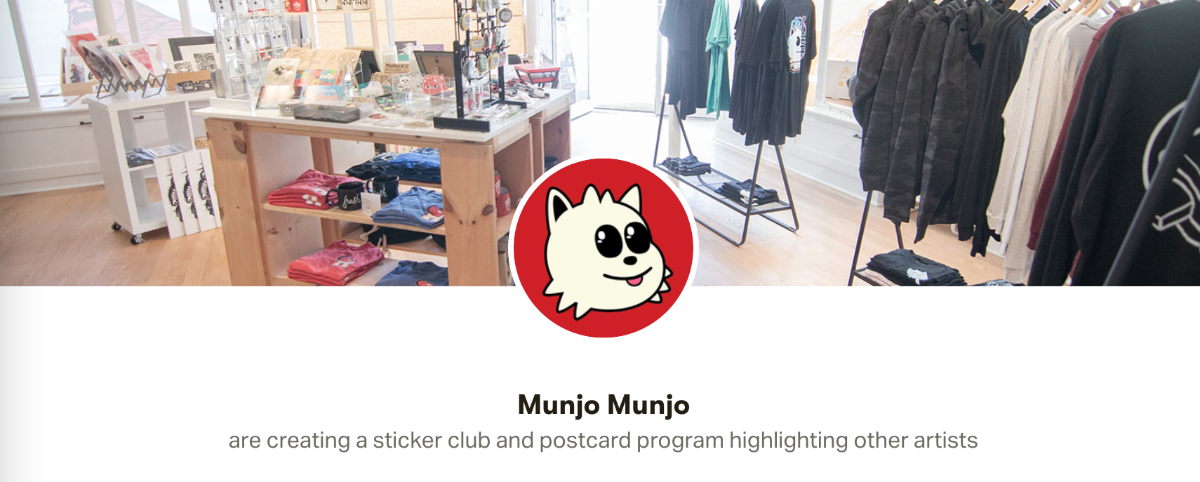 Did you know we're on Patreon?
If you love what we do and want to get quarterly goodies from us plus discounts, behind the scenes, and first dibs on new releases, check out our Patreon! Each month we release a new sticker and guest artist postcard, and it all gets mailed out quarterly! Next batch is going out next week, and only a few slots of our OG Sticker Club are left (the lowest level w/ rewards)!

Latest mail-out goes out 10/1! Sign-up by Friday to get Sept. rewards!
*rewards start with the month you sign up, even at the end of a month!
M O N T H L Y   M U N J O
bringing you Munjo's cuteness each month.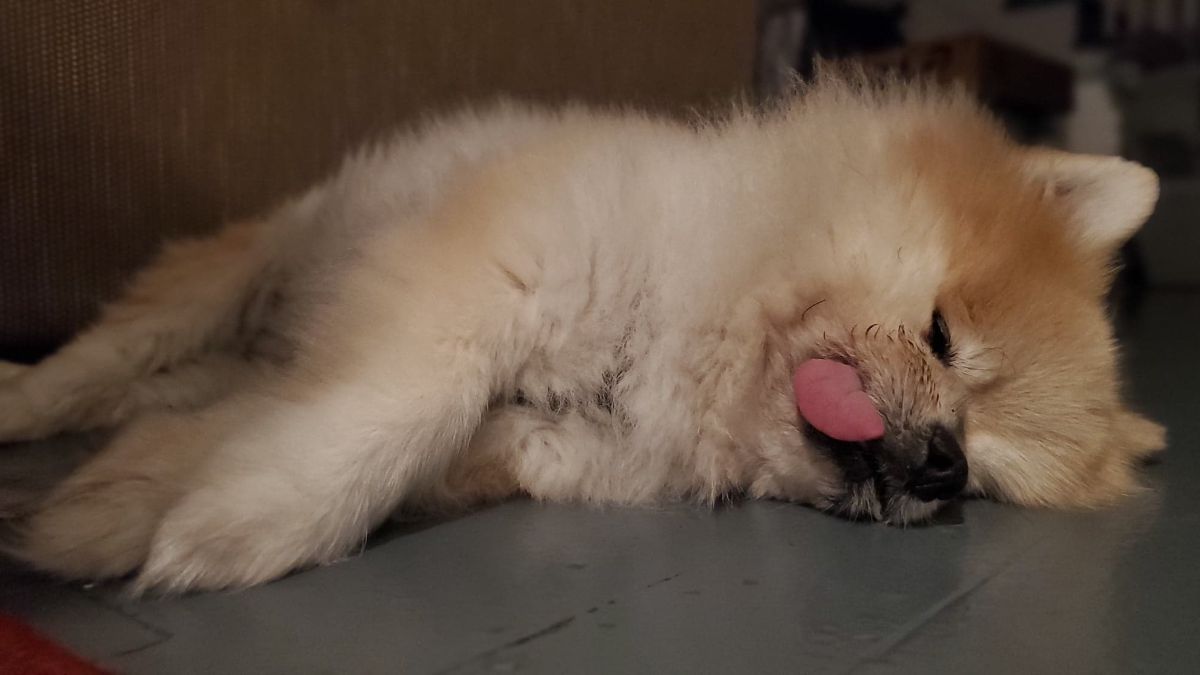 Munjo needs his beauty rest. . . 
Thanks for opening our email! For the latest news, add Munjo Munjo on
Instagram
!