Takoyaki (& Ramen) tonight plus tru...
NEW Keep Me Fed and last call Paleta Sticker Sheets!
This email was sent
* S P E C I A L   E V E N T *
July 7
*TONIGHT*
5-10pm at Foundation Bar
(DT Raleigh)
Our own Amber is working with Winner Winner Ramen Dinner to bring you a special feature of Takoyaki at their pop-up this evening!
If you've never had it, Takoyaki is a delicious ball of dashi batter, octopus, pickled ginger, and scallions, topped with truffle kewpie mayo, housemade sauce, and bonito flakes. 
(All proceeds from Takoyaki sales will be going to the Carolina Abortion Fund, promoting bodily autonomy because everyone deserves to make their own decisions for their own bodies.)
N E W   R I N G E R S  +  T R U C K E R   H A T S
Just in time for summer - stay cool in these perfect soft BBQ ready wears!
CURRENT SUMMER HOURS:
THU: 12-5pm • FRI: 12-6pm •  |  SAT: 11am-6pm
FRI: 12-6pm  |  SUN: 12-5pm

[MON - WED: USUALLY CLOSED]
L O W   S T O C K   A L E R T!
All profits from the sale of our "All Flavors Welcome" sticker sheets (6 stickies per sheet) are still going to the

LG

BT

Ce

nte

r of R

ale

igh

, while supplies last!
Half the stock is already gone so jump on it if you don't want to miss out!
Get yours shipped *

RIGHT HERE

* or stop by & get yours in-store!
REMINDER: stickers ship free without tracking!
M U N J O   M U N J O   O N   P A T R E O N !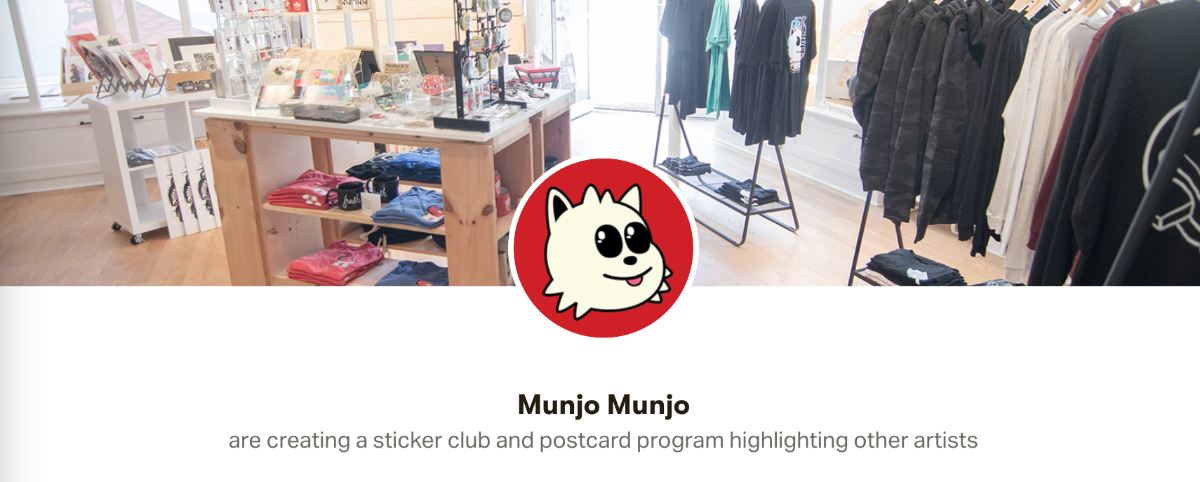 Did you know we're on Patreon?
If you love what we do and want to get quarterly goodies from us plus discounts, behind the scenes, and first dibs on new releases, check out our Patreon! Each month we release a new sticker and guest artist postcard, and it all gets mailed out quarterly! Next batch is going out next week, and only a few slots of our OG Sticker Club are left (the lowest level w/ rewards)!

*rewards start with the month you sign up, even at the end of a month!
M O N T H L Y   M U N J O
bringing you Munjo's cuteness each month.
Munjo's favorite  nearly 18 year old lady, Sky, on her last visit to her friend!
<3 We will miss this lady! <3
Thanks for opening our email! For the latest news, add Munjo Munjo on
Instagram
!